'
Tiny House Festival Australia (Bendigo - September 2022)

'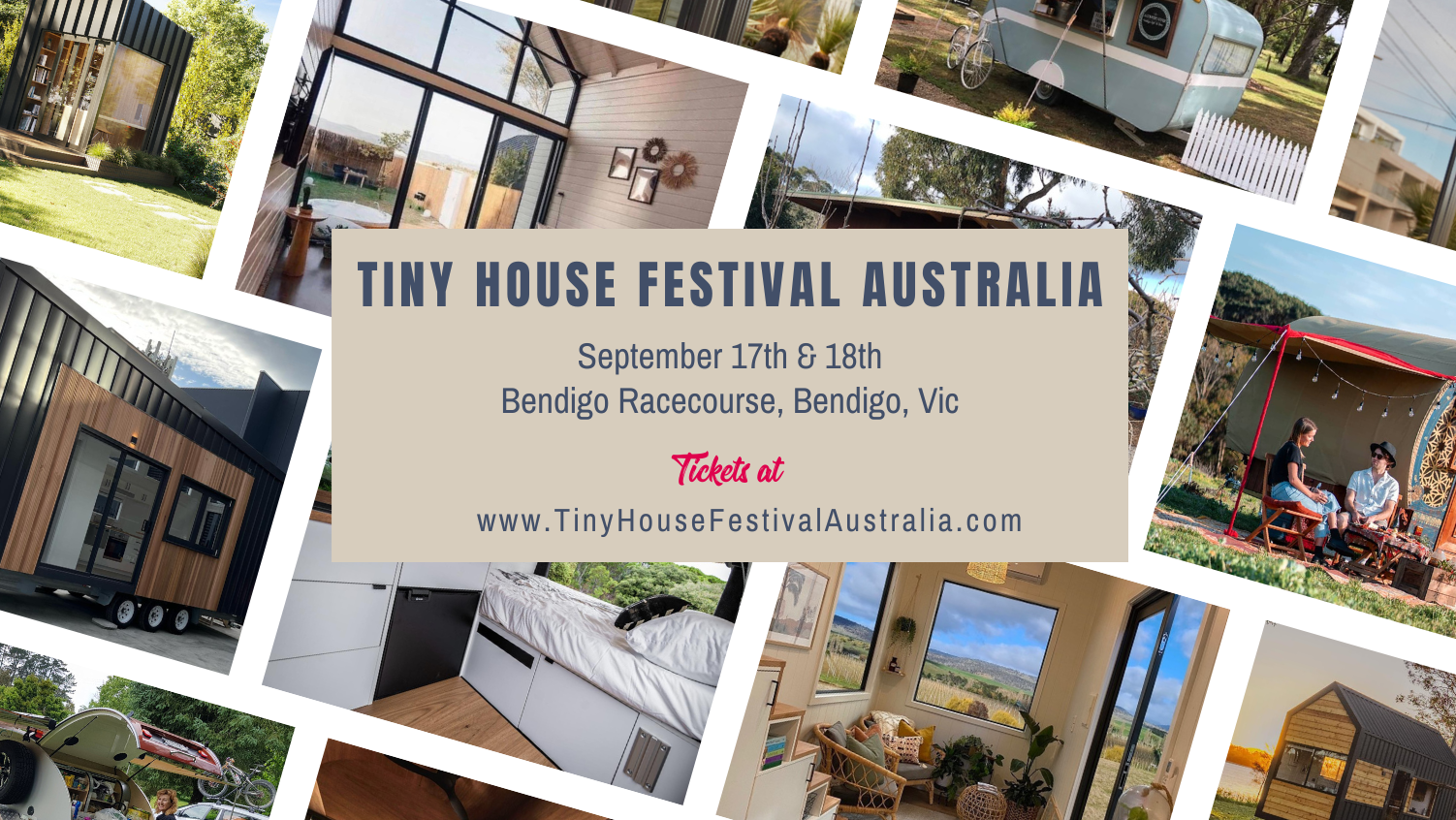 Revised Dates for this year's Tiny House Festival Australia.
Location
Bendigo Racecourse
Heinz Street, Ascot Victoria 3551
NEW DATES : TINY HOUSE FESTIVAL AUSTRALIA
Bendigo Racecourse, September 17th & 18th 2022


( Tickets On Sale NOW !! )
Thank You for your interest in attending 'Tiny House Festival Australia 2022'.This event has been put on to educate, and inspire you and to introduce you to the 'Tiny House Movement' here in Australia. If you have heard about the movement and want to find out more about it, want to see some Tiny Houses 'in the flesh' or want to speak to specific material / product suppliers, or people who are actually living the Tiny Lifestyle... then this is the event for you.

Our first event, back in 2019, was Australia's first EVER Tiny House Festival and it was a roaring success with almost 10,000 attendees from all over the country (and internationally). Our event in 2020 was shaping up to be even bigger, 3 or 4 times the size in fact, but unfortunately, we were forced to postpone the event, due to Government interventions. To date, there have been Four Festivals that were planned, that we have not been able to run, and our lives (like the lives of so many others) have been turned upside down.

We want to thank EVERYONE for the overwhelming support that we have seen, through having to re-schedule this event a number of times.

The Great news is that 'TIny House Festival Australia' is BACK, and will be running on September 17th & 18th 2022, once more at the Bendigo Racecourse, in Sunny Bendigo, Victoria.

** Please note that ALL pre-purchased tickets for prior dates, will be moved to the new dates and will of course still be valid for this event.

Tickets are available for either Saturday or Sunday, with discounts being available for those buying Weekend Tickets.
(Please note that Concession tickets are available for concession card holders and all Children under 16 are FREE)

FEATURES OF OUR 2022 FESTIVAL ...
- Tiny Houses on Display from some of Australia's Commercial Tiny House Builders
- DIY Built Tiny Houses / Van & Bus Conversions
- Tiny House related product & material exhibitors
- A schedule of Tiny Living related Talks by expert guest speakers throughout the weekend
- A Sustainability Market with stalls of local, handmade, homemade delights
- A selection of mouth-watering Food & Coffee Vendors
- Tiny Living Screenings of Movies / Documentaries & Clips on the BIG Screen to entertain and inspire you


Please also note ...
This event is a NO Smoking Event

Gates open at 10am and will close at 5:00pm each day.

No Dogs are permitted on site (Service dogs are of course, excepted, upon sighting of certification)

Tickets will be available at the gate, on the day, but will be more expensive than buying online (as we have ticket booth staffing costs to cover) - Hence we recommend the savings of pre-purchasing online)

Tickets are Non-Refundable Should the event need to be rescheduled due to continued Government intervention / restrictions, or by the Bendigo Jockey Club making a decision that the grounds are not useable due to weather conditions, then your tickets will remain valid and will be moved to the new dates.

If you have any questions or queries regarding tickets or these new dates, please do not hesitate to contact us directly at Info@TinyHouseFestivalAustralia.com

Kindest Regards
Darren Hughes & Lisa Adams
Founders / Admins / Event Directors

________________________________________________________________


Contact Details