Garden States - Cultivating Ethnobotanical Plant Knowledge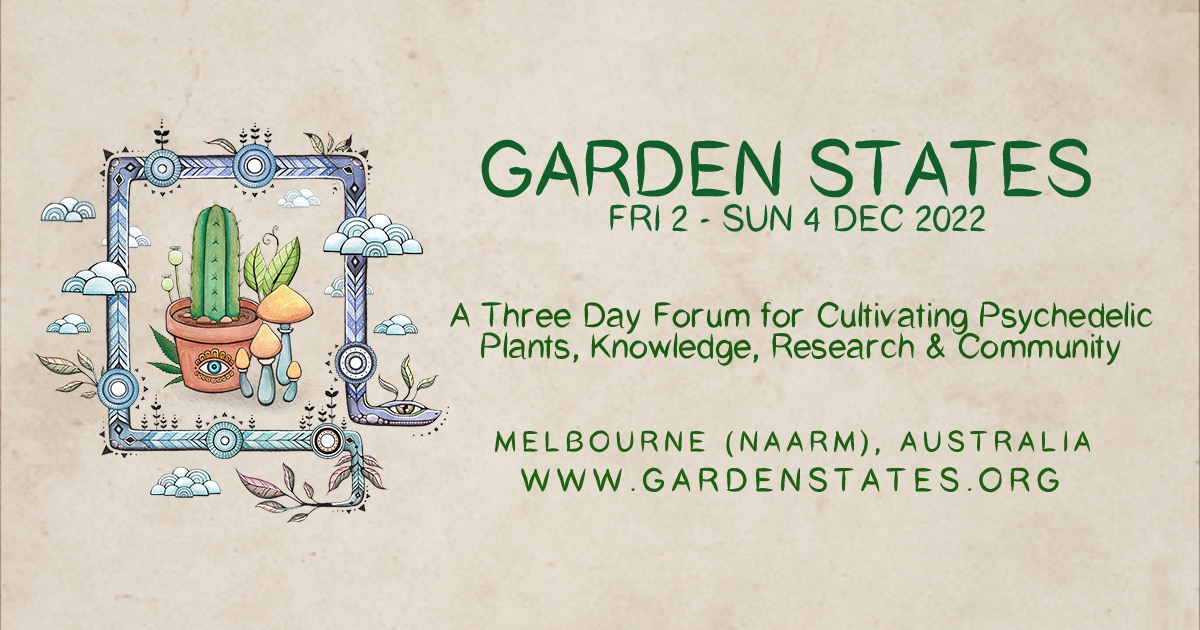 Garden States 2022 is a Three Day Forum for Cultivating Ethnobotanical Plants, Research, Knowledge and Community
We've just finished one of EGA's biggest conferences ever, Garden States 2022. If you missed out, no need to worry, we've just released an after-access fundraiser ticket for recorded conference content. This ticket will give you access to all the content from the live stream – plus some additional recordings from this special psychedelic event.
You can also get a copy of the accompanying publication, EGA Conference Journal 5, featuring articles from the Seed SistAs, Keeper Trout, Snu Voogelbreinder and many more excellent ethnobotanical authors, which accompanies and compliments many presentations at Garden States 2022.
The Garden States 2022 online content must be viewed via BetterCast – you will need to register for access to the BetterCast video portal via a link you will receive in an email upon booking your Garden States ticket here. There is extra content in addition to the main stage recordings that can be found in the online gallery on BetterCast.
Garden States 2022 is a not-for-profit initiative, designed to explore relationships between humankind and plants, including gardening, conservation, sustainability, culture, art, altered states, spirituality, philosophy, psychedelic research, harm reduction and politics.

Get your hands dirty and learn to grow and share ethnobotanical plants like the experts. Participate in citizen science and meet like-minded botanical folk from across Australia.

Garden States 2022 is a hybrid conference, including keynote presenters, David Holmgren, Margaret Ross, Janet Laurence, Renee Harvey, Karen Hitchcock, Alison Pouliot, The Seed SistAs, John Seed, Snu Voogelbreinder, and luminaries Douglas Rushkoff and Keeper Trout who are streaming in.

Garden States 2022 will takes place over three full days. There are two main ticket types with some variations and discount options. Attendees may choose a 'Streaming Ticket' or an 'In-person Ticket'. Friday the 2nd of December 2022 will be entirely online for all attendees, while Saturday 3rd and Sunday 4th December will include a community gathering for all in-person attendees, broadcast online for those with streaming tickets and unable to attend in person. All ticket holders will receive a copy of the 2022 conference Journal and after access to the recorded stream to rewatch for four months after the event.
Our last few conferences and in-person events have sold out well in advance of the event, and tickets are strictly limited, so we highly recommend booking your Garden States tickets early.
While we do offer discounted tickets for First Nations people, concession holders and people experiencing hardship, there are no single-day tickets,. Young adults must attend with a guardian and have tickets purchased by a guardian on their behalf. Remeber, in-person tickets are limited. Current prices are available until November 1st or untill sold out. On November 2nd, we will offer a small number of final release tickets available at final release pricing.
The in-person conference gathering will be composed of around thirty lectures, twelve workshops and five discussion panels that have been curated to help you along the journey to plant seeds for earth, body, and mind.
Garden States 2022 will offer much more than even our most enthusiastic ethnobotanical friends could have hoped. With that in mind, we hope to see you all at this extraordinary event and wish you, your family, and your communities the best over the coming months.
For the Garden States Facebook event page - Click Here
Looking to discuss something with other attendees, ride-sharing, accommodation etc - Click Here
EGA After Party
On Sunday night, we are also hosting a fundraiser after-party.
For more info and Tickets, head Here
For the event Facebook page, head Here
About EGA
Entheogenesis Australis is a charitable, educational organisation established in 2004. We provide opportunities for critical thinking and knowledge sharing on ethnobotanical plants, fungi, nature, and sustainability. Through our conferences and workshops, we aim to celebrate the culture, art, politics and community around medicine plants in order to further the well-being of humankind and the planet.
~ Want to stay in touch? Sign up for our newsletter & get the latest updates on EGA events and ethnobotanical community news ~
For any ticket related questions please email - tickets@entheogenesis.org
Warm regards,
The Entheogenesis Australis Team
Planting seeds for the earth, body and mind
www.entheogenesis.org
www.gardenstates.org
Location
Springvale City Hall, Located in: Springvale Community Hub (Mel Ref 80 A11)
18 Grace Park Avenue, Springvale Vic 3171
There is free car parking at the back of the hall (enter via 20 Grace Park Ave), alternatively the venue is just 800 meters walk from Springvale railway Station.