NOOSA STRADE BIANCHE 2021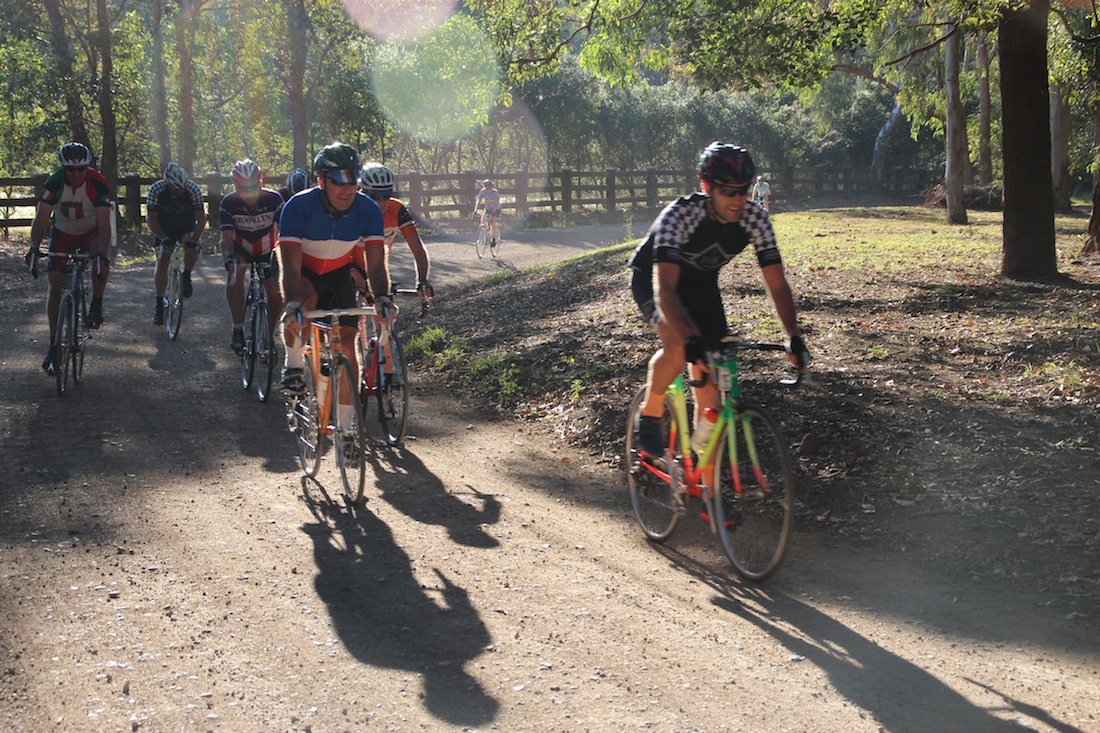 UNFORTUNATELY CANCELLED DUE TO COVID 19 LOCKDOWN
Bicycle Festival for Classic Steel Framed Cycles. 7-8 August 2021. NOOSA MARINA.
We celebrate 10 years of NOOSA STRADE BIANCHE in 2021!
As we pass this milestone, we think it would a nice touch to welcome our 'Neo-Retro' brethren & 'Keepers of the Flame'!
So, those with steel framed bikes, running newer components; we want to see you!
Please, no carbon fibre forks. The frame should be all steel, ok?
DUE TO COMPLIANCE ISSUES WITH RUNNING NICHE EVENTS OF THIS NATURE,
WE HAVE PARED SUNDAY BACK TO A GRAN FONDO OF 115KM.
A 'short course' will be signed within the GRAN FONDO for those wanting to go shorter (90km MEDIO distance), or have hit the wall!
SATURDAY 7 AUGUST 2021;
NSB PICCOLO FONDO: 33km: $50 inc free coffee on Tank Hill.
7.00am roll-out.
Show & Shine + Swapmeet'.
9am-12pm. Free Entry.
Please feel free to show your bike in a non-competitive atmosphere.
Book a stall at the Swap Meet: $25
NSB Welcome Dinner with guest speaker at Pier 11 Restaurant, Noosa Marina: $75 exc. drinks
6.00pm for pre-dinner drinks.
SUNDAY 8 AUGUST 2021;
NSB GRAN FONDO: 115km:
with optional short course 90km (Medio distance).
Earlybird price until 1st August; $135. $150 thereafter.
7.00am roll-out.
Noosa Strade Bianche is a not for profit event
and a worthy cause is supported each year.
ONLINE REGISTRATIONS CLOSE 7PM THURSDAY 6 AUGUST 2021,
BUT YOU MAY ENTER ON THE DAY.
PLEASE SEE NSB WEBSITE
ARRIVE EARLY TO ALLOW FOR
REGISTRATION AND SIGN-ON.
'WAVE' ROLL-OUT ; 7.00am both days, from NOOSA MARINA.
Your entry fee includes refreshments at our famous on-course aid stations and at finish line, broom wagon support and on-course ambos.
ALL FINISHERS WILL AGAIN RECEIVE A SPECIALLY MINTED COMMEMORATIVE MEDALLION & SASH.
COVID 19.
We are taking entries as normal but will be keeping you informed based on the Government's latest advice and guidance.
If we do have to cancel the event for this year, we will provide a refund less costs levied by this booking site.,
We are hopeful that things will stay as good as they are at the moment, so remember keep riding your bike – we just recommend that you follow the latest advice with regards to hygiene and social distancing.
Stay healthy, happy and keep pedalling!
NOOSA STRADE BIANCHE ASSOCIATION acknowledge the traditional custodians of the land on which we hold this festival
and pay our respects to the First Peoples of this country, their culture and Elders, past, present and emerging.
WE STRONGLY SUGGEST THAT YOU CARRY AUSCYCLING RIDE MEMBERSHIP OR EQUIVALENT INSURANCE.
THE ONUS IS ON YOU; SEE TERMS & CONDITIONS OF ENTRY.
https://www.auscycling.org.au/membership
Venue
NOOSA MARINA
2 PARKYN COURT
TEWANTIN, QLD 4565
Contact Details:
NOOSA STRADE BIANCHE ASSOCIATION INC.
noosastrade@gmail.com