Streamed Shakespeare Presents: HENRY IV Parts One and Two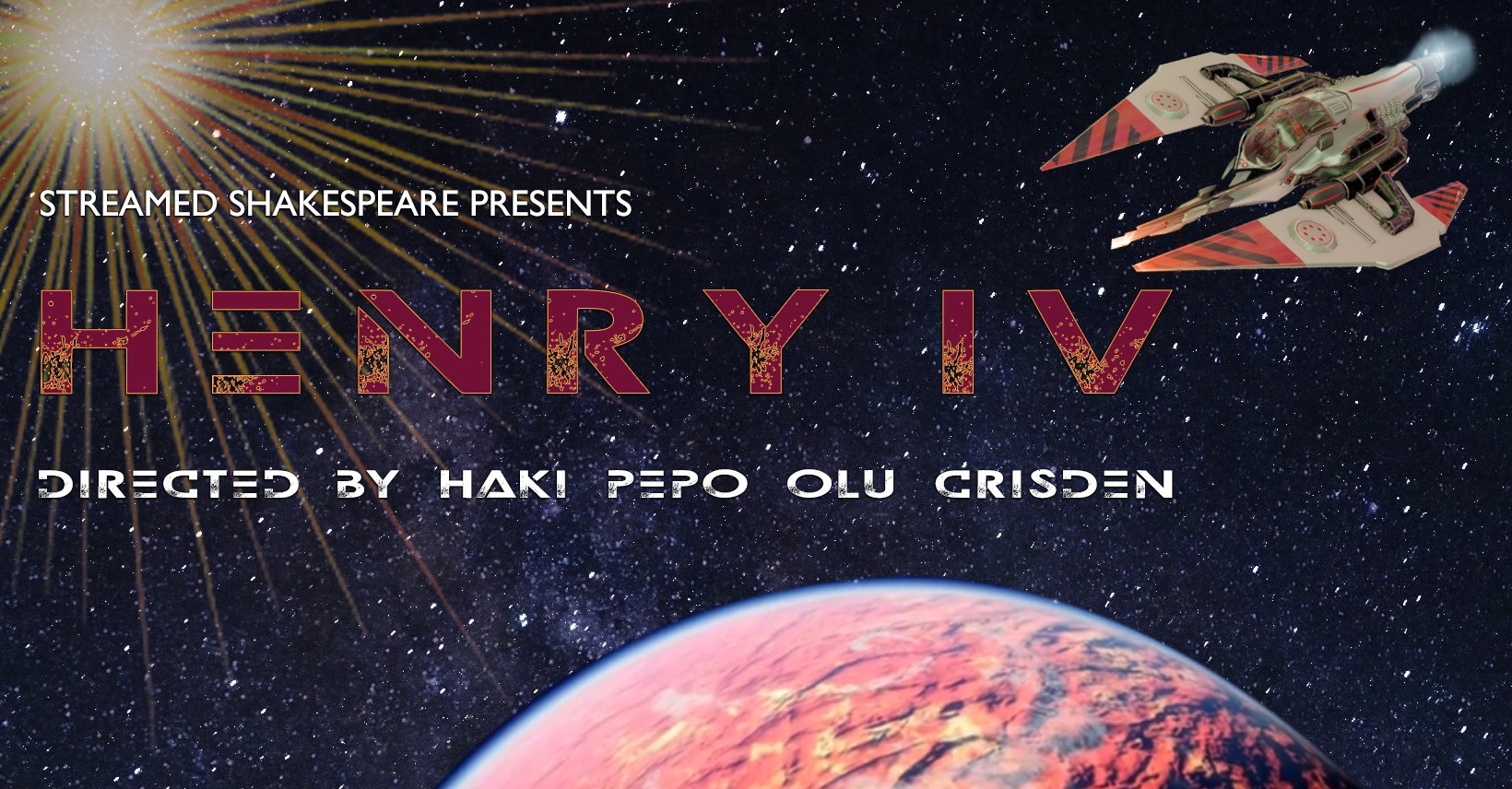 In a galaxy torn apart, a prince must become king.
Watch Prince Hal and Hotspur battle it out in a spaceship in our incredible
MAIN TRAILER
!
"Very
Star Wars
in presentation, with plenty of special effects, 'alien' makeup, aerial views of planets, impressive spaceships, exciting battles, and a touch of
Blade Runner
" -
Lynne Lancaster,
Sydney Arts Guide
"Imagining the action as an epic future conflict, Crisden creates a distance from historical detail that allows the characters' constructions to shine through"
- Julia Clarke,
Nightwrites
Three performances of each play warped onto YouTube to critical acclaim in April 2021 and were released as Video-On-Demand from June 6!
VIDEO-ON-DEMAND (VOD)
Streaming on-demand videos of HENRY IV PARTS ONE AND TWO was released on 6th June 2021! Professionally edited together from the best moments of the live performances, these videos are available as single shows for $10 AUD or as the full double-bill for just $15 AUD.
HENRY IV Part One - VOD: $10 AUD
HENRY IV Part Two - VOD: $10 AUD
HENRY IV Parts One and Two - VOD: $15 AUD
* Read our glowing reviews by Julia Clarke of Nightwrites and by Lynne Lancaster of Sydney Arts Guide!
* Check out our CAST ANNOUNCEMENT VIDEO and TEASER TRAILER!
* Publicity for the soundtrack album HENRY IV: A SYMPHONIC SUITE in Sydney Arts Guide and Sounds Like Sydney
STREAMED SHAKESPEARE FOR SCHOOLS
School discount rates are available for the VODs and all livestreamed performances. Please email us at streamed.shakespeare@gmail.com!
Students and teachers can also check out our free Staged Readings series of full Shakespeare plays, and our educational Roundtable panel show series on the plays and related topics!
Teacher feedback on Streamed Shakespeare's
The Merchant of Venice
"The performance was wonderful and my students really enjoyed it… it's a great way for us all to stay connected and support the performing arts during this time while also helping our students engage with Shakespearean texts."
~ Ms Dalie Mourad, English teacher, Marsden High School NSW
DIRECTOR'S VISION
A lifelong passion for Star Wars, Star Trek and other 'space opera' TV shows and films has inspired Sydney-based American director Haki Pepo Olu Crisden to present the epic story of Prince Hal's coming-of-age with a twist – creating an exciting livestreamed, video conference show that appeals to older children, teenagers and the inner child in all of us.
"The question of how one becomes a great leader is as relevant now as it was in Shakespeare's day and, no doubt, humans will still be seeking the answer in the 25th century, when our production is set. We are using animated visual environments and an inspired orchestral score to create a living, breathing intergalactic community in which the actors will tell this timeless story." ~ Haki Pepo Olu Crisden (DIRECTOR, HENRY IV)
"Streamed Shakespeare has been at the cutting edge of video conference theatre since its foundation in March 2020, but HENRY IV is going well beyond what we have attempted before, both technically and artistically. We are so excited to bring Haki's amazing creative vision to audiences worldwide." ~ Holly Champion (ARTISTIC DIRECTOR, STREAMED SHAKESPEARE)
REVIEWS FOR OUR OTHER SHOWS
"The poetry and power of Shakespeare's words are beautifully handled...[Charles] Mayer, in a compelling, chilling performance, with his dashing moustache is charismatic and deceptively apparently elegant and charming.." - Sydney Arts Guide (review for our 2020 production of Richard III)
"Director Haki Pepo Olu Crisden reimagines the brutal Gothic atmosphere of the play as a bit camp...Designer Alice Chu used virtual backgrounds for each actor's video stream to illustrate the changing locations for an inventive techy-kitsch aesthetic, complete with curtains of blood as many met their violent ends on the tip of a rapier." - NightWrites (review for our 2020 production of Titus Andronicus)
"Modernity makes itself known in the production but Director Roslyn Hicks doesn't allow the tech to out-clever itself and get in the way of the performances and, more importantly for me, the poetry and words … the literature of the theatre is highly respected here." - Reviews By Judith (review for our 2020 production of The Merchant of Venice)
SOCIALS
Curious and want to know more? Check out our website, www.streamedshakespeare.com, or just subscribe to our YouTube channel or Facebook page for heaps of free content!
Or just email us!
Excited? Share the news on: