50th Anniversary Weekend (postponed from 2020)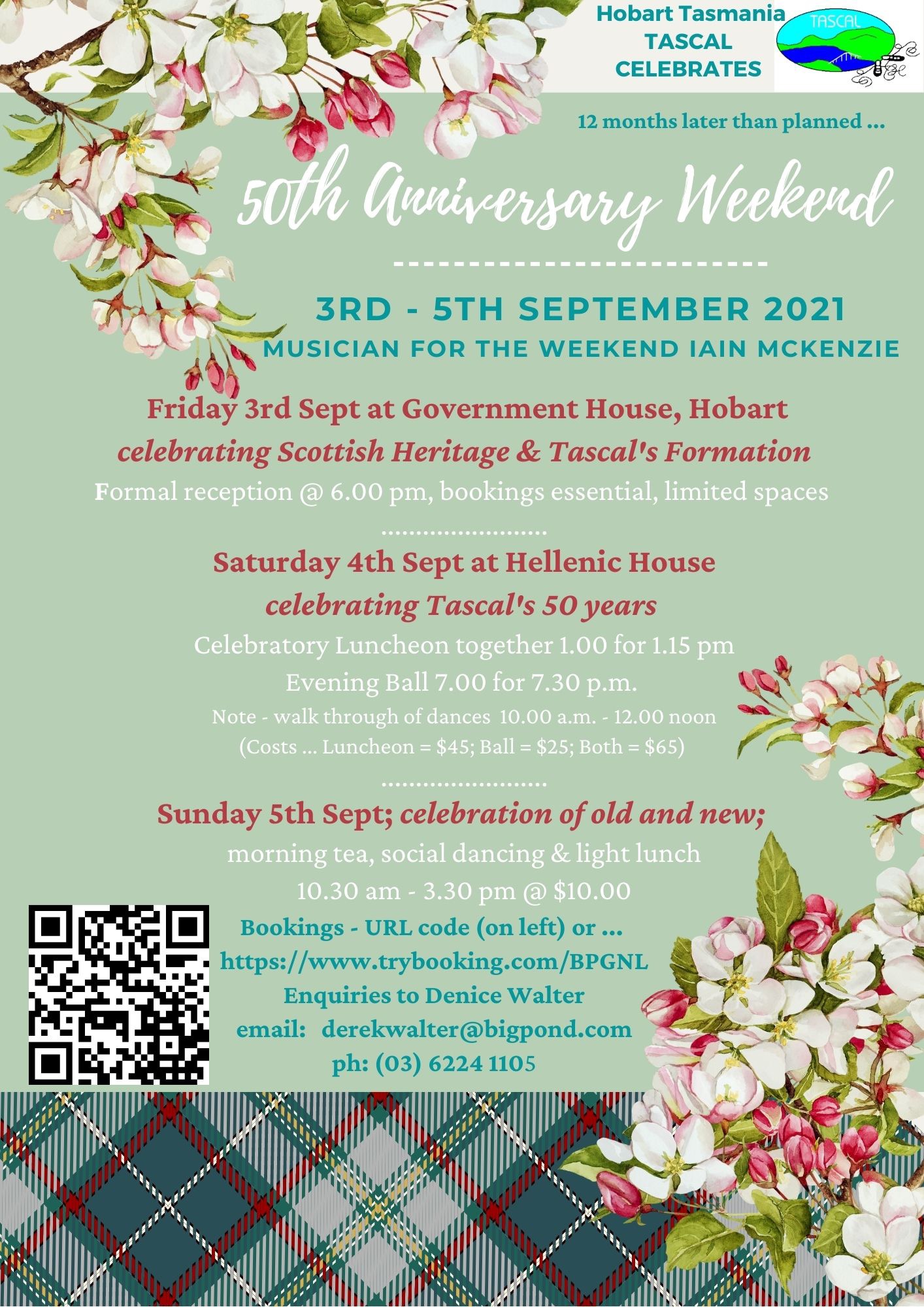 BOOKINGS OPEN FOR A GREAT WEEK OF FRIENDSHIP, DANCING AND MUSIC. THERE ARE EVENTS TO SUIT EVERYONE.
FRIDAY EVENING -
Formal reception at Government House, Hobart. (6.00 - 7.00 p.m.).
All wishing to attend this event must book a Friday event ticket (no cost). The "weekend ticket" does not include Friday. Closer to the date, you will receive further details regarding this event, from Government House, to which you will need to respond in order to secure your booking.
NOTE - ALL EVENTS ON SATURDAY ARE TO BE HELD AT HELLENIC HOUSE, 57 FEDERAL STREET, NORTH HOBART.
SATURDAY MORNING -
10.00 a.m. - 12.00 noon; walkthrough of dances for the ball. All welcome, no cost and no need to book, just turn up.
SATURDAY CELEBRATORY LUNCHEON -
1.00 p.m. for 1.15 p.m.; Celebratory two course luncheon to celebrate Tascal's 50 years. Cost for the luncheon is $45.00.
SATURDAY EVENING 50TH ANNIVERSARY BALL -
7.00 p.m. for 7.30 p.m. start. Musician for the evening will be Iain McKenzie from Queensland. Dance through a full program as we remember and celebrate Tascal's 50 years. Cost for attending just the ball is $25.00, this includes spectators.
SUNDAY, CELEBRATION OF OLD AND NEW -
10.30 a.m. until 3.30 p.m. A time to enjoy an informal celebration with morning tea, social dancing and a light lunch. Cost is only $10.00.
SPECIAL NOTES - You can book for just a few events, or for the weekend.
*.
Everyone attending the Friday reception must book a ticket to this event - the weekend ticket does NOT include the Friday.
*. If you wish to attend all events on Saturday and Sunday, then click on the session ...
"Saturday 4th September 2021 9.55 AM - Sunday 5th September 2021 3.30PM" and book a weekend ticket at $75.00 for all events. Those who are unwaged, may book at a special price of $55.00 for the weekend or $45.00 for Saturday only.
A weekend in Hobart, Tasmania of Scottish Country Dancing and social gatherings to celebrate Tascal's 50th Anniversary from 2020.
Friday - Formal Reception at Government House (Hobart)
Saturday - walk through of dances, celebratory luncheon and evening ball all at the Hellenic House in North Hobart;
Sunday - m/tea, social dancing & light lunch;
Location
(Friday @ Govt Hs & Sunday TBA) Saturday @ Hellenic House
67 Federal Street, North Hobart Tasmania 7000
Contact Details