Community Weeding Days - Taperoo - 7 August 2021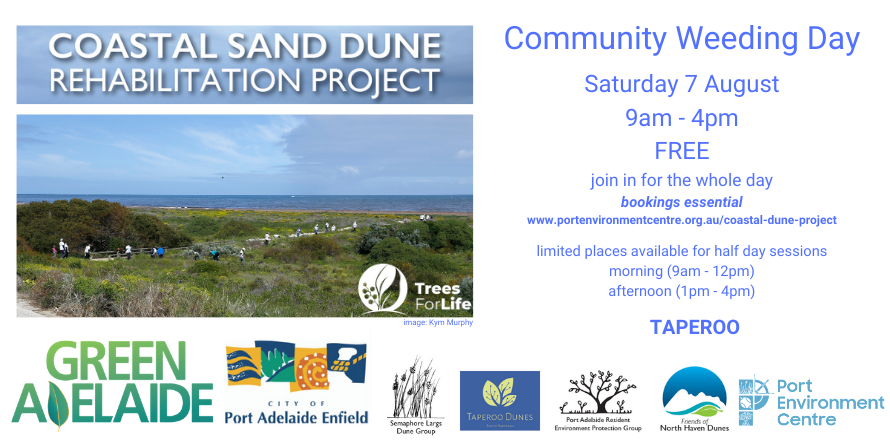 Join one of the community weeding days to help protect and restore our local sand dune environment.

In these sessions, facilitated by Trees for Life, we will target and remove small and easy to manage weeds.

This is a great way to get up close to our local environment, learn more about these special places and play your part in protecting them.

Up to 50 participants can join in each session, and we hope lots of community members, local business and corporate groups will join in.
ADDITIONAL INFORMATION
The focus of the day will be to eradicate as many weeds as possible and raise community awareness of the threat of invasive plant species and highlight the importance of keeping those plants under control.
Sessions run from 9am – 4pm with options for half day attendance available.
Please register to attend these FREE community sessions, so we can manage event attendance.
School groups, local businesses, corporate groups and community groups are welcome to attend as a group. Please check in with event organisers to find out more (email semaphoredunes@gmail.com)
Individuals or small groups are also encouraged to register and come along.
These sessions are mainly aimed at adults, but older children are welcome to attend (we suggest 12 and over). As we will be manually weeding in a sensitive environment, we don't feel these events are suitable for younger children. If you are bringing older children along, please also book them a ticket, so we can manage numbers appropriately. Any children must be accompanied by a guardian and be appropriately supervised at all times.
Location: This community weeding day will be held at the Taperoo Sand Dunes.
Detailed instructions will be emailed to registered participants the week before including the meeting location, what to bring, safety and other requirements for the day.
About the Coastal Sand Dune Rehabilitation Project
A series of 10 community weeding days will be run during 2021 / 2022 as part of the Coastal Sand Dune Rehabilitation Project and cover the stretch of coast between Semaphore and North Haven, plus head inland to Biodiversity Park. You can see the fill list of dates and locations at www.portenvironmentcentre.org.au/coastal-dune-project.
You are welcome to register and attend multiple events.
The Coastal Sand Dune Rehabilitation Project is a new project that will contribute to the maintenance, restoration and enhancement of the coastal dune system and Biodiversity Park on LeFevre Peninsula. The aim of the project is to increase biodiversity through re-vegetation, weed and pest control, and to create a coastal and coast to river biodiversity link over time.
This project is funded by Green Adelaide and the City of Port Adelaide Enfield. The project has received funding from the Green Adelaide Grassroots Grants program which aims to support wide ranging efforts by individuals and groups to maintain and improve their local environment.
This project is an initiative of Semaphore Largs Dunes Group, Taperoo Dunes Group, Friends of North Haven Sand Dunes, Port Adelaide resident's Environment Protection Group (PAREPG) and the City of Port Adelaide Enfield.
Port Environment Centre is pleased to be supporting this great, local, volunteer driven project.
Please note that due to COVID restrictions the following will apply:
- numbers are limited and everyone MUST book to attend
- participants are required to maintain social distancing of 1.5m
- everyone must check in on arrival (via QR code or manual sign in sheet)
- please stay away if you are unwell
- there will be no shared food or drink - please BYO drink bottle, snacks and lunch (if attending for the whole day).

Port Environment Centre is supported by Green Adelaide.
Please note that attendee information may be used for follow up evaluation, in order to assess the longer term impacts of our events. Follow up contact may be made (in the form of a survey) but participation in any evaluation is optional.
portenvironmentcentre.org.au