Linda Jaivin In Conversation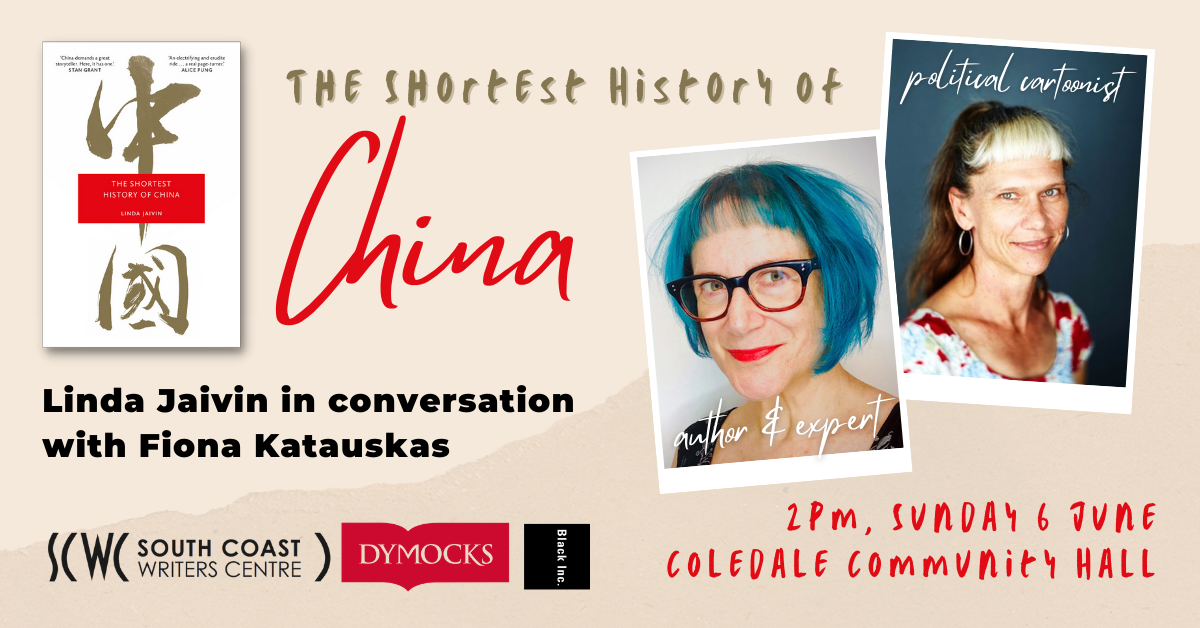 Join novelist and Chinese politics expert Linda Jaivin in conversation about her latest book The Shortest History of China with political cartoonist, and producer of ABC TV's Talking Pictures on The Insiders, Fiona Katauskas, at Coledale Community Hall on Sunday 6 June.
The Shortest History of China
A pacy history of China from Black Inc. Books that can be read in an afternoon, but will transform your perspective for a lifetime.
From kung-fu to tofu, tea to trade routes, sages to silk, China has influenced cuisine, commerce, military strategy, aesthetics and philosophy across the world for thousands of years. Chinese history is sprawling and gloriously messy. It is full of heroes who are also villains, prosperous ages and violent rebellions, cultural vibrancy and censorious impulses, rebels, loyalists, dissidents and wits. The story of women in China, from the earliest warriors to twentieth-century suffragettes, is rarely told. And historical spectres of corruption and disunity, which have brought down many a mighty ruling house, continue to haunt the People's Republic today.
Modern China is seen variously as an economic powerhouse, an icon of urbanisation, a propaganda state or an aggressive superpower seeking world domination. Linda Jaivin distils a vast history into a short, readable account that tells you what you need to know, from China's philosophical origins to its political system, to the COVID-19 pandemic and where the PRC is likely to lead the world.
Copies of The Shortest History of China as well as other books by Linda Jaivin will be available for sale on the day thanks to Dymocks Wollongong.
Linda Jaivin
Linda Jaivin is an expert in Chinese politics, language and culture. She has been a foreign correspondent in China, and is co-editor of the China Story Yearbook and associate of the Australian Centre on China in the World at the Australian National University. The author of twelve books, she writes regularly for The Saturday Paper, The Monthly and Australian Foreign Affairs.
Fiona Katauskas
Fiona Katauskas is a freelance cartoonist and illustrator based in Sydney. Her work has been published in a range of newspapers, magazines and websites, including the Sydney Morning Herald, The Australian, The Age, The Financial Review, The Chaser, Australian Doctor, New Matilda and Eureka Street as well as on cards for the Ink Group and t-shirts for Mambo. Her political cartoons regularly appear in the National Museum of Australia's annual "Behind the Lines" exhibition and Scribe's Best Australian Political Cartoon collections.
To support her cartooning habit, Fiona is the producer of (and occasional guest on) the Talking Pictures segment on The Insiders program on ABC TV. Prior to unexpectedly becoming a cartoonist, Fiona completed an honours degree in Political Science at the ANU and worked both in Australia and overseas for human rights and overseas aid organisations. She has travelled extensively and lived in both the U.S. and U.K.
Location
Coledale Community Hall
745 Lawrence Hargrave Dr, Coledale NSW 2515
Contact Details