2021 Kwibuka Commemoration in Victoria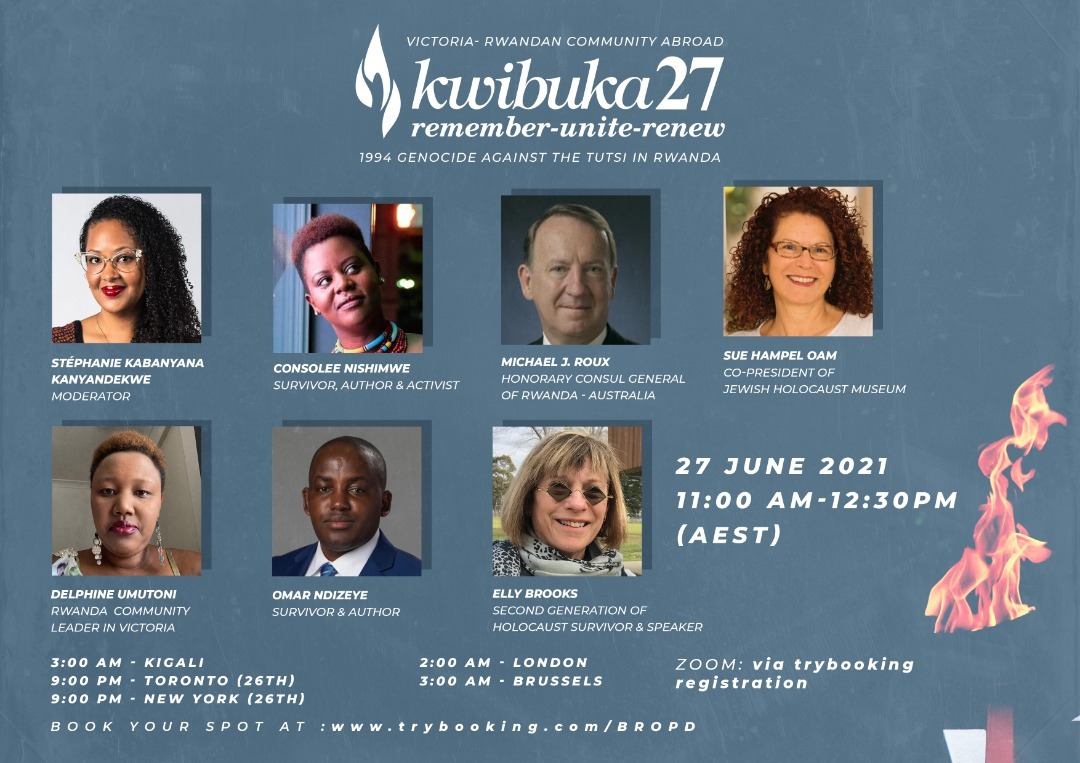 The Victoria-Rwandan Community Abroad
association invites you to the 27th Commemoration of the Rwandan Genocide against the Tutsi.
Please join us in our Kwibuka, as we honour the memory of our women, men and children who were killed.
Our commemoration centres at the heart of proceedings a testimony from a Genocide survivor. This year we welcome Consolee Nishimwe. The Honorary Consul-General of Rwanda to Australia, Michael Roux will introduce the 2021 global theme of Kwibuka: addressing Genocide denial. This year's Keynote speaker is Suzanne Hampel OAM, Co-President of the Jewish Holocaust Centre and Holocaust education authority.
As is the tradition in Kwibuka across the world, we will also share moments in song, images of family members lost and the lighting of candles in honour of their memory. Concluding the formal part of the proceedings, Genocide survivor Omar Ndizeye will host a Q & A section to address questions from attendees in the spirit of truth-telling and knowledge sharing.
Our event is online, streamed via Zoom in Australian Eastern Standard Time. Click 'Book Now' to register your attendance. Once registration is complete, the Zoom link will be emailed to you.
Location
Online event access details will be provided by the event organiser