ACS Victoria Presents: Noise 35mm Screening + Q&A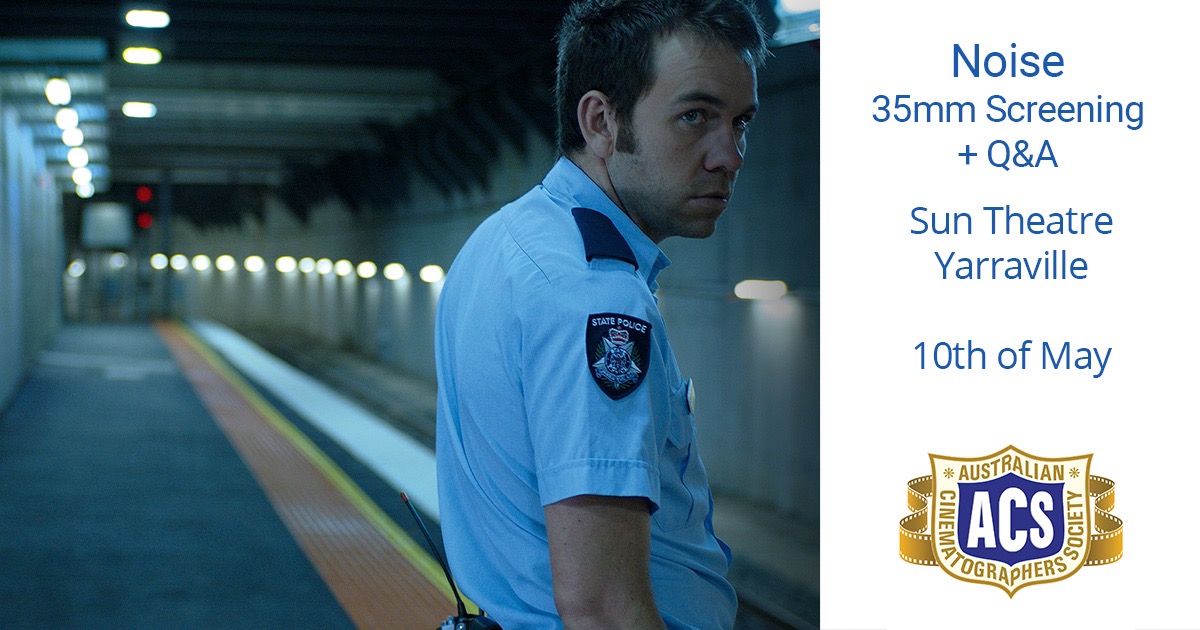 Description
The Australian Cinematographers Society Victoria presents a 35mm screening of the acclaimed 2007 Australian film Noise at the historic 'Sun Theatre' in Yarraville.
Following the screening there will be a Q&A session with the film's Director of Photography Laszlo Baranyai HSC ACS, Director Matthew Saville, and Composer Bryony Marks.
The event is free and open to all ACS, ADG, ADPG, AGSC, ASE, ASSG, AWG and SPA members.
The screening will take place on the 10th of May at 7pm at Sun Theatre Yarraville (8 Ballarat St, Yarraville VIC 3013)

The ACS would also like to give a special thanks to Sun Theatre for their support in making this presentation of Noise in 35mm possible.
The ACS would also like to thank Producer Trevor Blainey and investors Film Victoria, Screen Australia, SBS and Madman for making this possible.


Laszlo Baranyai HSC ACS


Laszlo was born in Budapest and began his career as a camera assistant for the Hungarian Film
Company MAFILM in 1970. He studied at the Academy of Dramatic and Cinematic Art, Film and
Television in Budapest and worked on a number of features, shorts and documentaries as a
Director of Photography before he immigrated to Australia in 1988. Now living in Melbourne he has
been the DOP on a number of Australian features, shorts and television series, including True Love
and Chaos, Crackers, Soft Fruit, Roy Höllsdotter Live, Curtain, Noise, Downriver and The Death and
Life of Otto Bloom. He was nominated for an AFI Award in 2007, and won the FCCA Award for his
cinematography on Noise.
Matthew Saville
Matthew Saville is an award-winning director for film and television. His television credits include miniseries Upright starring Tim Minchin, acclaimed ABC drama Rake, and Friday on My Mind, for which he received an ADG Award nomination for Best Direction of a TV Miniseries.
Matthew directed all four seasons of Please Like Me, Josh Thomas' multi-award-winning comedy series for the ABC, which earned Matthew three ADG Awards for Best Direction in a TV Comedy Program ('Portuguese Custard Tarts', 'Scroggin' and 'Burrito Bowl'). His other television credits include Seven Types of Ambiguity, The Future is Expensive, Cloudstreet, and The Slap. He also directed Tangle; We Can Be Heroes, The King, The Surgeon, and East of Everything.
Matthew wrote, directed and produced his feature film A Month of Sundays, which premiered at the Toronto International Film Festival in 2015. His feature Felony also premiered at Toronto two years earlier, while Noise, Matthew's first feature, premiered at the 2007 Sundance Film Festival and was nominated for nine AFI Awards, and won six Film Critics' Circle of Australia Awards.
Bryony is one of Australia's most sought-after screen composers. She brings classical rigour and an insider's perspective to her work.
Bryony is currently working on the second season of Frayed for ABC TV/Sky UK. She has recently completed work on the second season of Everything's Gonna Be Okay for Avalon TV/Freeform/Stan and the ABC TV documentary series Back to Nature.
Bryony's score for Lambs of God was awarded 'Best Original Score in Television' and her music for 2040 'Best Original Score in a Documentary' at the 2019 AACTA Awards.
Bryony completed a Postgraduate Diploma in Music Composition for Film and Television with 1st class Honours from the University of Melbourne's Conservatorium of Music, and attended the inaugural Composers' Program at the Australian National Academy of Music. She has received many commissions, including 4 string quartets, a quintet and a sextet, an opera excerpt and a 1-hour chamber opera, Crossing Live.



Date/Time
DATE/TIME: Tuesday - May 10th, 7pm.
DURATION: Two and a half hours
COST: Free
ATTENDANCE: The event is free and open to all ACS, ADG, ADPG, AGSC, ASE, ASSG, AWG and SPA members.
FOOD AND DRINKS: Sun Theatre's bar 'Le Salon' will be open from 6pm to purchase drinks, the candy bar in the front foyer will also be open.
Venue
Sun Theatre Yarraville, Barkly Cinema
Ticketing/Entry

Tickets MUST be booked to ensure your seat, even if you are entitled to FREE Entry. You do not need to print out your Try Booking receipt as we will have a list of names at the door.
You will be emailed a Tax Invoice after booking OR you can Print your Ticket which is also a Tax Invoice for your records.
Venue capacity 90
Contact Details:
secretary.vic@cinematographer.net.au
Get directions