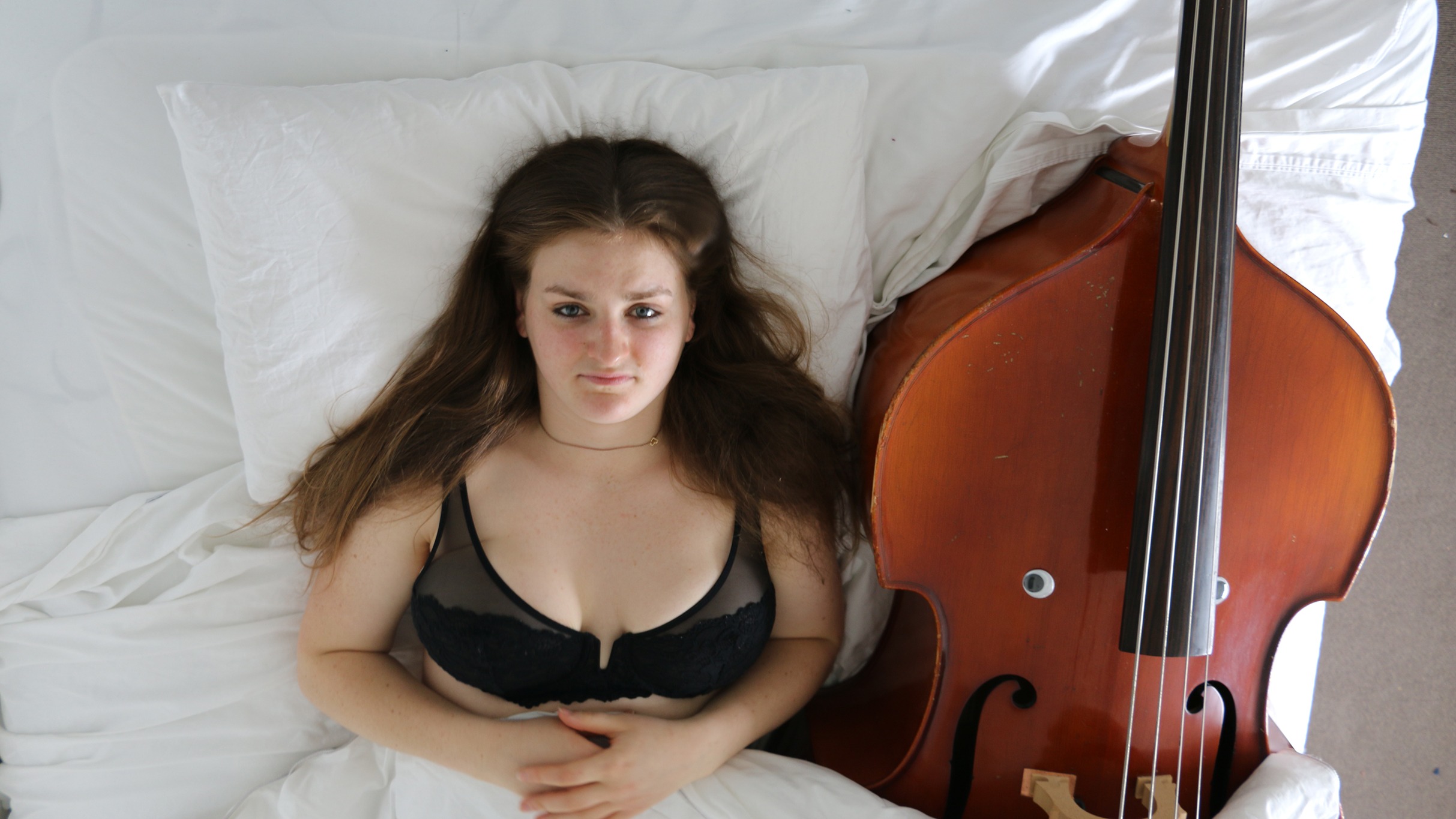 *RETURNS FOR TWO SHOWS ONLY AFTER SOLD-OUT COMEDY FESTIVAL SEASON*
One time Taco Kuiper got five stitches in her knee because she fell over doing maths. Now she's an accountant, but also a double bass comedian. Perhaps next time she will make a logical career choice. Perhaps she might even zip up her backpack before running up concrete stairs.
Reluctantly sharing the limelight with Terry, her double bass, Taco will power through an all-original songbook, providing hilarious insights on current affairs, the beauty of hindsight, sexism, bisexuality, looking after your mental health and the perils of working in the accounting profession. Perhaps Next Time is a show about how to turn regrets into a guide to what the hell you're supposed to be doing as a 20-something in the 21st century.
Satirical, feminist and a little bit absurd, Taco is one of Melbourne's most exciting new musical comedians. And no, she's not going to do your tax return.
Taco Kuiper is a double bassist, comedian, singer, actress and dancer from Naarm (Melbourne). As a quintuple threat, she combines her musical and dance expertise with her comedy, performing with several local sketch and improv comedy groups. She graduated from the University of Melbourne in 2018 with a Bachelor of Commerce and Diploma of Music, studying double bass under Rob Nairn and regularly performing with the Melbourne University Symphony Orchestra. Also in 2018 Taco co-wrote and performed in comedy cabaret Foreign Woman (Melbourne Fringe), about the life of her grandmother and the perils of cabbages. In 2019 she performed her first solo double bass comedy production for Melbourne International Comedy Festival, Taco Knight in: a Knight's Taco, and was set to follow it up in 2020 with new show Perhaps Next Time (postponed 'til 2021). She has also performed in several shows with the Melbourne University Comedy Revue Board (MUDCRABS) and with independent company Oxagen. Taco regularly writes and performs stand-up, musical, sketch and improvised comedy. In her spare time Taco works full-time in accounting and part-time as a qualified pilates and barre instructor.
'Charming musical comedy [with] a little shade thrown towards Tim Minchin and an air of David O'Doherty.' Hugging Comedians
'If you're a fan of a musical comedy, this is the show for you.' Pop Culture-y
'Self-assured, entertaining, unorthodox and authentic.' WeekendNotes
'An unconfident performer [with] no bigger picture, other than to tell us how socially awkward she is. We knew... perhaps next time?' Chortle (UK)
Taco Kuiper acknowledges that this performance and associated rehearsals will take place on the land of the Wurundjeri people of the Kulin nation. She pays her respects to elders past, present and emerging, and recognises that sovereignty was never ceded.
Location
The Motley Bauhaus
102 Scotchmer Street, Fitzroy North Victoria 3068
Contact Details