Freedom Road (Bendigo) - Choir Enrolments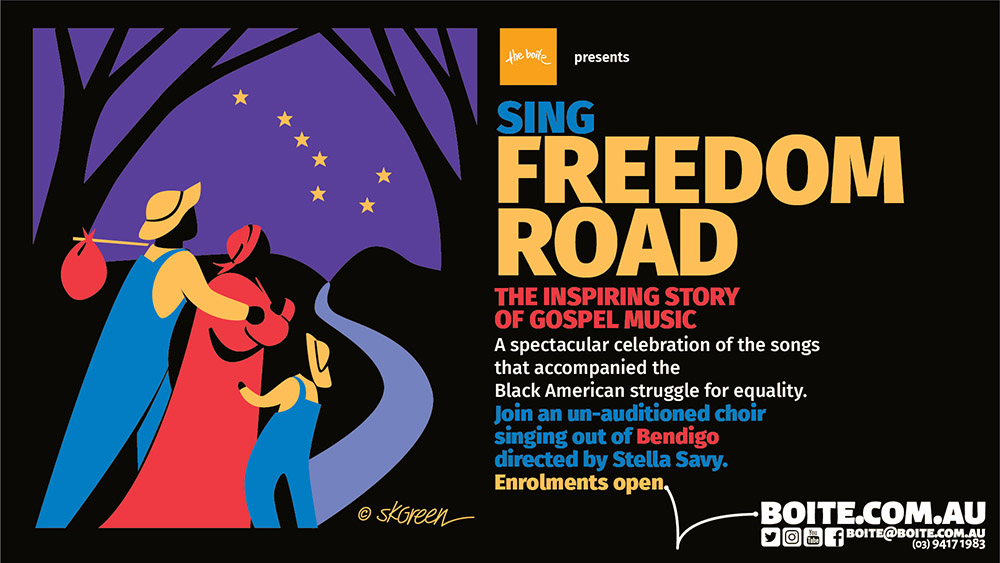 In 2021/22 The Boite is bringing Stella Savy and Freedom Road to the beautiful Ulumbarra Theatre in Bendigo.
Freedom Road, originally staged in 2011 with the Boite Millennium Chorus, celebrates the songs of slavery, music that has been the source of hope and inspiration for generations of people. Join us to discover gospel music's rich beginnings in Africa and its journey from plantation work songs, to church and onto the Civil Rights movement. Freedom Road will dive deep into this genre and celebrate its profound influence on modern day music, culture and politics.
Be part of this un-auditioned choir of over 150 singers working with Stella Savy and a fabulous cohort of supporting artists towards staging a concert at The Ulumbarra Theatre in Bendigo on Sunday 8th May 2022.
Supporting artists will include Carl Pannuzzo, Tim Neal, Geoffrey Williams, Barry Deenick, Barry Kay, Dany Fry and the fabulous Kylie Auldist.
Rehearsals will begin with an intensive online weekend 18th and 19th September to get us primed and ready to go.
During October you will be part of a virtual choir putting together our own version of a featured song from the show.
This will be ready to share just in time for Christmas. Singers from across all Victoria are welcome.
All rehearsal resources will be available online.

Rehearsals will begin online, over the weekend of the 18th-19th September.
In person rehearsals will begin in March next year and will be held at St Andrews Uniting Church, 26 Myers St, Bendigo
Rehearsal dates: 2022
March 26th-27th: Weekend workshop (Saturday and Sunday) - 10 am-4.30 pm both days.
April 10th 2.00pm-4.30pm (Sunday)
April 24th 2.00pm-4.30pm (Sunday)
May 1st 2.00pm-4.30pm (Sunday)
May 7th 10.00am-4.30pm (Saturday full day )
May 8th from 10.00am Final rehearsal and Concert, Ulumbarra Theatre, Bendigo (Sunday full day)
Sunday afternoon rehearsals will be available to live stream.
Cost:
Full $190, Concession $170 per person.
Location
St Andrews Uniting Church
26 Myers St, Bendigo VIC 3550
Contact Details