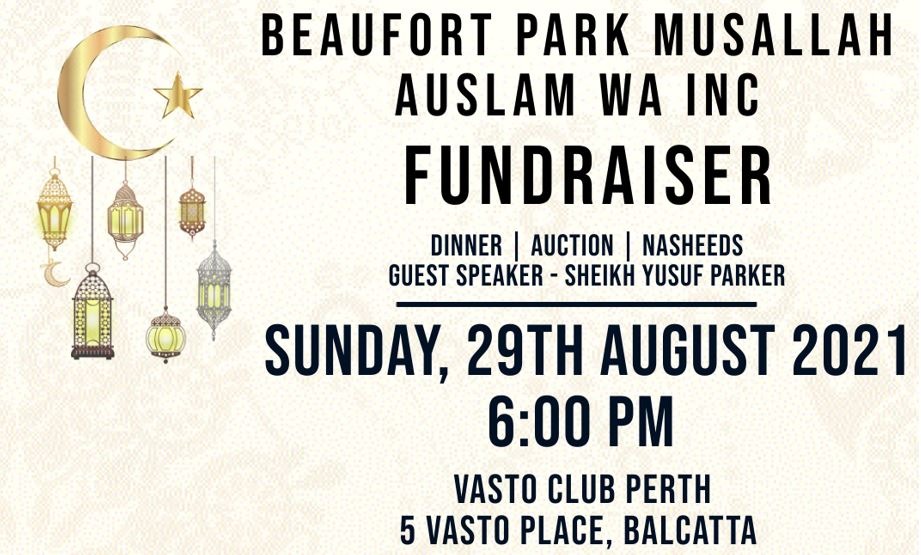 BEAUFORT PARK MUSALLAH | AUSLAM WA INC

FUNDRAISER

Dinner | Nasheeds | Auction

Guest Speaker - Sheikh Yusuf Parker

All proceeds towards Masjid Building Fund

Donations

Account Name: AUSLAMWA INC
BSB: 633000
Account No: 159467653
Swift Code: BENDAU3B
Beaufort Park Mussallah, has been operating since 2016, Alhamdulallah. Currently we are at maximum capacity for our childrens Maktab and weekend Adult Acadamy. During Ramadhan we are over capacity for Iftaar, Taraweeh and Eid Prayer. Therefore we are in absolute need of a new facility which will not only accommodate our current activities but also the needs of our community for many generations to come.
We have currently identified a few prospective properties or sale within the city of Bayswater, therefore we are trying raise sufficient funds towards a deposit via this fundraiser In Shaa Allah.
COVID-19 Guidelines For Event
- Please do NOT attend if you are unwell or have any symptoms of a respiratory infection, sore throat, fever or cough
- Please use hand sanitizer upon entry
- Please maintain appropriate social distance at all times
Location
Vasto Club
5 Vasto Place, Balcatta WA 6021