2021 Soil Matters - Building Resilience August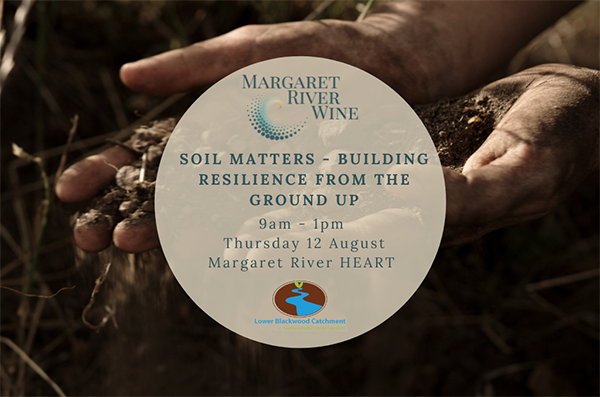 A half day workshop & networking event for viticulturalists & farmers.
A healthy soil is vital to ensure both high yields and future high yields, as well as environmental protection - there are no negative consequences on the ecosystem from having a healthy soil! But what IS a healthy soil?
Program
Session 1: Management practices to improve soil health and microbial diversity
Richard Leask, South Australian Viticulturalist & 2019 Nuffield Scholar
Session 2: The soil health tool kit
Emeritus Professor Lynn Abbott
Session 3: Panel discussion – transitioning to prioritise soil ecosystem health
Anthony Quinlan, Soil Dynamics and Bruce Pearse of Grow Safe
Tickets: $55
Morning tea & a light lunch included.
Location
Margaret River HEART
47 Wallcliffe Road, Margaret River WA 6285
This event has been made possible through a collaboration between Lower Blackwood Catchment Land Conservation District Committee and the Margaret River Wine Association and is supported by Leaskagri, Wine Australia, Soil Dynamics and Grow Safe.
Contact Details