EGA Microdose Webcast 7: Trip sitting and psychedelic care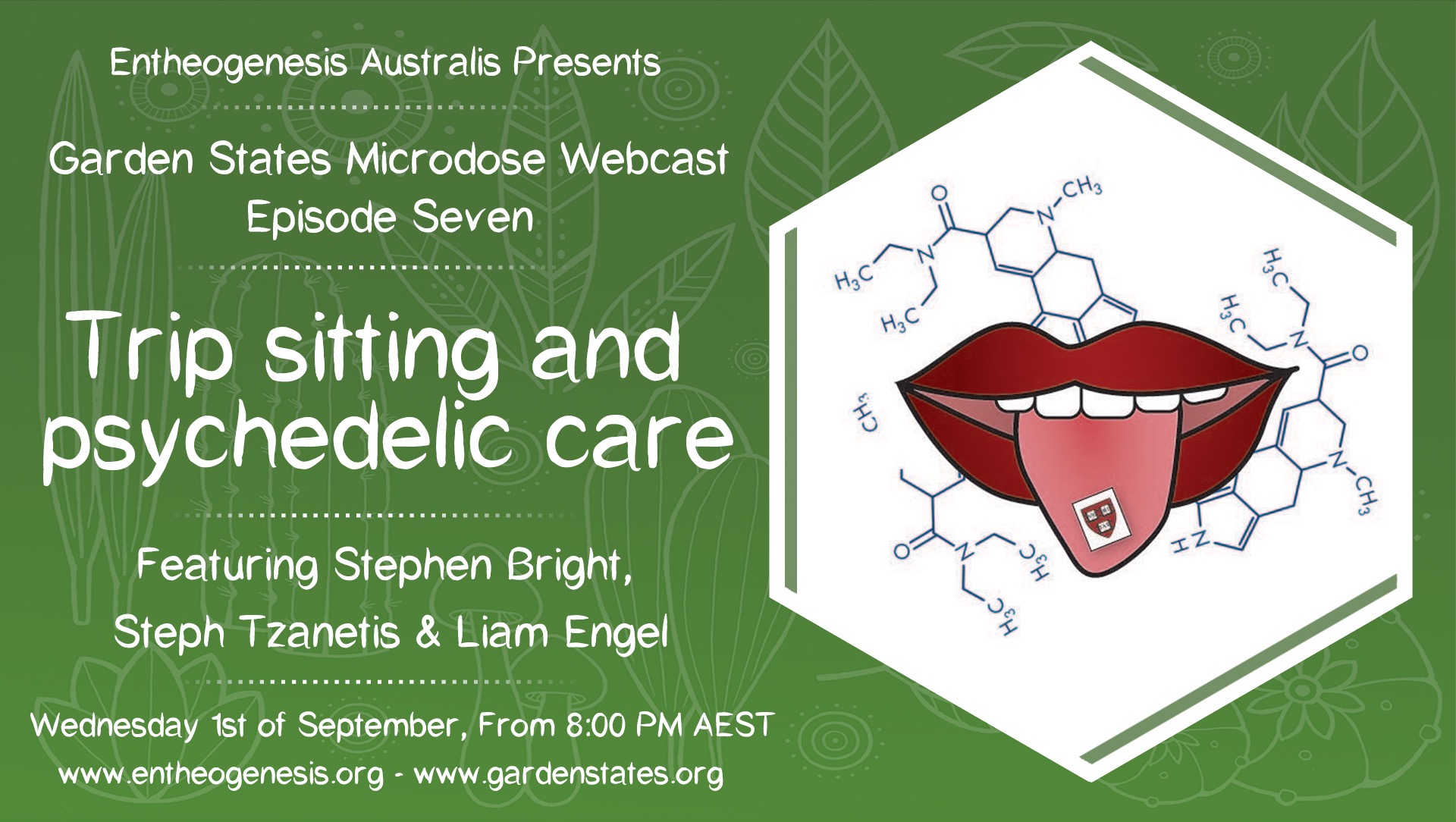 Our seventh Microdose Webcast episode will feature Steph Tzanetis, Dr Stephen Bright and Dr Liam Engel. Between them, these presenters have decades of psychedelic care experience.

Hosted by Nick Wallis & EGA.

Registration for the Microdose Webcasts are free but donations are encouraged to support EGA's important work (booking fees apply).
Episode Seven - Trip sitting and psychedelic care
Segment - Trip sitting and psychedelic care
There is a current boom in the psychedelic industry following mounting evidence that psychedelic-assisted psychotherapy could be an effective treatment for some mental health conditions. However, most people consuming psychedelics aren't visiting psychotherapists. Most people who provide care for people who use psychedelics also aren't psychotherapists. Distinguishing between the roles of therapists and trip sitters, and understanding how to provide psychedelic care, is important so the psychedelic community can take care of one another.
This webcast will explore the concept of psychedelic harm reduction and highlight different types and practices of psychedelic care. Our journey will begin with a presentation of the findings of a recent study of discussion of psychedelic care within the DMT Nexus and Shroomery communities. Reflecting on this study, our guests will discuss their knowledge and experiences of the provision of trip sitting services at doofs, raves and other psychedelic events.
Bio - Stephen Bright
Dr Stephen Bright has worked as a psychologist within the Mental Health & Alcohol and Other Drugs (AOD) field for the past 20 years. He is currently Senior Lecturer of Drug Studies at Edith Cowan University. In addition to psychedelic science, Stephen conducts research into media reporting of AOD-related issues (as seen in the Daily Telegraph), emerging drug trends and harm reduction. He is an advocate for an evidence-based approach to AOD legislation and has provided oral evidence to parliamentary and coronial inquests.
Steve is also a Co-founder of Psychedelic Research in Science & Medicine (PRISM), an Australian non-profit research association that develops, initiates, coordinates and supports formal research into mainstream medical applications of psychoactive compounds, known as psychedelics.
Bio - Steph Tzanetis
Steph Tzanetis has close to a decade's experience providing formalised psychedelic support at music festivals in Australia and overseas, including in Portugal and North America. Steph has qualifications in law, humanities, alcohol and other drugs, and addictive behaviours and is the DanceWize Program Director at Harm Reduction Victoria. A focus for DanceWize has always been psychedelic support that is based on the trip sit principles taught by comparable international programs, like MAPS Zendo Project and Kosmicare Association. Psychedelic support in event settings is different from psychedelic assisted psychotherapy in many ways, which will be catalogued throughout the presentation, and focus will be given to the respective opportunity to trip sit or deliver PAP in the outdoors.
Bio - Liam Engel
Dr Liam Engel is a drug science researcher and communicator. Liam's passion is illicit drugs, particularly the areas of harm reduction, psychedelics, ecology, internet and reform. His unique perspective draws on skills in health and medicine, communications and social sciences, as well as botany and horticulture.
Liam is an adjunct research fellow at Edith Cowan University's School of Medical and Health Sciences and research officer at RMIT University's Social and Global Studies Centre. Liam is a regular contributor to Entheogenesis Australis projects and resources.
----------------------------
About Garden States Microdose Webcasts
The EGA Garden States Microdose Webcasts are designed to cover various topics from the field of ethnobotany and psychedelic culture, sustainability, and related areas of interest to the community. The forums are part of the program leading up to the highly anticipated Garden States 2021 Botanical Conference. Registration for the Microdose Webcasts are free, but donations are encouraged to support EGA's important work.
About EGA
Entheogenesis Australis is a charitable, educational organisation established in 2004. We provide critical thinking and knowledge sharing opportunities on ethnobotanical plants, fungi, nature, and sustainability. Through our conferences and workshops, we aim to celebrate the culture, art, politics and community around medicine plants in the hope of better wellbeing for humankind and the planet.
To find out more about what we do, head over to our organisational website. If you like what you see, take a look at our upcoming Garden States 2021 Botanical Conference program.
Warm Regards,
The Entheogenesis Australis Team
Planting seeds for the earth, body and mind
www.entheogenesis.org
www.gardenstates.org
Note: Small booking fees may apply.
Location
Online event access details will be provided by the event organiser