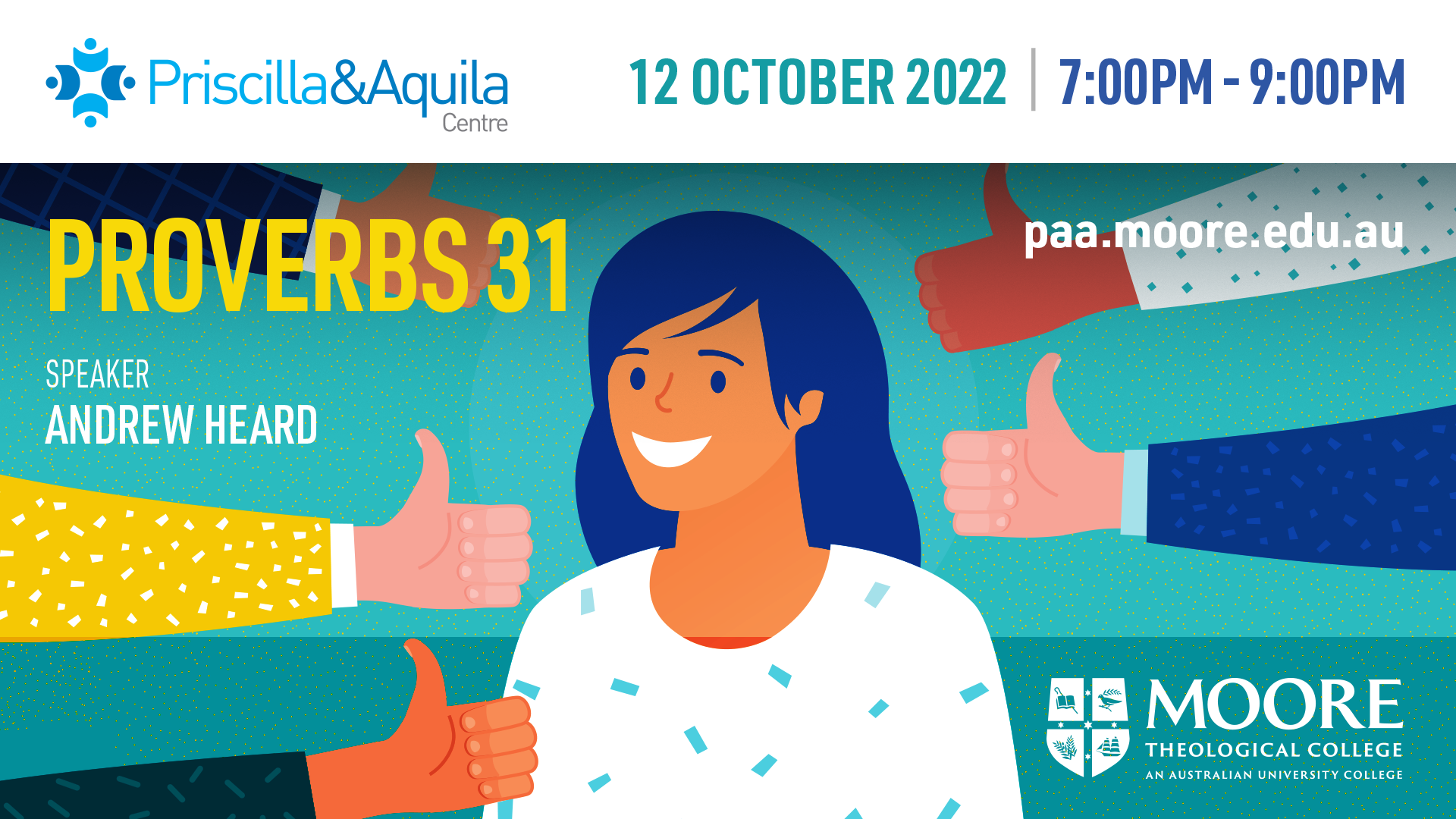 P&A Seminar - Proverbs 31
When?
Wednesday 12 October 2022, 7:00-9:00pm: talk + Q&A ; 9:00pm: supper.
Where?
Marcus Loane Hall, Moore Theological College, 1 King St, Newtown and via livestream.
Cost
In Person - $20.
Livestream (individual): $10.
Livestream (groups of five or more people; can be in multiple locations): $50.
Moore College community (students and student spouses, staff and staff spouses, faculty and faculty spouses): Free whether you livestream or attend in person, but you need to register.
Online ticket sales close at 12 noon, Tuesday 11 October. Please RSVP before then.
About
Proverbs 31 comes as the climax of the Book of Proverbs. It's a passage that many of us have questions and concerns about. If this woman was real, she'd be intimidating! But is the chapter describing a literal woman? Is she the personification of wisdom? If she's a personification, why is wisdom personified as a woman? How does this ancient passage help us understand what it means to be a woman today? Furthermore, how does it help us understand the relationships between men and women today? Come and hear Andrew Heard explain this encouraging and challenging passage for us.
About our speaker
Andrew is married to Cathie. They have four kids—all now married and two with children of their own. Their family is a great joy to them. They all share a love of surfing, water polo, Jesus and his church—just not in that order! Andrew is the founding pastor of EV Church, started 25 years ago in a lounge room on the Central Coast of New South Wales. He has also been part of establishing FIEC Australia, Geneva Push and now Reach Australia—ministries all driven by one great passion: to make Christ known and see vast numbers of people won to Christ. His driving concern is to see the cause of Christ flourish.
Hear Andrew speak about this event:
Location
Moore College
1 King Street, Newtown NSW 2042
All event attendees agree to the storage and use of their information in accordance with the Moore College
Privacy Policy
and use of photography / video footage in accordance with the Moore College
Information Release Statement
.