The School of the Arts, English & Media (TAEM) presents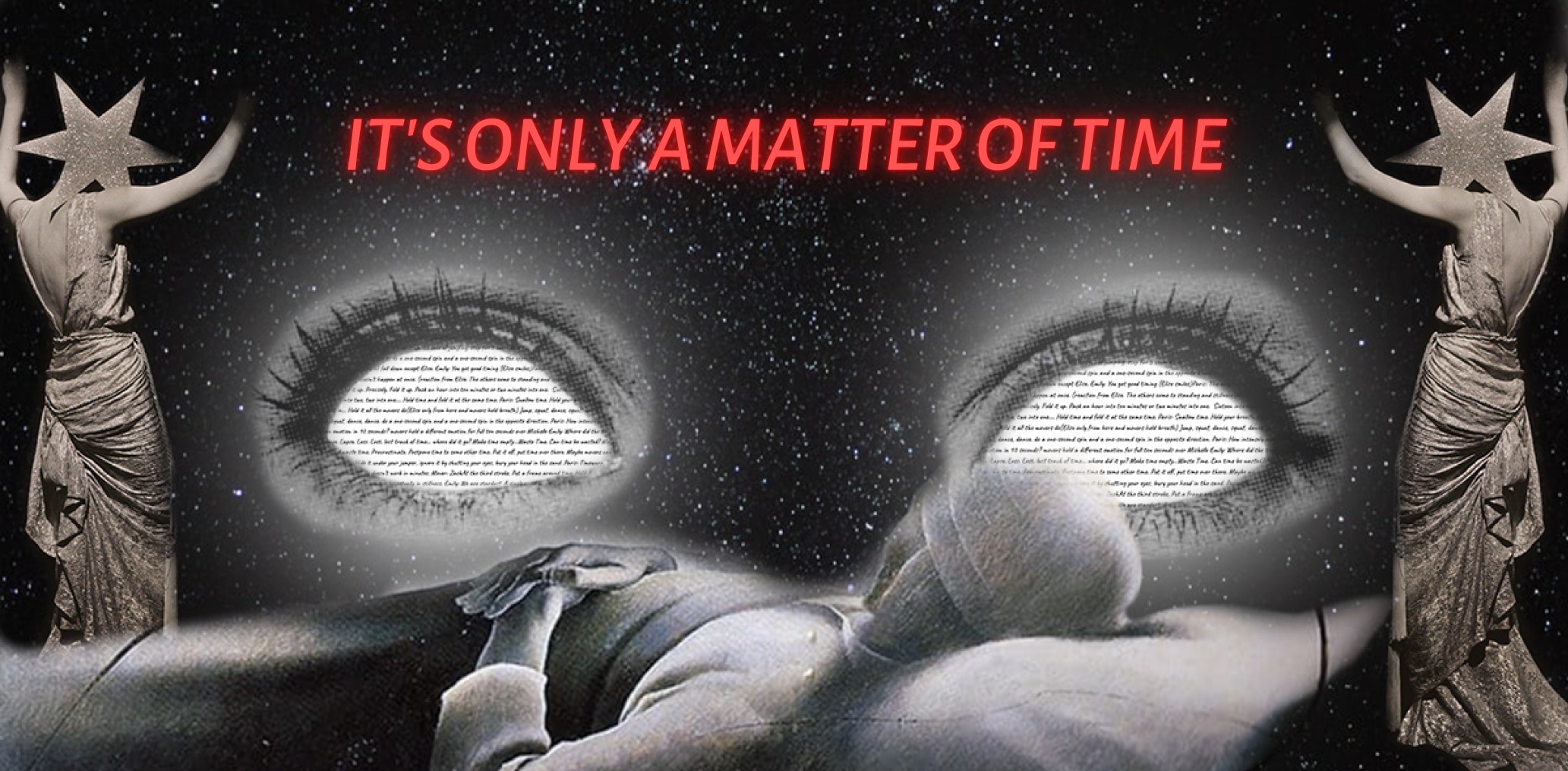 It's Only a Matter of Time
From the profane world of clocks, schedules and alarms, to the grand arc that is our life, to the confounding time scales of the universe, It's Only a Matter of Time is a thoughtful and sometimes irreverent performance reflecting of how we humans perceive time. How do we experience time when we are stressed? Relaxed? When faced with extreme danger? How is time perceived in dreams? What does it mean to live in the 'now'? Time is that constant companion in our lives - but is it even real?
Springtime, 2021
In the milieu we are living in - thick in the guts of the pandemic - where our worlds have shrunk to living rooms, bedrooms and screen rehearsals, the cast and director pondered the notion of time, putting it under a micro/macro-scope, asking ridiculous questions and demanding impossible answers. It's Only a Matter of Time is a devised work with the 2nd year Bachelor of Performance and Theatre students, comprising a collection of vignettes in a three-part structure: Chronological Time, Time in Dreams and Deep Time. The performance will be live streamed. The cast are not only actors, but with the assistance of stage manager Kiara Smith and her technical team, the actors are also technicians and set designers, transforming their homes upside-down to create this performance for you, our audience. We hope you spend time with us and enjoy the show.
Director: Linda Luke
Assistant Director: Billee Harris
Written and devised: by Linda Luke, Billee Harris and the 2nd year Bachelor of Performance and Theatre students.
Additional Text by Natsume Soseki, 'Ten Nights of Dreams' (1908)

Cast: Brittany Barr, Sarah Bergman, Patrick Stephen Ferrer, Michelle Fry, Zachary Hanlon, Elise Holland, Domenic Hort, Paris Maguire, Krystle McMurray, Harry O'Keeffe, Christopher Stephen Potter, Brooke Salisbury and Emily Smith.
Production Manager: James Sutherland
Stage Manager: Kiara Smith
Sound Designers: Linda Luke and Kiara Smith
Lighting Designer: Linda Luke
Video Creation: 'Science Sam' by Zachary Hanlon and 'Time Dance' by Brittany Barr
Date: Tuesday 19th October and Wednesday 20th October 2021
Time: 7.00pm
Phone: 02 4221 4354
Email: ASSH-Events@uow.edu.au
Zoom link will be provided via email 2 days prior to the event
For more information, please see the TAEM Performance website