Barrington Picnic Train (SOLD OUT)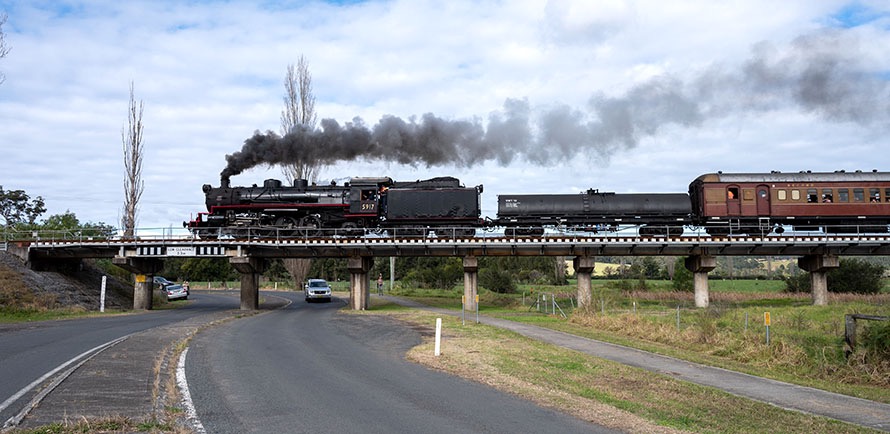 Experience the romance of rail travel on a day trip from Maitland to Gloucester and return riding The Barrington Picnic Train on Saturday, 20 November 2021.
ONE DATE ONLY:
Saturday, 20 November 2021
Sit back and enjoy the stunning picture views of the countryside from inside our beautiful heritage carriages while we steam towards Gloucester.
You'll have plenty of time for a relaxing lunch at a variety of cafés or bistros in Gloucester. Take a scenic walk, picnic in the park or maybe even go for a dip in the Avon or Gloucester rivers.
Your journey starts at Maitland's Railway Station, travelling on the North Coast line, paralleling The Bucketts range into Gloucester.
Hauling The Barrington Picnic Train will be 5917, built by Baldwin (USA) in the 1950s for the NSW Government Railways. This class was the last steam power used on the North Coast line in the late 1960s.
Ticketing options all encompass NSW Covid-Safe regulations and are perfect for couples, small groups and families.
If lunching at a café or bistro in Gloucester, please book beforehand to avoid disappointment.
Please note COVID-19 Conditions of Travel before booking.
For more information on the destination, please visit gloucestertourism.com.au or www.aussietowns.com.au/town/gloucester-nsw
Fares:
Please Note: All fares are for same-day return travel.
Private Compartment — $440 per group
Enjoy the benefit of an entire closed-off compartment to yourselves — great for families and social groups!
One booking is good for up to a maximum of four (4) people (max 6 from the same household 'bubble').
First Class Duo — $240 for two people
First Class seating for two people. Two Window seats in a spacious booth with table.
Full Carriage Hire — Call for Quote
Buffet Car:
Due to COVID-19 restrictions and inline with the governments regulations the Buffet car will not be added to this trip. We encourage passengers to bring their own picnic hampers.
BYO alcohol is allowed, however, large eskys will not be permitted
Toilets:
Toilets are available in all carriages.
Mobile Phones:
There are no charging points on the heritage equipment. It is recommended that you bring an external battery charger for your mobile devices.
COVID-19 Condition of Travel:
All passengers aged 16 or over will need to be fully COVID-19 vaccinated (or have an exemption) by the date of this tour. COVID-Safe check-ins using the QR code provided and proof of vaccination will be required for all staff and customers. Passengers will be refused boarding if evidence can not be supplied.
Face masks must be worn while boarding/alighting and moving around the train.
Passengers are asked to remain in their allocated seats as far as practical
If a passenger is experiencing COVID symptoms prior to travel, they must not travel, even if fully vaccinated.
Other COVID-19 restrictions may be implemented on the day depending on current alert level.
Passengers are required to follow all instructions from their carriage attendant.
Timetable:
Outbound Journey
Maitland dep7.25am
Gloucester arr12.20pm
Return Journey
Gloucester dep3.30pm
Maitland arr7.00pm
*Preliminary times only. Please arrive at least 20 minutes prior to departure. An update email will be sent to the ticket booking a couple of days prior to the event with final trip details.
Location
Maitland Railway Station
Station St, Maitland NSW 2320