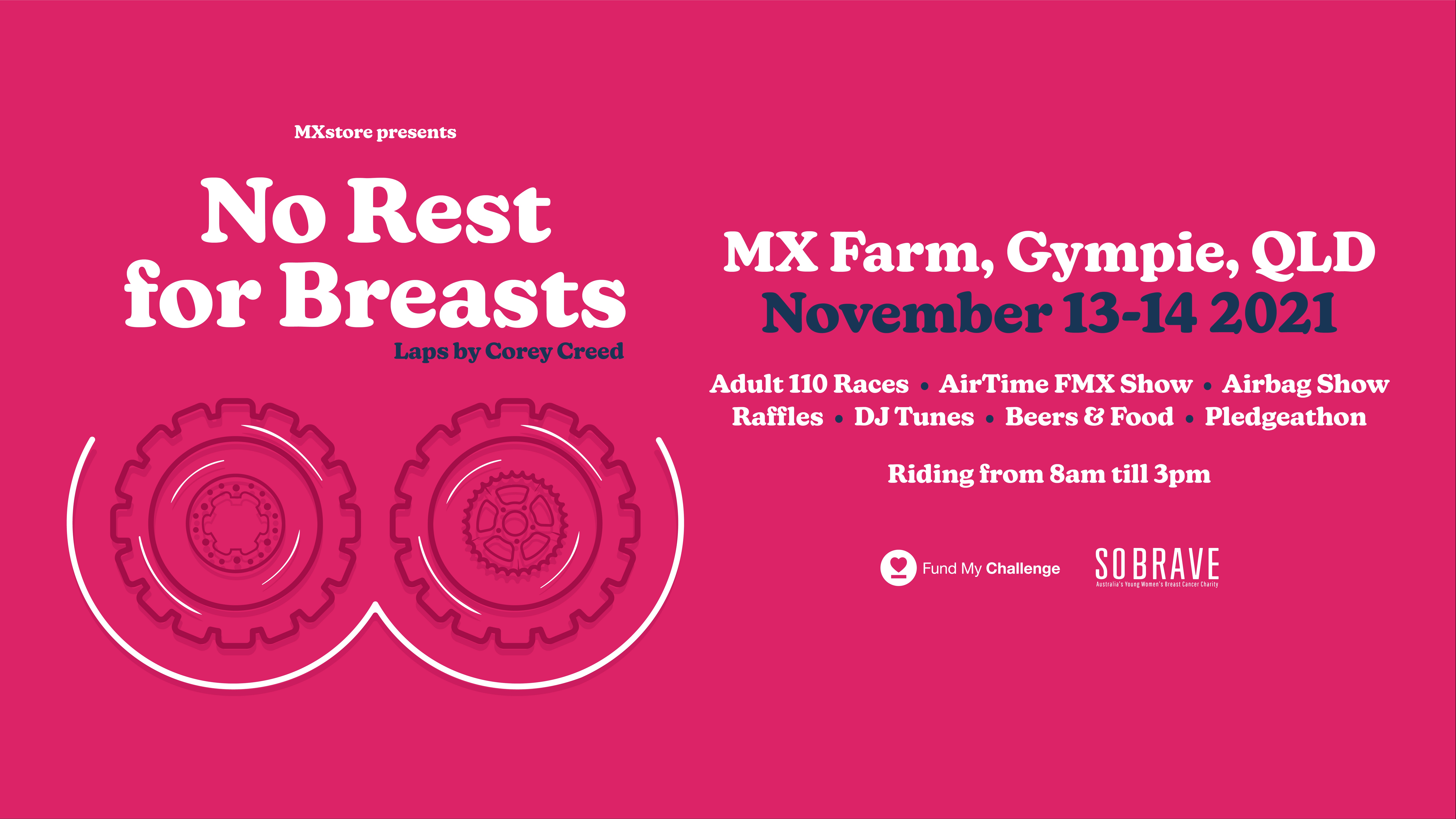 The inspirational

Corey Creed

has set himself a mission to lap the main track from 8 am-3 pm riding non-stop to raise awareness and funds for the charity. That's right 8 hours of riding non-stop.

Let's get together to make a change, in a fun way to connect with all people affected by Breast Cancer, for a great cause! We are supporting the incredible charity, So Brave – Australia's only young women's Breast Cancer Charity. This charity works tirelessly to support those living with breast cancer and fund breast cancer research.
Breast cancer is the most commonly diagnosed cancer in Australia with 1 in 7 Australian women being diagnosed in their lifetime.
Pledgeathon:

Either

join Corey to lap the track as many times as possible by encouraging your supporters to donate. Otherwise just simply be a supporter to pledge a donation to one or more pledgeathon participants here: https://no-rest-for-breasts.fundmychallenge.com/
Riding available Saturday and Sunday

: With $5 from every ticket donated to Fund my Challenge's partner charity So Brave.

AirTime FMX Show

:

The Freestyle MX boys will make you get off your feet, clap your hands together and make a whole bunch of noise while you're entertained for 3 different shows held at

3.00 pm, 5.00 pm & 7.00 pm

Airbag Show:

Come and watch Corey Creed & Harry Bink throw down a bunch of epic flips in the air!

Mini Bike Races:

incl. 2 x Adult 110 Races (3.30-4 pm) Thanks to Rival Ink there is $500 CASH up for grabs!

50cc - 110 Kids Races:

11am & 1pm on PeeWee Track

Camping is available on Friday & Saturday night, with a roast dinner available on Saturday. Please note these sites are unpowered.

Riding will be available Saturday and Sunday, the main event is on Saturday only.
Gates open at 7:00 am with a riders briefing at 8.30 am. Riding kicks off from 9:00 am each day. (Join Corey for a ride Saturday plus Sunday ride as per usual)
'Every donation ensures support, connection, empowerment, advocacy. It supports investment into research for young women with breast cancer. It invests in research to change the conversation for young women and breast cancer' – So Brave
Location
MX Farm 237 Bradys Road
Curra QLD 4570