2022 Trinity Women Enrichment Day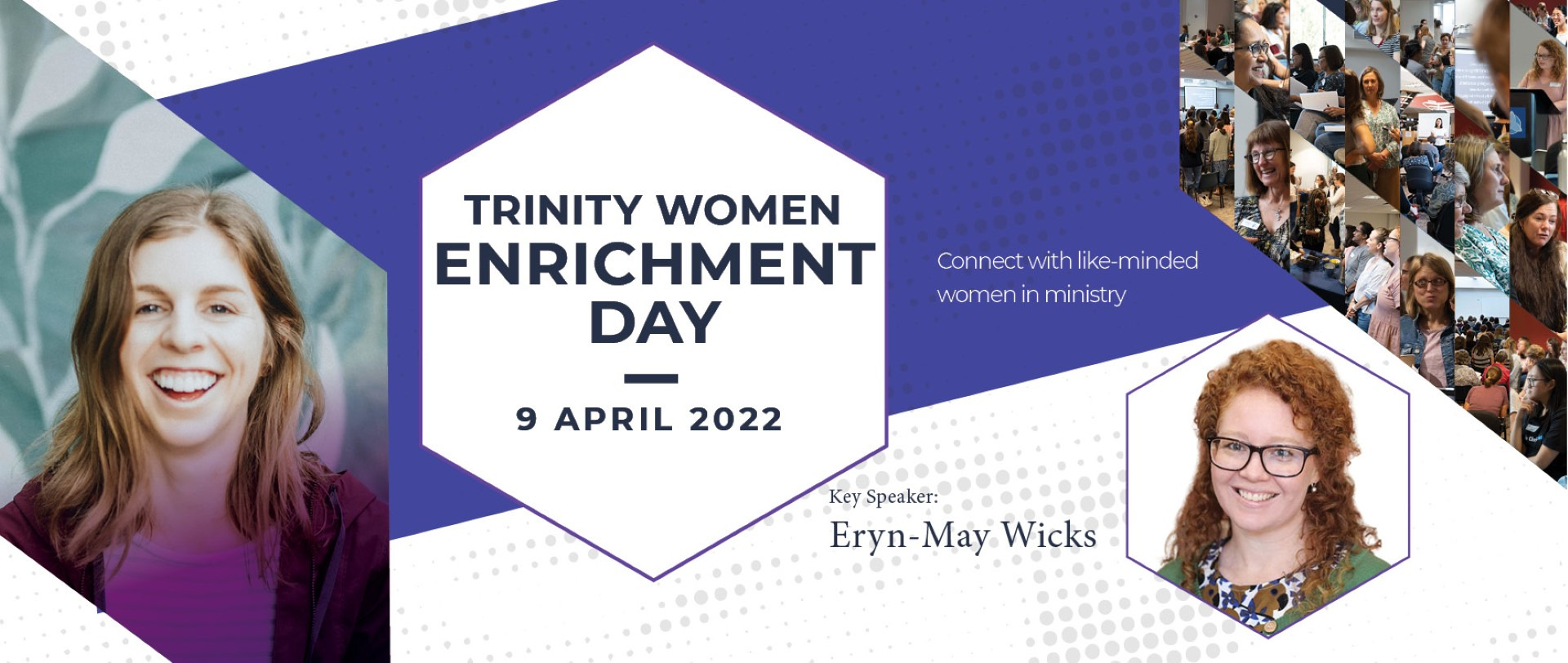 Saturday 9 April | 8:45am- 4:30pm
Trinity House, Level 2
632 Newcastle Street, Leederville
Practical ministry training and relationship building opportunities for wives of ministry students and women training for, or involved in, ministry.
Main Speaker - Eryn-May Wicks
Eryn-May will give two talks on the topic Grounded in Christ from 2 Peter.

Eryn-May grew up in a lovely 'no traffic light' town. In year 12 her life was turned about after coming to an understanding of God's grace. Formerly a primary teacher, she joined St Matthew's in 2013 after studying at SMBC, and is now their Women's Minister. She finds joy in helping people discover God through the Bible and in equipping others for gospel ministry. She is a fan of leaf tea, music and making things from scratch just like her Nana taught her.
NB: When making your booking, please ensure you are ready to select the morning and afternoon workshops you want to attend. Should you make a booking for more than 1 person, please provide this info for each attendee.
Morning Workshops (Participants choose one):
1. Ministry to Women in Full Time Work – Amy Stopher
A growing number of women work full time in paid employment. In this elective we'll be thinking about how to serve these women well - how to reach them with the gospel, disciple them in our churches, and encourage them through the particular joys, opportunities and challenges their work brings.
Profile: Amy serves on the team at Providence City and loves spurring women on in serving Jesus. She grew up in Perth, the third of four sisters, and first learned the gospel from her parents.
2. Ministry to the Elderly – Helen Ellery
We will talk about how to understand and relate to older people. We'll also discuss how to honour, encourage, and value the older members of the congregation as well as our parents..
Profile: Helen is married to Chris, has 3 married children and 6 grandies. She trained as a Hospital Chaplain and has been a Pastoral Carer at North Beach Baptist for more than 20 years.
3. Ministry to Muslims – Bev Rowlands, Glenys Blackett and Nazira.

50,000 Muslims live in WA. God has brought the mission field to us. Talking to Muslims about spiritual things is actually a lot easier than with other folk but winning them for Christ is not. What are you going to do about it? We hope you will share your faith with the ones you meet.
Profile: . Bev Rowlands and Glenys Blackett have worked with Muslims in Middle Eastern countries and in Perth. Nazira will share her testimony and answer some questions.
Afternoon Workshops (Participants choose one)
:
1. How to Listen Well – Sarah Thorburn

Listening well plays a significant role as we seek to minister to people. It's difficult to love others and apply the gospel to where they're at without listening well. In this seminar we'll think together about how to do this better.
Profile: Sarah was born and raised in Perth and now serves with the Australian Fellowship of Evangelical Students with Curtin Christian Union. She loves opening God's word with women on campus, helping them discover the joy of knowing Jesus and encouraging them to live for him.
2. Reading the Bible One to One – Celeste Boska
God's word is full of life-changing truth – and has life-changing power. We know this, but why is it hard to open God's word and read it with a friend who doesn't know Him? If you want to equip yourself to read the Bible with a friend, come and learn some easy ways to get started and keep going. Whether you've tried it before, you're keen to start, or you're daunted, this workshop will give you steps to take to get you and your friend reading and discussing God's life-changing word.
Profile: Celeste is a Trinity graduate. Her favourite part of TTC was studying whole books of the Bible in depth, so she has continued doing this with uni students at the Australian Fellowship of Evangelical Students at Notre Dame Fremantle. Celeste is married to John and has little whippersnappers named Felix and Evangeline. She enjoys anything creative and getting out of the city to see trees.
3. Evangelistic Playgroups – Jessica Hortin

Playgroups are a popular place for parents of young children to find community while providing activities for their children; and are a way Christians can reach these families with the gospel. Whether you are already part of a playgroup, or are considering starting or joining one, this workshop will help you think through the opportunities an outreach playgroup provides, explore different approaches to running one, and what resources it might take.
Profile: Jess has been on the staff at Southern Christian Church for 2 years, primarily leading the children's and outreach playgroup ministry. She loves the opportunities she gets to encourage mums of young children and point them to Jesus, as well as finding creative ways to teach the bible to young kids.
Contact Details:
Feel free to contact us if you have any questions:
Phone: 9228 9067
Email: info@ttc.wa.edu.au