School Holiday Ballet Workshop with Lisa Bolte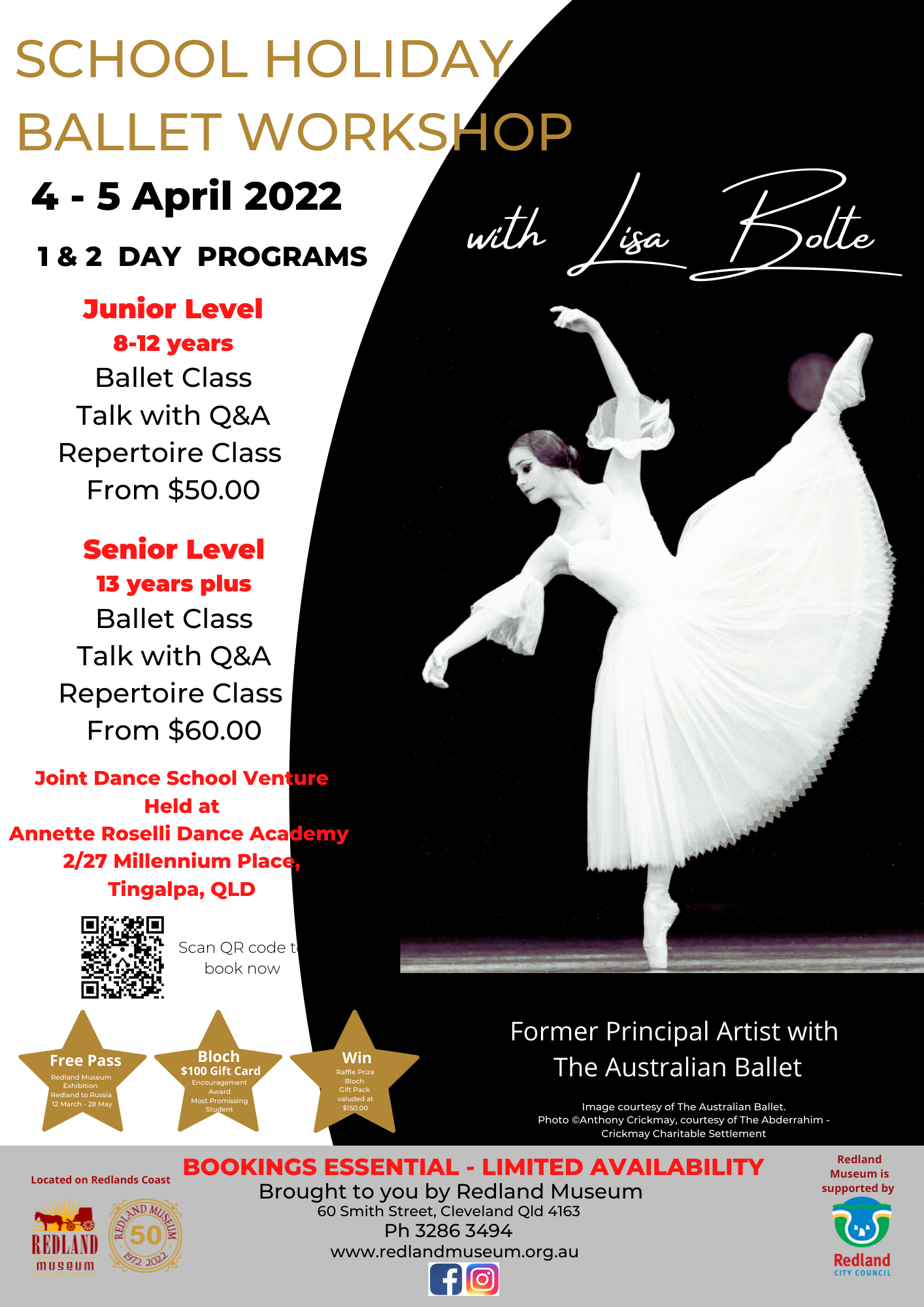 Classic Ballet & Repertoire Workshop
1& 2 Day Programs for junior & senior students
This is a once in a lifetime experience to attend Lisa Bolte' School Holiday Ballet Workshops.
All Brisbane ballet students can join Lisa for holiday ballet and repertoire classes, accompanied by pianist Lucas Lynch.
A unique opportunity to improve techniques and be inspired by the renowned Lisa Bolte, former Principal Artist with the Australian Ballet.
Your child will participate in the Q&A session to hear Lisa's amazing story and have the opportunity to ask some questions about her journey as a ballerina and her lifelong passion for ballet.

Tickets are limited and bookings are essential.
Your ticket will also include a free visit to Redland Museum's and view 'Lisa Bolte, My Ballet Career exhibition.
Celebrating the career of former Australian Ballet Prima Ballerina, Lisa Bolte showing until 28th May. Enjoy a visit to this stunning exhibition which will feature a collection of Costumes and memorabilia from The Australian Ballet archive.
As a child, little did Lisa know that on becoming a ballerina she would be invited to dance the world with The Australian Ballet, including in Canada, USA, UK, Greece, Italy, Asia and Russia – that she would have lunch with the Queen, meet Princess Diana, dance in Rudolf Nureyev's Australian farewell, perform at Princess Grace's mansion, dance under the stars at the Herod Atticus Theatre and have Australia Post produce a Lisa Bolte stamp.
Lisa was born in Sydney and moved to the Redlands in 1971. Learning to dance locally with Margaret Lucas, Janice Schoenauer and Sandra Ashley at Caprice Dancing School, Wynnum, Lisa then successfully auditioned to study at The Australian Ballet School. She moved to Melbourne in 1983 and in 1986 was invited to join The Australian Ballet by Artistic Director Maina Gielgud.
Lisa was promoted through the ranks to become Principal Artist in 1993 and she won the Mo Award for 'Best Female Dancer' for her performances as Juliet in Romeo and Juliet in 1998. Lisa's most cherished performances include dancing the classics: The Sleeping Beauty, Giselle, Romeo and Juliet, Swan Lake, La Sylphide, Onegin, Don Quixote, Anna Karenina, Manon, Merry Widow and Raymonda.
Ticket Price From $50 pp*
*Booking fees apply
Junior Program - Two Day Workshop
Monday 4 April 2022
10.00am - 11.15am Junior Class
11.30am - 12.30pm Junior Repertoire Class - Act 1 Coppelia (TBC)
12.30pm - 1.00pm Talk with Q&A
Tuesday 5 April 2022 (One Day Workshop attend only on 5th April)
10.00am - 11.15am Junior Class
11.30am - 12.30pm Junior Repertoire Class - Act 1 Coppelia (TBC)
Senior Program - Two Day Workshop
Monday 4 April 2022
12.30pm - 1.00pm Talk with Q&A
1.15pm - 2.45pm Senior Class
3.00pm - 4.15pm Senior Repertoire class solo- The Sleeping Beauty or Giselle (TBC)

Tuesday 5 April 2022 (One Day Workshop attend only on 5th April)
12.45pm - 2.15pm Senior Class
2.30pm - 3.45pm Senior Repertoire class solo - The Sleeping Beauty or Giselle (TBC)
FREE PASS:- Tickets include a visit to Redland Museum & Lisa Bolte My Ballet Career Exhibition 12 March - 28 May 2022
ENCOURAGEMENT AWARD - Bloch have donated a $100.00 gift voucher for most promissing student, to be announced at the final workshop.
WIN - Raffle tickets can be purchased to win a Bloch gift pack valued at $150.00

*All classes are held at Annette Roselli Dance Academy
2/27 Millennium Place, Tingalpa, QLD
Location
Annette Roselli Dance Academy
2/27 Millennium Place, Tingalpa QLD 4173