Women of Courage 27 August 2022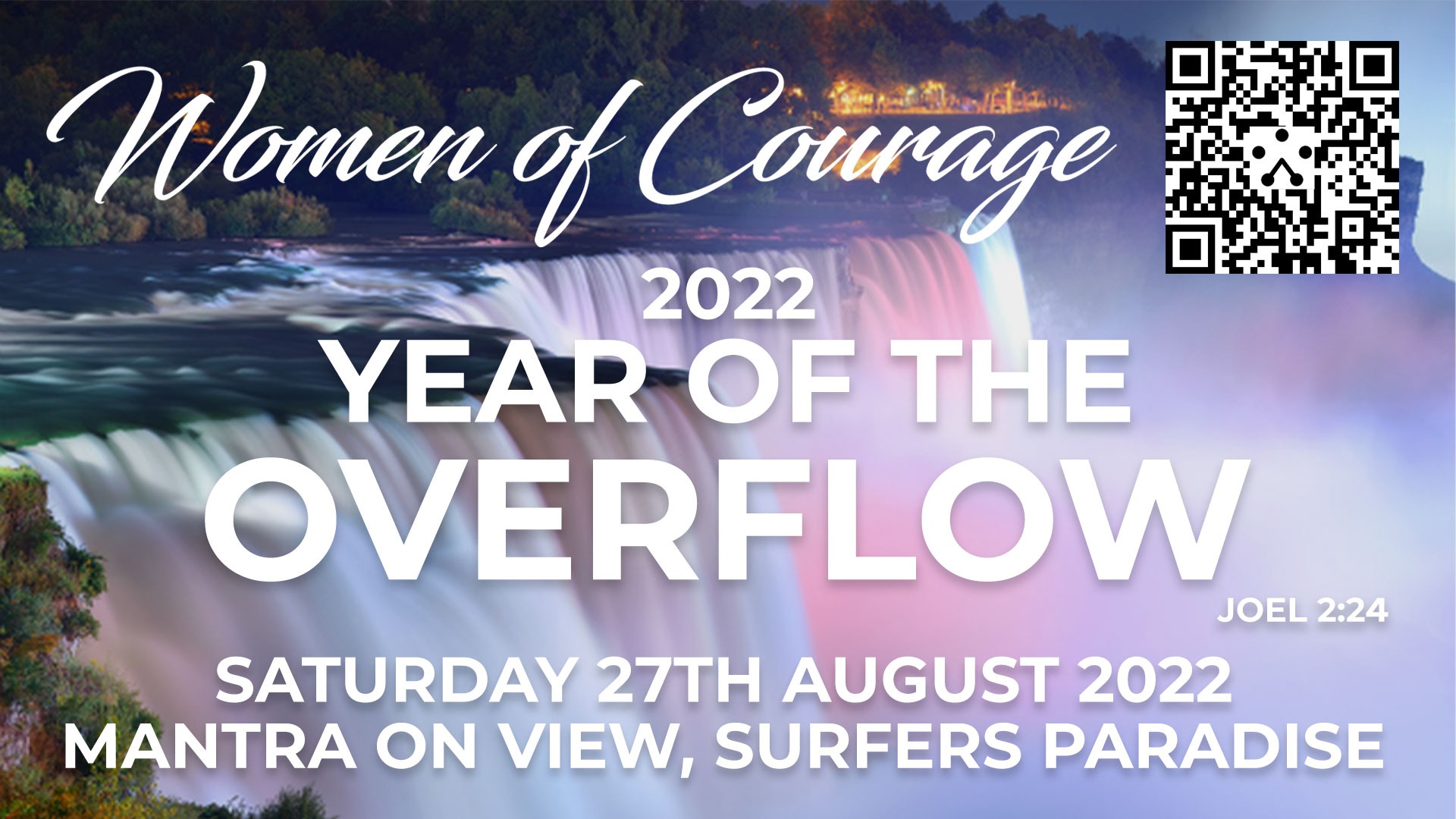 Welcome to Women of Courage. The theme for 2022 is the YEAR OF THE ABUNDANT OVERFLOW. Come and hear a fresh word from the Lord for your life and soak in His presence.

WHAT TO EXPECT AT THIS SPECIAL EVENT...
The day will be broken up into sessions from founder of Women of Courage - Cindy Donaldson, and special guest John Mellor.
John Mellor
John is an Australian International Healing Evangelist. He grew up in Brisbane, Queensland. As a young man, his life was a mess until one day he surrendered his life to Jesus and became a Christian, beginning a journey that radically turned his life around and set him free from depression, anxiety, fear and alcoholism. Despite this, John struggled to believe in the healing nature of Jesus Christ.
In 2000, John travelled to Mexico and then to Wishaw, a small town outside Glasgow, in Scotland. In Wishaw, a flood of miracles began and what was to be a one week visit turned into eight incredible months of revival. The miracles caught the attention of the national media, and soon thousands of people came from everywhere to receive healing.
The ministry as it is today was birthed out of what the Lord did in Scotland, and John now ministers extensively all over the world. All of this story – and much more – is included in John's first book, Miracles from the Dust, available from our online store.
By God's grace, people have been healed of every conceivable type of ailment – physically, emotionally, mentally and spiritually. You can find out about the miracles by watching our YouTube clips or reading the articles and testimonies on the website Media Page. God is continually healing people and setting them free!
John Mellor is ordained as a pastor with Christian Outreach Centre, but the ministry is non-denominational. God wants to touch and heal people, whichever nation they live in, whichever denomination they belong to. Jesus is moving powerfully now!
https://www.johnmellor.org/
https://www.facebook.com/JohnMellorMinistries
Anita Alexander
Dr. Anita Alexander Th.D is a Prophetic Revivalist, Teacher, Intercessor, Psalmist, Author, and Songwriter. Anita graduated her Doctorate of Theology degree from the North Carolina College of Theology in 2021. Together with her husband Dr Sasha Alexander, she is the co-founder of Golden City Church, Kingdom Adademy School of the Spirit, and Director of Revival Flame Ministries.
Anita is like a fire brand in the hand of the Lord and is a prophetic voice called to prepare the Bride. She carries strategic insight and revelation in redemption and recovery through Apostolic and Prophetic Intercession, that changes the course of individual lives, cities, regions and nations that bring spiritual alignment for outpouring and revival.
https://www.revival-flame.org/anita-alexander/
https://www.facebook.com/profile.php?id=100011731667379

Cindy Donaldson
Cindy Donaldson is the founder of Women of Courage which is a Christian Women's Ministry based on the Gold Coast, Australia and is dedicated to the cause of inspiring and elevating women into their God given calling, by providing opportunity to be impacted by Apostolic and Prophetic ministry.
See Women of Courage details online -
Women of Courage Website
Women of Courage Facebook

Lunch
You will have a 1 hour break for lunch. There are plenty of Cafes, restaurants and eateries around the corner of Mantra on View where you will be able to have your lunch. There is also a Coles across the road and plenty of takeaway options if you'd like to have your lunch on the beach.
Parking
Parking is available at the venue for $10 for the day. You will need to validate and pay for your parking ticket at reception during the day. Alternatively there is also the Bruce Bishop Car park which is $5 for the day. And the light rail and bus stop is very close by to Mantra on View if you'd prefer to use the public transport facilities.
Accommodation
Accommodation is also available for those who would like to stay a night or two before or after the event with your girl friends, or if you have travelled some distance. Please book and pay directly with the venue and mention Women of Courage.
Seating is strictly limited, so book your ticket now to avoid disappointment.
Saturday, 27 August 2022 | 9am - 4pm
Registration cost is $85 - Includes morning tea
Location
Mantra On View
22 View Avenue, Surfers Paradise QLD 4217