Beauties, Breasts and Bubbles 2022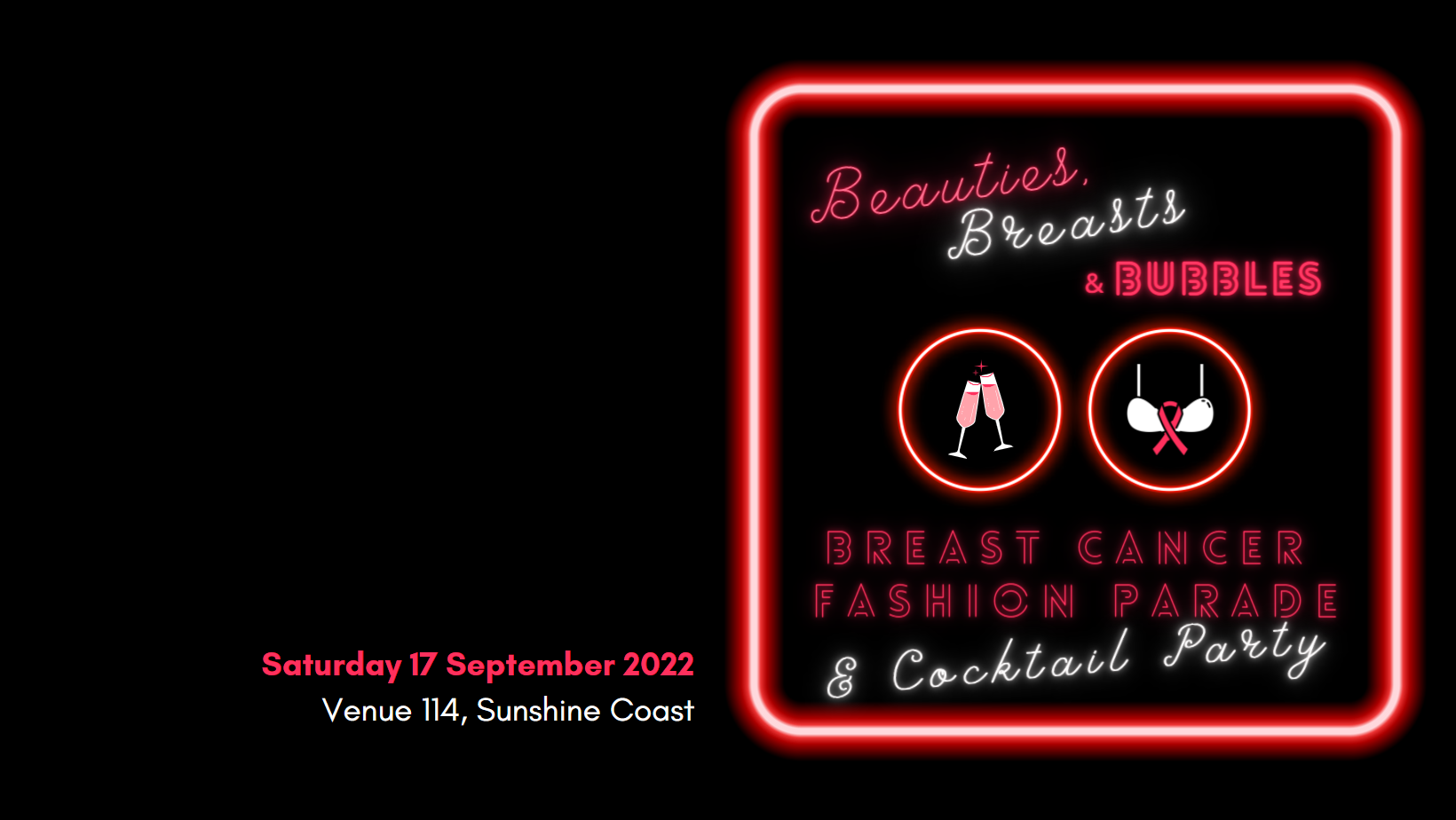 Beauties, Breasts and Bubbles: Fashion Parade and Cocktail Party
Saturday 17 September 2022
6.00pm for 6.30pm start
Dress code: Fabulously glamorous!
Complimentary drink on arrival

Live DJ and dancing

Lucky door prizes

Breast cancer fashion parade

Grazing tables and licensed bar for guests 18+ (card payments only via EFTPOS - no cash accepted)

Flashpod Photo Booth to capture your night of fun!
Download poster 🎗 Download flyer 🎗 Watch launch video
Tickets
Early bird tickets $55 (plus $0.50 handling fee)
Early bird offer ends 19/08/22 (standard price $65 from 20/08/22)
Tables seat eight (8) guests. For further details, please see FAQs below.
The event organising team pay our deepest respect to the Traditional Custodians of this country; the Kabi Kabi and Jinibara peoples of the coastal plains and hinterlands of the Sunshine Coast.
Portion of ticket proceeds will be donated to The McGrath Foundation and Cindy Mackenzie Breast Cancer Program
Event Supporters
Connect on event social pages
Event FAQs
Ticketing
If I'm part of a group booking, can I buy tickets separately? Yes, a group of people can purchase tickets separately and asked to be seated together. During the booking process, you will be prompted to add names of other guests who you wish to be seated near or next to. Please complete this information so that we can seat your group together where possible.

How many people fit on a table?

Tables seat a maximum of eight (8) people. We appreciate your understanding in this matter by not requesting the event team to seat more than eight people to a table.

Can I buy a table if I don't have all guest names when booking?

Yes. The person booking the tickets will need to put their own details into the booking form for each of the 8 guests.

What are the conditions of the early bird discount? Guests who buy tickets prior to 11.59pm on Friday 19 August 2022 can access the early bird offer for $55 per ticket. Guests who buy tickets after 12.00am on Saturday 20 August will be charged $65 per ticket.
Can I make changes to my booking after the payment has been processed? Yes, please email thrivebcevent@gmail.com to advise details.
Can I get a refund if I change my mind or can't attend? Refunds are not available. You may transfer your ticket to another person by contacting the event organising team on thrivebcevent@gmail.com.
Fundraising and Event Support
If I'm unable to attend the event, can I still contribute towards the fundraising? Yes, tax-deductible donations can be made via the Beauties, Breasts and Bubbles page of McGrath Foundation website.
Which charities is the event fundraising for? The event is jointly fundraising for the Cindy Mackenzie Breast Cancer Program and the McGrath Foundation. Profits from the event will be split jointly between these two charities to support women, men and their families impacted by breast cancer diagnosis and treatment. The total amount of money raised will be publicised on the event social media channels once the event has occurred and fundraising has concluded.
Which organisations and businesses are supporting the event? The event organising team comprises volunteers and service providers from the breast cancer community. Since this is a fundraising venture organised by volunteers, financial and in-kind support from sponsors (listed above) has been crucial to ensure the viability of the event. The event is also supported by funding from Sunshine Coast Council's grants program.
Venue
What time will the event start and finish? Guest are asked to arrive at 6.00pm for registration and receipt of welcome drink upon arrival. Guest will be asked to be seated by 6.30pm (late arrivals will be granted access to the hall by registration staff). The licenced bar will remain open until 9.30pm. At 10.00pm, staff and event organisers will ask guests to vacate the venue.
Will the venue be licensed? Yes, a licensed bar will be available at the venue for patrons aged 18 and older (payment via card only - no cash payment). It is an offense for minors to purchase or consume alcohol, or for alcohol to be supplied to minors.
Is the event suitable for under 18s? Guests are advised that content and visuals at this event are classified M (15 years and older) due to displays of lingerie, partial nudity of models, the adult nature of topics and possibly explicit song lyrics.
What parking is available? Venue 114 has onsite car park and on street parking available and is located in close proximity to public transport.
Fashion Parade
Who are the models in the fashion parade? The volunteer models are local breast cancer survivors who are proudly taking to the catwalk to demonstrate body positivity. Among the models are various body shapes due to their breast cancer diagnosis, surgeries, treatment and reconstructive choices. Each volunteer model has a unique story to share and celebrate in their life after breast cancer diagnosis.
Where can I buy garments displayed in the fashion parade? Garments worn by volunteer models in the fashion parade can be purchased from Tracey G Prosthetics and Lingerie.
Venue 114
114 Sportsmans Parade, Bokarina QLD 4575