Caribé music and dance on tour @ Kandos Community Hall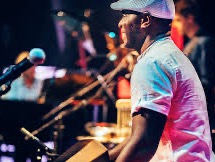 Enthusiastic 9 piece Afro-Cuban Jazz music and dance ensemble bring a spectacular collision of memories and multiculturalism, set against original Latin jazz. Classic Cuban rhythms paired with impressive choreography by Adrian Medina define a show of spectacular artistry transport the audience straight to the heart of Cuba.

Due to health and safety this event has been rescheduled from March 11th to September 16th, 2022.
This tour is made possible with the support of: Create NSW, Spare Parts Productions, Music Hunter, Number Forty Seven, Arts Out West, Orana Arts and Wellinton Arts Council. The event covid safe plan is inline with current NSW Health Orders.
Friday 16 September 2022 7:30 PM - 10:15 PM (UTC+10)
Location
Kandos Community Hall
44 Angus Avenue, Kandos NSW 2848
Contact Details