Limited Release OCS Medallion (SOLD OUT)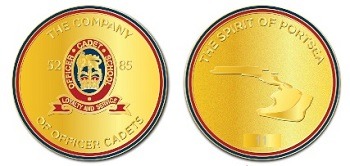 About
The OCS Alumni is offering a limited edition of fifty numbered medallions for purchase.
These medallions have ben designed by past graduate Robin McBride (Jun68) over the last two years and will be available for purchase online through the OCS website.
The medallion arrives in a specially designed blue leatherett presentation box which has gold printing showing the years of operation (52/85) and the OCS badge. The medallion is 50mmgold with the OCS badge on the front.
Location