SUBLIME - chamber music concert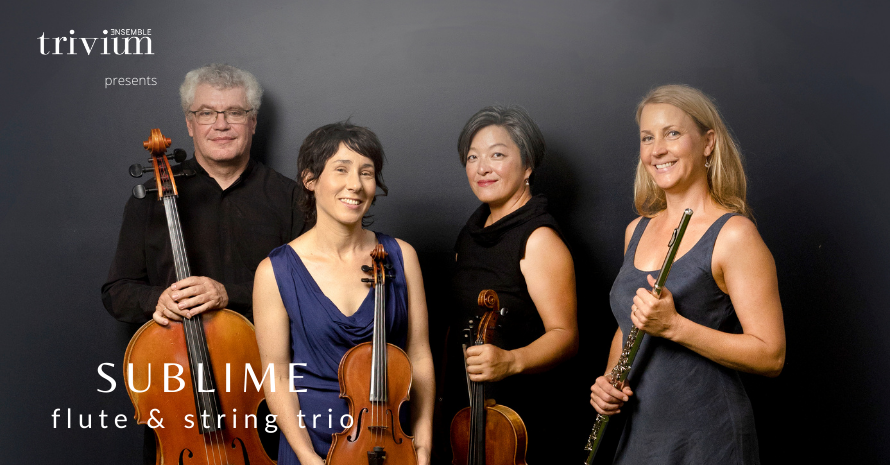 About
SUBLIME
flute & string trio
The opening concert of Ensemble Trivium's 2022 season will soothe your soul, calm your mind and delight your eardrums. A perfect start to a year of renewed optimism and hope!
Let us lift your spirits with one of Haydn's sublime op. 5 quartets for flute and string trio.
Immerse yourself in the exotic and sensual world of Debussy's Six Epigraphes Antiques. Originally composed for piano for four hands, in this concert you'll hear a masterful transcription for flute and string trio. You may recognise the first four movements which are derived from Les Chanson de Bilitis, composed 15 years earlier as incidental music for poems by Debussy's friend Pierre Louÿs.
Escape to the splendours of the countryside with Dvorak's famous and much loved American quartet. Delighting in a summer vacation and family reunion in rural Spillville/Iowa, he sketched this masterpiece in only three days. Hear a unique version with the flute replacing the first violin in an arrangement done by members of the Berlin Philharmonic.
Program:
Joseph Haydn - Quartet in G major, op.5 Hob II:1, no.4
Claude Debussy - Six Épigraphes Antiques (arr. Bernard Chapron)
Antonín Dvořák - Quartet in F major op.96 'American' (arr. Stephan Koncz/Emmanuel Pahud)
Artists:
Monika Koerner, flute
Anne Horton, violin
Yoko Okayasu, viola
György Déri, cello
Stay for complimentary post concert afternoon tea and homemade cake!
www.monikakoerner/ensemble-trivium
We welcome everyone at our concerts!
Location
Montville Village Hall
137 Memorial Close, Montville QLD 4560