AIRPLAY - chamber music concert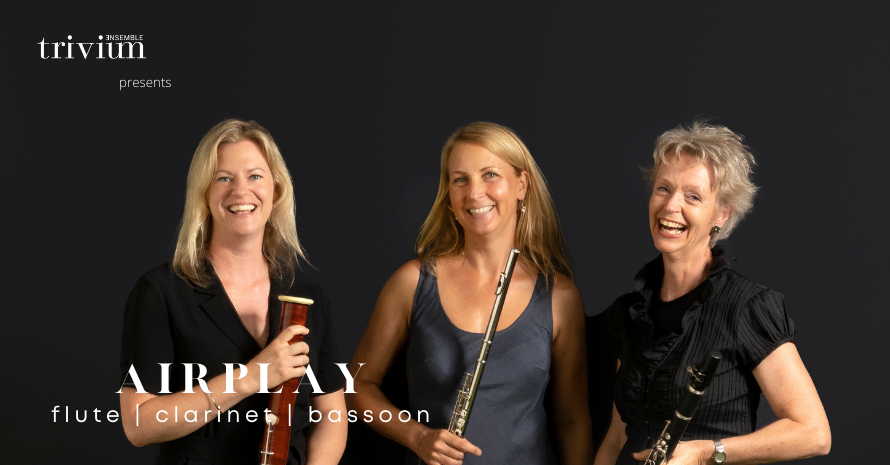 About
ENSEMBLE TRIVIUM presents:
AIRPLAY
flute | clarinet | bassoon
Usually confined to a symphonic setting, enjoy this rare treat of the wind trio in its rich and warm embrace.
From delightful Devienne and playful Poulenc to the undeniable brilliance and virtuosity of Sutherland, Piston and Villa-Lobos, this evening promises to be a sumptuous experience.
Join one of Brisbane's leading chamber music collectives in their fabulous pop-up venue Studio 7 in West End.
Woodwind playing at its finest, this concert is not to be missed!
BOOK NOW!
Online booking essential. No tickets at the door.
Stay for complimentary nibbles and meet the artists post performance!
Duration ~ 60 mins.
PROGRAM
DEVIENNE
Trio In B-flat major op.61, no. 5
SUTHERLAND
Little Suite for Woodwind Trio
PISTON
Three Pieces for Woodwind Trio
MUCZYNSKI
Fragments for Woodwind Trio
POULENC
Sonata for clarinet & bassoon
VILLA - LOBOS
Bachianas Brasileieras No. 6 for flute & bassoon
ARTISTS
Monika Koerner, flute
Rianne Wilschut, clarinet
Katharine Willison, bassoon
www.monikakoerner.com/ensemble-trivium
Proudly sponsored by Brisbane City Council.
Location
Studio 7
33 Vulture St, West End Queensland 4101