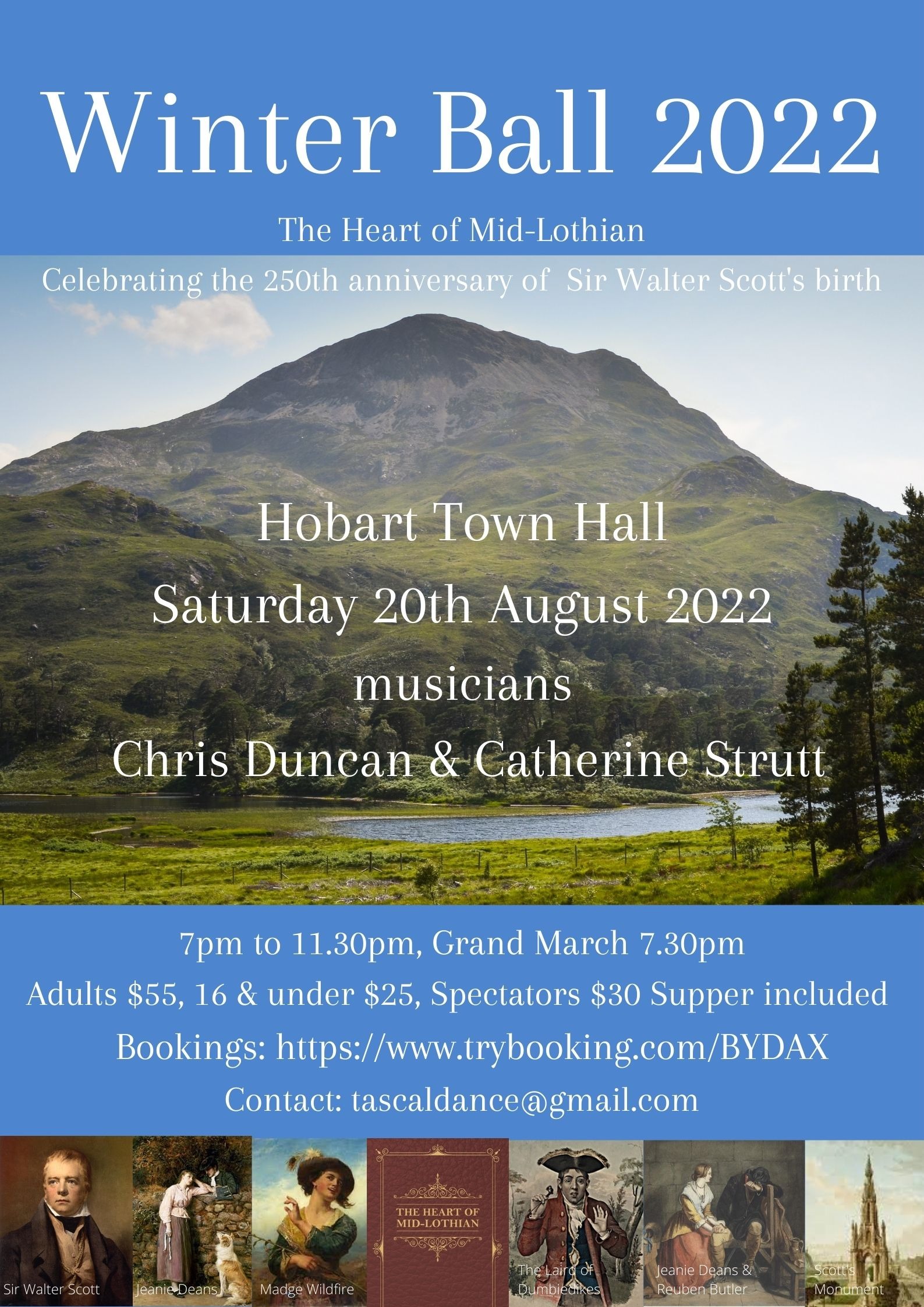 Winter Ball Weekend 2022 with musicians Chris Duncan and Catherine Strutt. Friday evening, choose between a tour of the historic National Trust property Runnymede or walk through some of the dances for Saturday evening's Ball. Saturday evening is the gala event at the beautiful historic Hobart Town Hall. Sunday, picnic lunch at Richmond village.
Location of Winter ball Venue
Get directions
Saturday, 20 August, 2022 - Winter Ball
Hobart Town Hall (Winter Ball)
50 Macquarie Street, Hobart Tasmania 7000
In 2021, the RSCDS produced a book to commemorate the 250th anniversary of Sir Walter Scott's birth. A leaflet of six dances was produced in 1820 to accompany Scott's book, The Heart of Mid-Lothian. The RSCDS publication gives accounts of the characters as well as a brief history of the era together with the original leaflet dances, music and a modern interpretation suitable for dancing now. Some dances from the publication are included in the programme.
Gather in Hobart's elegant historic Town Hall at 7pm to meet friends and enjoy warming mulled cider. The Grand March begins at 7.30pm, then we dance the night away. Enjoy a sumptuous supper during the evening.
Tickets: Adult $55.00, 16 years & under $25.00, Spectators $30.00
Programme:
To view cribs, videos and diagrams, click on link: Winter Ball 2022
Friday, 19 August, 2022 - a choice of two options
Runnymede Tour
Tour this beautifully preserved National Trust 1840 whaling captain's villa with its rich collection of maritime artefacts. Join Scott Carlin on this fascinating tour and stay for supper in the Drawing Room.
Tour: 7pm to 8pm, supper to follow. $15.00 inclusive.
Runnymede - 61 Bay Road, New Town.
or
Ball programme walk-through
Brush up some of the dances on the programme, then travel to supper at Runnymede for 8pm (a five minute drive).
Dancing from 6pm to 7.45pm. $15.00 inclusive of supper.
Caledonian Society Hall, 31 Homer Avenue, Moonah
Sunday, 21 August, 2022 - Richmond Picnic
Join friends and family for a relaxing picnic day. Bring food to share, dancing shoes, musical instruments to play with Chris and Catherine.
11.00am to 3.00pm, $10.00
Richmond Village Green and Town Hall
Current Covid-19 requirements will apply.