Canberra Easter Steam Train Rides (SOLD OUT)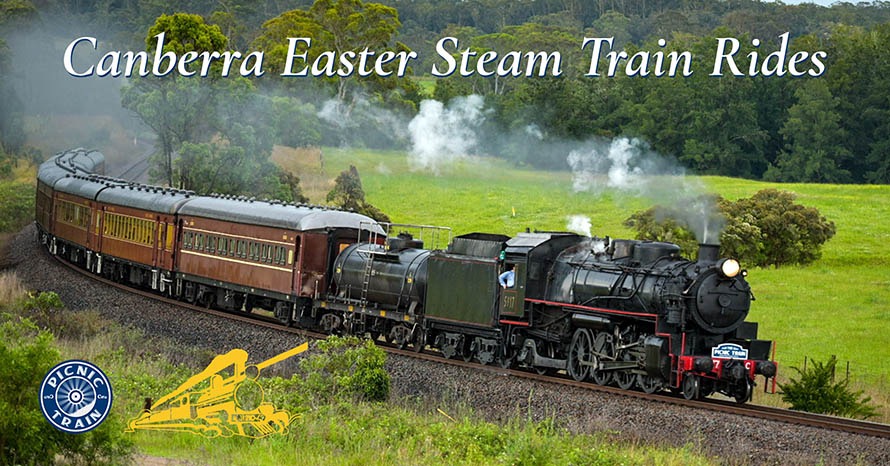 Experience the excitement of a steam train trip behind former NSW Government Railways locomotive 5917 as The Picnic Train in conjunction with The Canberra Railway Museum present special family trips from Canberra over Easter!
You will experience steam locomotive 5917 working hard as it climbs the steep grade by the spectacular Molongolo River Gorge, through long, dark tunnels and on through beautiful rural countryside to Bungendore.
Easter Friday, 15 April 2022
Easter Saturday, 16 April 2022
Easter Sunday, 17 April 2022
Easter Monday, 18 April 2022 (Two trips just added!)
(Three return trips departing Canberra Railway Station each day)
5917 is one of the D59 Class 2-8-2 'Mikado' steam locomotives used by the NSW Government Railways from the 1950s until the end of steam operations in the 1970s.
Ticketing options are perfect for singles, couples, small groups and families.
Fares:
Please Note: All fares are for same-day return travel on the same service.
Toddlers: Babies in arms and small toddlers not requiring a booked seat may be brought along at no aditional cost.
Prams: There are limited storage areas for prams. As you will not be alighting at Bungendore, we ask that prams are not brought onboard, unless necessary.
Private Compartment — $280 per group
Enjoy the benefit of an entire closed-off compartment to yourselves in a heritage side-corridor carriage — great for larger families and social groups!
One booking is good for up to a maximum of eight (8) people including children.
Family of Four — $180 per family
Four seat booth in a heritage railway carriage with table.
Classic Duo — $140 for two people
Window seating for two people in a classic heritage carriage in a spacious booth with table.
First Class Single — $75 per person
Single seat ticket in a First Class section with table.
Full Carriage Hire — Call for Quote
Timetable*
Trip 1:
Canberra dep 8.15am
Canberra arr 10.30am
Trip 2:
Canberra dep 12.15pm
Canberra arr 2.45pm
Trip 3:
Canberra dep 3.45pm
Canberra arr 7.10pm
*Preliminary times only. Please arrive at least 20 minutes prior to departure. An update email will be sent to the ticket booking a couple of days prior to the event with final trip details.
Buffet Car:
The Buffet car will operate on these trips, servinge light snacks, barista coffee, tea, beer, wine and spirits.
We encourage passengers to bring their own picnic hampers.
BYO alcohol is allowed, however, large eskys will not be permitted.
We encourage you to support our onboard service.
Toilets:
Toilets are available in all carriages.
Mobile Phones:
There are no charging points on the heritage equipment. It is recommended that you bring an external battery charger for your mobile devices.
Motive Power:
Steam locomotive 5917 will be the primary motive power for the Canberra Easter Steam Train Rides
Location:
Canberra Railway Station
Wentworth Avenue, Burke Cres, , Kingston ACT 2604