A Mangrove-inspired Labyrinth Walk (SOLD OUT)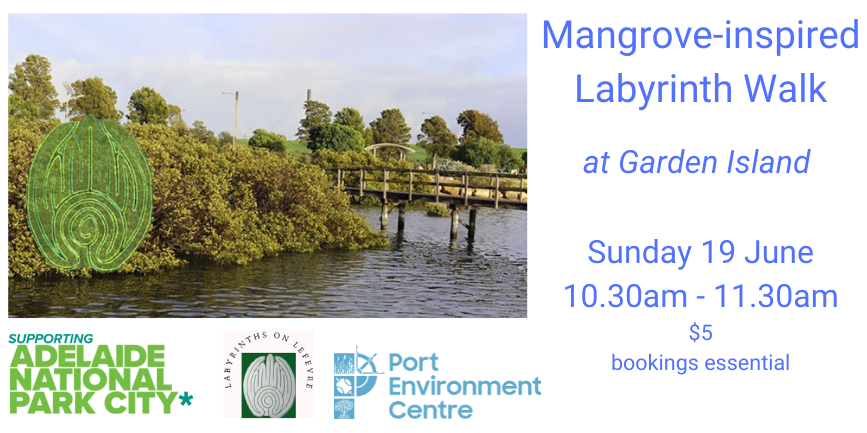 Take a mindful walk on a distinctive pop-up labyrinth alongside the mangroves at Garden Island.

Garden Island is a unique coastal environment nurtured by the presence of thick forests of mangroves.

Inspired by the beautiful form of the mangrove seedling, a propagule, we have created a distinctive labyrinth design which will be temporarily reproduced for this event on open space near the boardwalk.
ADDITIONAL INFORMATION
The labyrinth, as a form, has been shaped and given meaning over many thousands of years - the oldest forms dating back 4,000 years to petroglyphs found carved into rock. As a mindfulness tool the labyrinth brings focus to the here and now.
One of the ways in which a labyrinth can be used is to walk it with intent. All participants will have the opportunity to walk the labyrinth with intention - to protect the biological diversity of the mangrove ecosystem around Barker Inlet, and other fragile environments on our planet.
This event is aimed at adults, but children are welcome to attend. Any children must be accompanied by a guardian and be appropriately supervised at all times.
Meet on the grassed area to the right of the entrance to Garden Island Jetty. A large car park is adjacent to the grassed area.
Please contact the Port Environment Centre if you have any mobility or access concerns.
As it's an outdoor event, we suggest you bring a jacket, hat, sunscreen and water bottle. We will postpone the event if the weather forecast is for heavy rain or storms. We will notify you of this via email and sms.
Numbers are limited to 25 people, so please let us know if you can no longer make it.
Please note that due to COVID restrictions the following will apply:
- numbers are limited and everyone MUST book to attend
- please let us know if you have booked and then are unable to attend
- participants are encouraged to maintain social distancing of 1.5m between other groups
- please stay away if you are unwell
- there will be no shared food or drink - please BYO
This event is a collaboration between Labyrinths on LeFevre and Port Environment Centre.
Labyrinths on LeFevre (a collaboration between the Estuary Care Foundation and Learning with Labyrinths) are also establishing a Coastal Native Food Plants Labyrinth at Taperoo; showcasing the beauty, diversity and resilience of our local coastal native food plants. Find out more and get involved with this new project here.
The Port Environment Centre is supported by Green Adelaide.
This event celebrates Adelaide becoming the worlds second National Park City. National Park City is a global movement to create cities worldwide where people and nature are better connected.
Marni ngadlu tampinthi ngadlu Kaurna yartanga inparrinthi
It is good that we all acknowledge we are living on Kaurna Country.
Please note that attendee information may be used for follow up evaluation, in order to assess the longer term impacts of our events. Follow up contact may be made (in the form of a survey) but participation in any evaluation is optional.
Location
Garden Island
Garden Island Road, Garden Island South Australia 5960
Contact Details