Wollongong–Scarborough Steam Train Rides (SOLD OUT)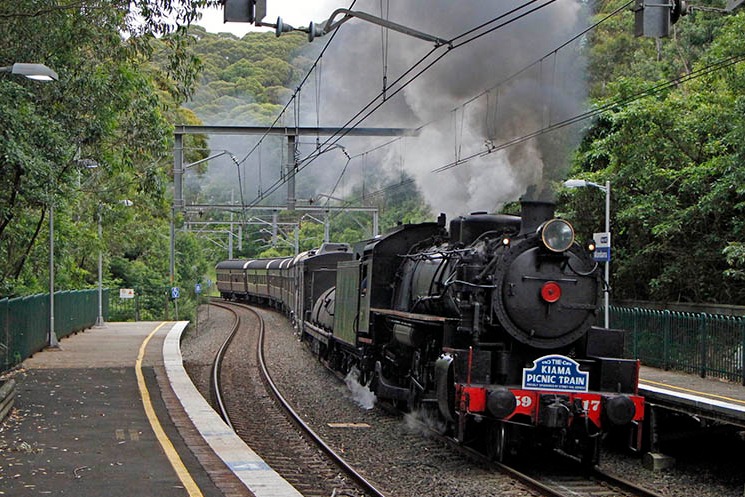 Experience the excitement of a steam train trip as The Picnic Train presents three days of special trains on a one-hour return shuttle from Wollongong to Scarborough (return) — perfect for friends and family.
You will travel behind former NSW Government Railways locomotive 5917 as the powerful engine races past the northern suburbs and then climbs through the twists and turns to the coastal town of Scarborough before returning to Wollongong.
Fares:
Please Note: All fares are for return travel on the same train.
Private Compartment — $160 per group
Enjoy the benefit of an entire closed-off compartment to yourselves in a heritage side-coridor carriage — great for larger families and social groups!
One booking is good for up to a maximum of eight (8) people including children.
Family of Four — $95
This option is suitable for a maximum of four people and includes two window seats in a spacious area with table.
First Class Single — $40
Sit back in a First Class chair in a spacious area with table.
Preliminary Timetable*
Saturday 11 June, Sunday 12 & Monday, 13 June 2022
Train 1:
Wollongong dep 9.50am
Wollongong arr 10.55am
Train 2:
Wollongong dep 11.10am
Wollongong arr 12.30pm
Train 3:
Wollongong dep 12.55pm
Wollongong arr 2.05pm
Train 4:
Wollongong dep 2.15pm
Wollongong arr 3.20pm
Train 5:
Wollongong dep 4.05pm
Wollongong arr 5.15pm
*Preliminary times only. Please arrive at least 20 minutes prior to departure. An update email will be sent to the ticket booking a couple of days prior to the event with final trip details.
Toddlers:
Babies in arms and small toddlers not requiring a booked seat may be brought along at no additional cost.
Buffet Car:
The Buffet Car will not be available on this trip. We encourage passengers to bring their own picnic hampers.
BYO alcohol is allowed, however, large eskys obstructing access will not be permitted onboard.
COVID-19 Information:
Passengers are required to wear a face masks while on station platforms
We recommend wearing face masks while seated and not eating or drinking
Passengers are asked to remain in their allocated seats as far as practical
Passengers are required to follow all instructions from their carriage attendant
Other conditions may be implemented on the day depending on current COVID-19 restrictions
If the train is cancelled due to NSW Health restrictions, a full refund of the ticket price will be provided
Location:
Wollongong Railway Station
Lowden Square, Wollongong NSW