Sorrento Room Special Dance Events
Thirsty Merc - Celebration tour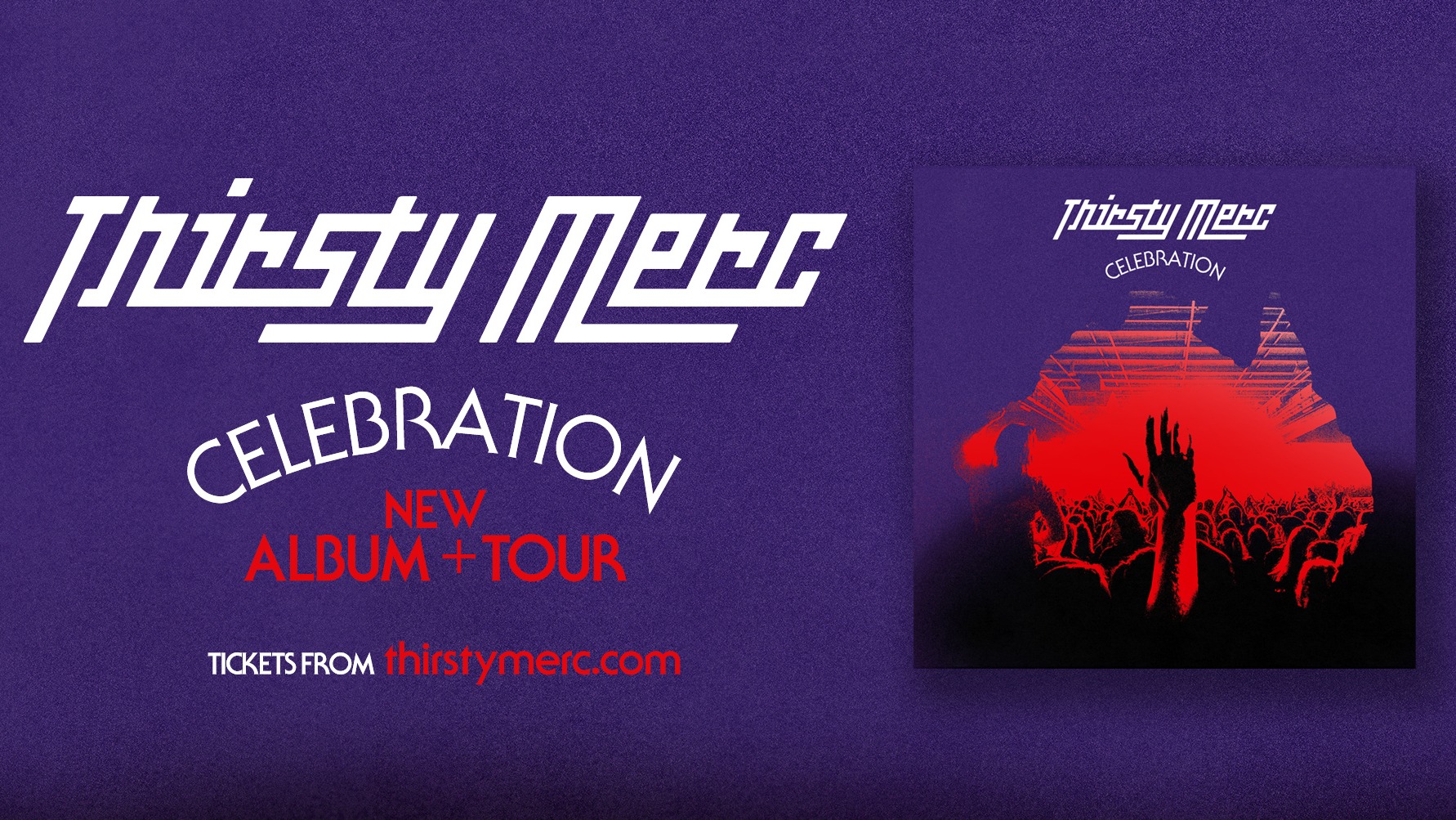 Australian rock band Thirsty Merc have been patiently waiting these last two years for the chance to get back on the road and play live again…and now the time has come! Thirsty Merc announce a new album and tour that will see the guys get back on the tour bus and back on stage, performing their much loved hits alongside songs from their new album CELEBRATION – to be released on 17 June.
Frontman Rai Thistlethwayte says: 'It's been an extremely rewarding experience for us to explore some of the best Aussie songs on the new album. Perhaps the biggest celebration, though, is for all live music fans. After a few crazy years, we're all still here together. Gigs are back…and we want to be there to help you let your hair down!'
CELEBRATION (released 17 June though MGM), sees Thirsty Merc covering some well-known (and some not so well-known) Australian songs from across the decades – each one reimagined in true 'Merc style. The first single is a turbo-charged rendition of Daryl Braithwaite's As The Days Go By.
Other songs that appear on CELEBRATION include Who Listens To The Radio (The Sports), That's When I Think of You (1927), Bad Habits (Billy Field) and Hey There, Georgie Girl (The Seekers). Music fans will appreciate the 'Merc quirk' on the recordings, and recall what makes each a great Australian song.
Thirsty Merc will be performing a selection of songs from their new album plus all their own hits live on their CELEBRATION 2022 tour. Starting in WA in July, they will move across regional and capital cities into September. Ticket links and details available at https://www.thirstymerc.com.
Thirsty Merc are unquestionably one of Australia's finest live acts.
Having released 4 critically acclaimed albums, over 250,000 album sales under their belt, a finalist in the APRA Song of the Year for 20 Good Reasons (which also reached #1 on iTunes in Australia), 5 ARIA Award nominations, Thirsty Merc have found their way into the fabric of Australia's musical landscape with songs such as Someday Someday, In The Summertime, 20 Good Reasons, Tommy And Krista, and more.
Since 2015 Thirsty Merc have released music as an independent band. They have toured and recorded music consistently during their career until the recent pandemic. It was during this time that the band got back into the studio and started working on CELEBRATION, looking forward to when borders would open and life would get back to normal.
With live gigs back on stages all around the country, and the album finished, it's time to share 'Celebration' with fans.
"We hope you enjoy the new release...and hope to see you at one of the upcoming shows!"
OFFER 1 Dinner & Show - $78 ( Main Meal only) & show
OFFER 2 Show Only - $49 Limited tickets but you can still enjoy a meal down stairs by booking our A La Carte restaurant prior to the show.
Desserts are always on offer to purchase on the night at the concert
Drinks can now be delivered to your table by ordering & paying through our Mr YUM Ordering App
Due to catering tickets are closed off on the day of the concert
but can still be purchased by phone or emailing us.
Concert is performed upstairs in the Sorrento Room @ Centro CBD
please note that unfortunately at this stage there is no disable access or lift
Doors open 6.30pm Dining starts 7.15pm Show time 8pm