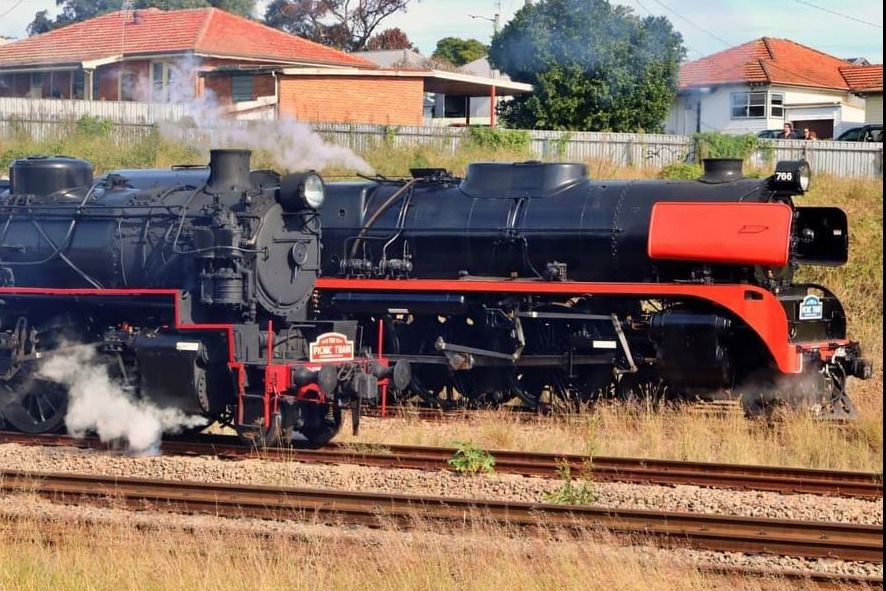 Ride behind double-headed steam locomotives from Victoria and NSW, as R766 and 5917 travel through the Hunter Valley on the busy Main Northern railway line from Maitland to Scone. Enjoy the break at Scone before the train returns to Maitland, via Singleton and Camberwell Colliery balloon Loop to turn the locomotives.
Date:
Sunday, 14 August 2022 (rescheduled from flood affected trip on 10 July)
As part of our history-making double-header weekend, you will be able to travel behind ex-Victorian Railways R Class locomotive, R766 double-heading with ex-NSW Railways 59 Class locomotive, 5917!
Our train will depart Maitland and head Scone, the 'Horse Capital of Australia'. You will have time in Scone for lunch and to explore the town before returning to Maitland in the afternoon.
Fares:
Please Note: All fares are for same-day return travel.
Private Compartment — $520 per group
Enjoy the benefits of an entire compartment to yourselves — great for families and social groups!
One booking is good for up to a maximum of eight (8) people, including children.
Family of Four — $350 per family
Four seat booth with a table in a heritage saloon carriage.
Classic Duo — $280 for two people
Window seating for two people in a classic heritage carriage in a spacious booth with table.
First Class Single — $135 per person
Single seat ticket in a First Class lounge carriage, with access to the buffet and bar service.
First Class Duo — $280 for two people
Window seating for two in a First Class lounge carriage, with access to the buffet and bar service.
Full Carriage Hire — Call for Quote
Timetable*:
Outbound Journey
Maitland dep 8.30am
Singleton dep 9.20am
Muswellbrook dep 10.15am
Scone arr 11.10am
Return Journey
Scone dep 2.15pm
Muswellbrook arr 3.00pm
Singleton arr 4.25pm

Camberwell (turn train on ballon loop)

Singleton arr 5.30pm
Maitland arr 6.35pm
* Preliminary Timetable
Approximate times only. Please arrive at least 20 minutes prior to departure. An event update email will be sent to the ticket bookings a couple of days prior to the event with final trip details.
Buffet Car:
In the spirit of The Picnic Train, we encourage passengers to bring their own picnic hampers. A buffet service will be available on The Scone Picnic Train, with barista coffee, tea and a small selection of light snacks, soft drinks and alcoholic beverages.
BYO alcohol is allowed, however, large eskys that block access will not be permitted
Babies and Toddlers:
Babies in arms and small toddlers not requiring a booked seat may be brought along at no additional cost.
Toilets:
Toilets are available in most carriages, but will be locked off at times.
Mobile Phones:
There are limited charging points on the heritage equipment. It is recommended that you bring an external battery charger for your mobile devices.
Motive Power:
Steam locomotives R766 and 5917 are planned to double-head this tour in both directions.
Condition of travel:
Passengers are recommended to wear a face masks when boarding and alighting from the train

We recommend wearing face masks while seated and not eating or drinking

Passengers are asked to remain in their allocated seats as far as practical

Passengers are required to follow all instructions from their carriage attendant

Other conditions may be implemented on the day depending on current COVID-19 restrictions
Location:
Maitland Railway Station
Station Street, Maitland NSW
Contact details: