Snow Train Local Tickets - Moe-Traralgon - 16 Jul or 13 Aug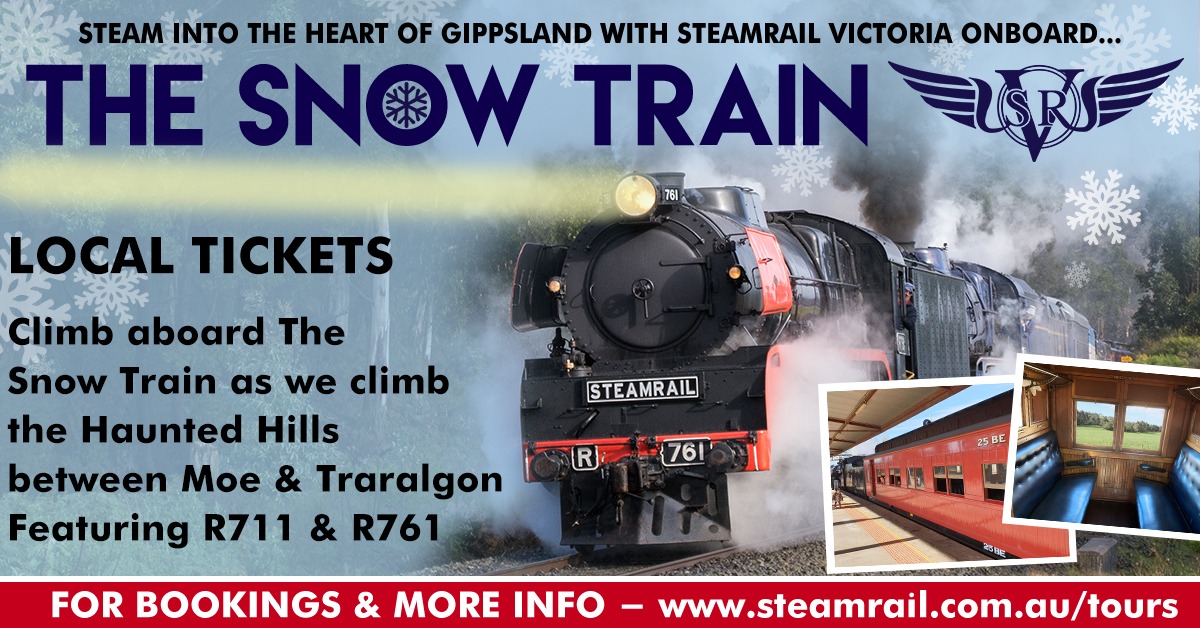 Steamrail Victoria invites you to ride on The Snow Train between Moe and Traralgon,

hauled by iconic steam locomotives R711 & R761, dating back to the early 1950's.
Travel through the mysterious Haunted Hills, Hernes Oak and Morwell before arriving in Traralgon, where you will spend a leisurely afternoon. Enjoy a meal in a local hotel or café. Then relax back on the train as our locomotives begin their sprint westward on a course for home.

Travelling at a more leisurely pace,

experience the luxuries of the Edwardian Era in our heritage wooden carriages of up to 110 years old, with pressed tin ceilings, cosy compartments and gorgeous timber & chrome finishings. Featuring 'old-school' air-con, with the windows wide open to hear the locos working hard!

Tickets can be used for a return journey from Moe to Traralgon or one way in either direction.

Note: for one way travel, you will need to organise your own transport back to your originating station if needed.


These tickets

do NOT provide travel from Melbourne.

Tickets for travel & tour options from Melbourne can be found via www.steamrail.com.au/tours
COVID SAFE PRACTICES
Under current COVIDSafe practices, Face Masks will be required for all passengers travelling on our trains unless a lawful reason not to wear one applies. Face Masks are strongly recommended where physical distancing of 1.5 metres from others cannot be maintained, such as on platforms and when joining / leaving our train. Movement about the train will be restricted to your allocated seat and our on-train services such as our toilet facilities and Souvenir sales where provided.
Our volunteers will ensure high touch areas such as door handles and handrails are cleaned regularly.

PROOF OF VACCINATION NO LONGER REQUIRED from 11:59pm, Friday 22 April 2022.

BOOKINGS AND REFUNDS
Any passengers who experience any symptoms of COVID-19 prior to or on the day of travel, are not permitted to travel with us. Please contact us by replying to the email sent by Steamrail Victoria with your ticket details sent via TryBooking, to request a full refund of the ticket price* prior to travel.

In the event that our train is unable to operate due to COVID-19 restrictions, all passengers will be contacted via the email in which was provided at the time of your booking. Where an event can be rescheduled, tickets will be automatically transferred to the next available date. If you are unable to make the alternative date, please reply to our email within 7 days and a full refund of the ticket price* will be provided. Where an alternative date is unable to be provided, a full refund of the ticket price* will be provided by Steamrail Victoria within 7 days of the tour date.

* NOTE: All COVID-19 related refunds are of the ticket price only, this excludes TryBooking service fees as per their Terms and Conditions. Non COVID-19 related refund requests are per Steamrail's Terms and Conditions at located on the Steamrail Website.
TIMETABLE

Saturday 16th July & 13th August 2022 BOOKINGS NOW OPEN

10:19am dep. MOE




10:51am arr. TRARALGON

5:05pm dep. TRARALGON




5:52pm arr.

MOE

Please ensure you arrive at Moe Station or Traralgon Station 15 minutes prior to departure.

Contact Details




Steamrail Victoria Inc. (03) 9397 19

53 (Monday to Friday, 9am to 3pm only) info@steamrail.com.au