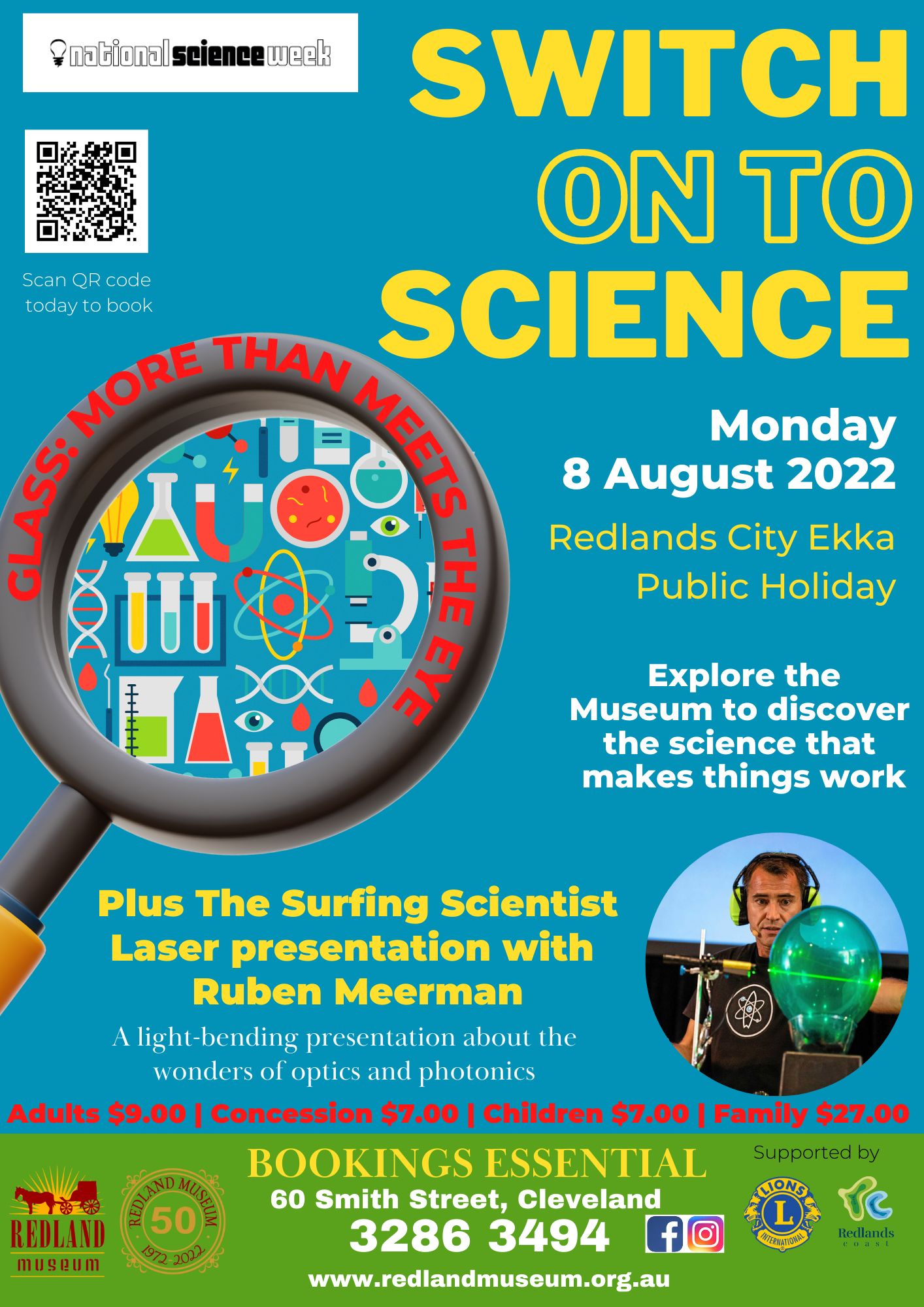 Science is much more than explosions and weird experiments. It is the knowledge we use to make all the wonderful things we rely on every day.
Join us to explore how scientific knowledge is discovered, and how technology uses that science to make lots of very useful things. Using our displays of vintage equipment, which are simple and easy to understand, we will talk about the science that makes them work, the stories about how they were invented, and what we use today. We will look at marshmallow towers, glass blowing, blacksmithing, steam engines, telegraph, telephones, radio, structures, colours and dyes, music, photography, minerals and gemstones, printing and more. These are 'hands-on' activities, so you can touch and try.
Then enjoy the Laser show by guest presenter Ruben Meerman, 'The Surfing Scientist', who will take us on a spectacular science educational journey. Celebrate National Science Week's theme 'Glass more than meets the eye' and the United Nations International Year of Glass with a light-bending presentation about the wonders of optics and photonics. Ruben uses laser beams, thermal imaging cameras, spinning mirrors and a fish tank to demonstrate the laws of refraction, reflection, transmission and absorption. You'll learn what light is 'made of' and how it is used for everything from tattoo removal, scanning barcodes, cutting steel and measuring how fast our moon is drifting off into space.
Cost: Children $7.00 | Concession $7.00 | Adults $9.00| Family of 4 $27.00
* All children must be accompanied by an adult for all activities.
Ticket incudes general entry to the Museum and demonstrations + Surfing Scientist show with Ruben Meerman.
Session times for the Surfing Scientists are limited for each morning and afternoon show.
Location
Redland Museum
60 Smith Street, Cleveland QLD 4163