The Three Musketeers - Musical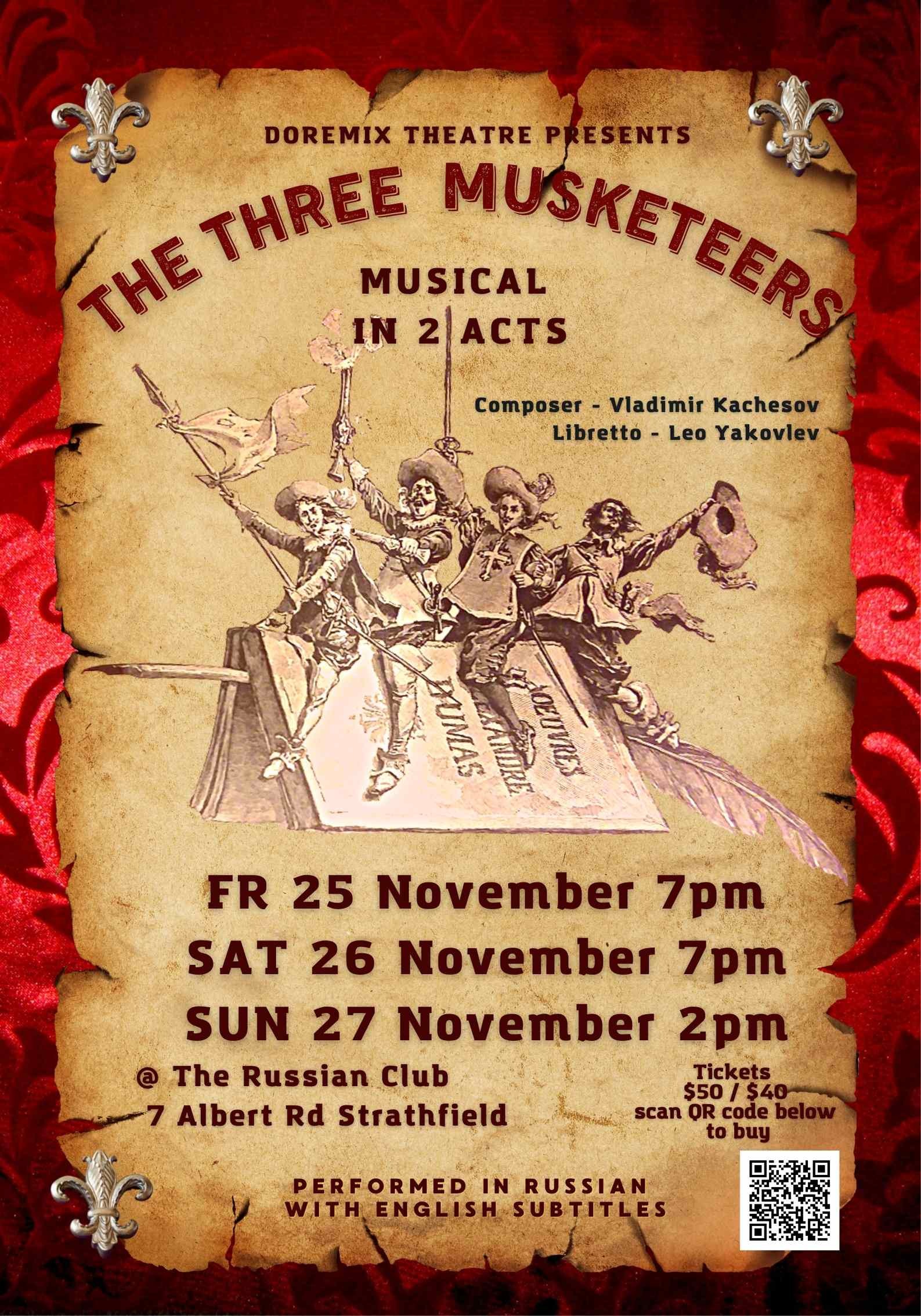 DoReMix - Russian Musical Theatre in Sydney presents
The Three Musketeers - Musical
The action takes place in 17th century France and England.
Set in France and England in 1625, it recounts the adventures of a young man named d'Artagnan after he leaves home to become a Musketeer of the Guard. The three men of the title are his friends Athos, Porthos and Aramis.
IN RUSSIAN WITH ENGLISH SUBTITLES
SESSION TIMES
Friday 25 November 2022 7:00 PM
Saturday 26 November 2022 7:00 PM
Sunday 27 November 2022 2:00 PM
LOCATION
The Russian Club
7 Albert Road, Strathfield NEW SOUTH WALES 2135
based on the classic 1844 novel by Alexandre Dumas, père
COMPOSER: Vladimir Kachesov
LIBRETTIST: Lev Yakovlev
PRODUCTION TEAM
ARTISTIC DIRECTOR: Elena Zapevalova
SECOND DIRECTOR: Valentina Nechaeva
VOCAL TECHNIQUE: Oxana Popova
CONCERTMASTER: Victoria S
CHOREOGRAPHY: Angelina Zaitseva, Michael Kulikov, Valentina Nechaeva
SOUND: Nikolai Zapevalov
LIGHT: Gleb Sekushin
SUBTITLES: Mike Kulikov (translation), Sophia Dmitrieva (operator)
HAIR: Natalia Klimova
CAST
D'ARTAGNAN - Nikita Nechaev
ATHOS
-
Artyom Nosovtsev
PORTHOS
-
Steven Zapevalov
ARAMIS
-
Ivan Goluzov
QUEEN ANNA - Valentina Nechaeva
DUKE OF BUCKINGHAM - Michael Kulikov
CARDINAL RICHELIEU
-
Max Gefman
MILADY DE WINTER

-
Anastasia Rudenko
CONSTANCE
- Lubava Dmitrieva
MADAME DE COQUENARD
- Angelina Zaitseva
LOUIS XIII / EXECUTIONER - Daniel Kucherenko
ENSEMBLE:
Girls: Julia Strelnikova, Ksenia Shifrina, Sofya Nechaeva, Alisa Astakhova, Ekaterina Kacanda
Boys: Alexei Douriaginе, Nikolai Naumov, Dmitri Tsyganov, Denis Tsyganov, Alex Goncharov
ТРИ МУШКЕТЁРА
Мюзикл в 2-х действиях
Действие происходит в 17 веке во Франции и Англии.
Действие происходит во Франции и Англии в 1625 году. Мюзикл поставлен по широко известному произведению о приключениах д'Артаньяна и его друзей Атоса, Портоса и Арамиса.
Спектакль идет на русском языке с английскими субтитрами
SESSION TIMES
Пятница 25 ноября 2022, 19:00
Суббота 26 ноября 2022, 19:00
Воскресенье 27 ноября, 14:00
LOCATION
The Russian Club
7 Albert Road, Strathfield NEW SOUTH WALES 2135
По роману Александра Дюма Три мушкетёра
КОМПОЗИТОР: Владимир Качесов
ЛИБРЕТТО: Лев Яковлев
ПОСТАНОВОЧНАЯ ГРУППА
ХУДОЖЕСТВЕННЫЙ РУКОВОДИТЕЛЬ: Елена Запевалова
ВТОРОЙ РЕЖИССЕР: Валентина Нечаева
КОНЦЕРТМЕЙСТЕР: Виктория С
ХОРЕОГРАФИЯ: Ангелина Зайцева, Михаил Куликов, Валентина Нечаева
ДЕЙСТВУЮЩИЕ ЛИЦА И ИСПОЛНИТЕЛИ
Д'Артаньян - Никита Нечаев
Атос - Артем Носовцев
Портос - Степан Запевалов
Арамис - Иван Голузов
Королева Анна Австрийская - Валентина Нечаева
Герцог Бэкингем - Михаил Куликов
Кардинал Ришелье - Макс Гефман
Миледи де Винтер - Анастасия Руденко
Констанция Бонасье - Любава Дмитриева
Мадам Кокнар - Ангелина Зайцева
Король Людовик ХIII / Палач - Даниил Кучеренко
АНСАМБЛЬ:
Юлия Стрельникова, Ксения Шифрина, Софья Нечаева, Алиса Астахова, Екатерина Кацанда
Алексей Дурягин, Николай Наумов, Дмитрий Цыганов, Денис Цыганов, Александр Гончаров