Circonoclasm: NICA 2nd year ensemble show 2022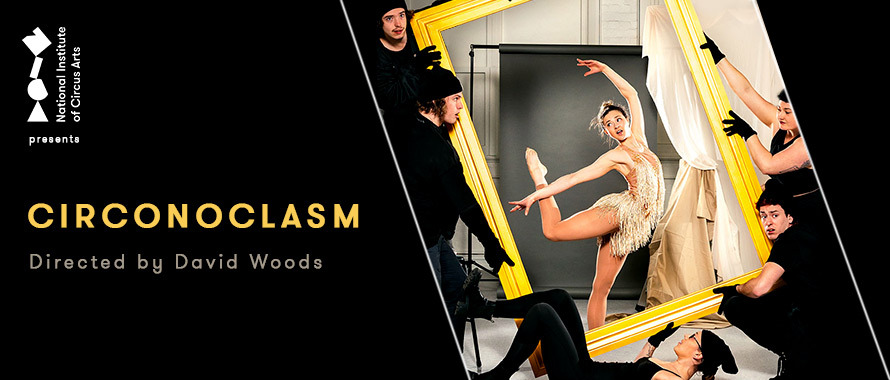 Iconoclasm (the theft or wilful damage of artworks) is an age-old practice that continues to serve as a powerful modus operandi for those wanting to capture the world's attention in a moment of meaningful cultural defiance.
To this very day, Iconoclasm remains a provocative act that brings issues of the day into sharp focus – so what does that mean for the future of modern circus? Enter CIRCONOCLASM: An art-heist inspired by the infamous NGV Picasso theft by the "Australian Cultural Terrorists" and every heist movie ever…
Directed by David Woods (Ridiculusmus Theatre Company, London) and devised by the students, the curtain opens as Seurat's triptych of pointillist paintings on circus are gathered for the first time in a big splash for the National Australia Gallery. Though armed with a veritable fortress of high-tech security, the paintings are stolen in a daring heist during the swanky opening party. We encourage you to expect the unexpected with hoop diving, tightwire and teeterboards entangled in the unfolding drama of the ultimate circus art-heist.
NICA is Australia's Centre of Excellence for training in contemporary circus arts. It is one of eight national arts training institutes and offers Australia's only Bachelor of Circus Arts.

Content Warning: PG (parental guidance recommended for under 15 years).
The show may also contain loud sound effects, smoke/haze and strobe lighting.
SESSION TIMES
Tuesday 13 September 7.30pm (Preview)
Wednesday 14 September 7.30pm (Opening Night)
Thursday 15 September 7.30pm
Friday 16 September 7.30pm
Saturday 17 September 2.00pm
Saturday 17 September 7.30pm
LOCATION
National Institute of Circus Arts (NICA)
39-59 Green Street, Prahran Victoria 3181
COVID INFORMATION
We request that while attending this event you maintain NICA's Key COVIDsafe Principles:
Stay home if you are unwell. Even if you have tested negative. You may be turned away and issued a refund.

Household contacts who are not longer required to isolate must wear a mask.

Maintain physical distance where possible (NICA cannot guarenteed this in all spaces, so please bring a mask.)

Practice good hygiene.

Clear record keeping and contact tracing.

'Clean as you go'.

Avoid interactions in enclosed spaces.
Patrons are not permitted at the event if they have been instructed to quarantine by the Department of Health, or if they are unwell or experiencing any symptoms of COVID-19. Please contact info@nica.com.au for a refund or transfer if required. This includes anyone who is a close contact.
In the event of cancellation due to advice from public health officials, all patrons will receive a transfer or full refund of their ticket price.

If you have any queries, please contact us on (+613) 9214 6975 or email info@nica.com.au
ACCESSIBILITY
Entry on street level - entire space including entrance points, is wheelchair accessible

The only stairs in the building is the tiered seating in the theatre. If you are using a wheelchair, a front row seat on ground level will be arranged - please let us know at the time of booking

Inside the theatre, there will be a stage to the left and a seating bank to the right

Outdoor space available to audience members near the entry of the venue

Hard, non-carpeted flooring throughout

This space can be quite loud and crowded

Support animals will be allowed

Free drinking water provided

Carers and support people can attend the show for free, please contact us to arrange
Accessibility toilet:
Handrails, hand basin with accessible tap handle, hand dryer at appropriate height for wheelchair use & angled mirror

Dimensions 2.3 m x 1.9 m

Entrance door width 850 mm, accessibility toilet corridor width 1.6 m, corridor entrance 1 m (no door)

Distance from corridor entrance to toilet door 1.5 m, from toilet corridor to theatre main entrance is 17 m

Entry to the bathroom requires no key

There are handles and latches on the bathroom doors
CONTACT DETAILS
Alternatively, get in touch with us via:
Telephone (+613) 9214 6975
Email info@nica.com.au
Get directions
PARKING AND PUBLIC TRANSPORT
Please note there is limited on street car parking availability around NICA. If departing our venue late at night, please respect our neighbours and keep noise to a minimum. Please obey parking street signs and restrictions.

Stonnington Council operates a number of outdoor car parks that are a short walk from NICA.
These include:
- Windsor Station Carpark, 28 Chapel Street - ticketing paid parking, Monday - Sunday all day
- James Street Carpark, 8 Lincoln Place - free 2 hour parking, Monday - Saturday 9am - 6pm
Trams and Trains:
From Flinders Street Station take the Sandringham Line train to Windsor or Prahran Stations. The Number 6 Glen Iris Tram runs along Swanston Street. The closest stop is on the corner of High and Chapel Streets. Trams operate from 5.30am to 12.00pm midnight and with extended services available on Friday and Saturday nights. Visit metlinkmelbourne.com.au for timetable information.