Deep Dive Highlights – Melbourne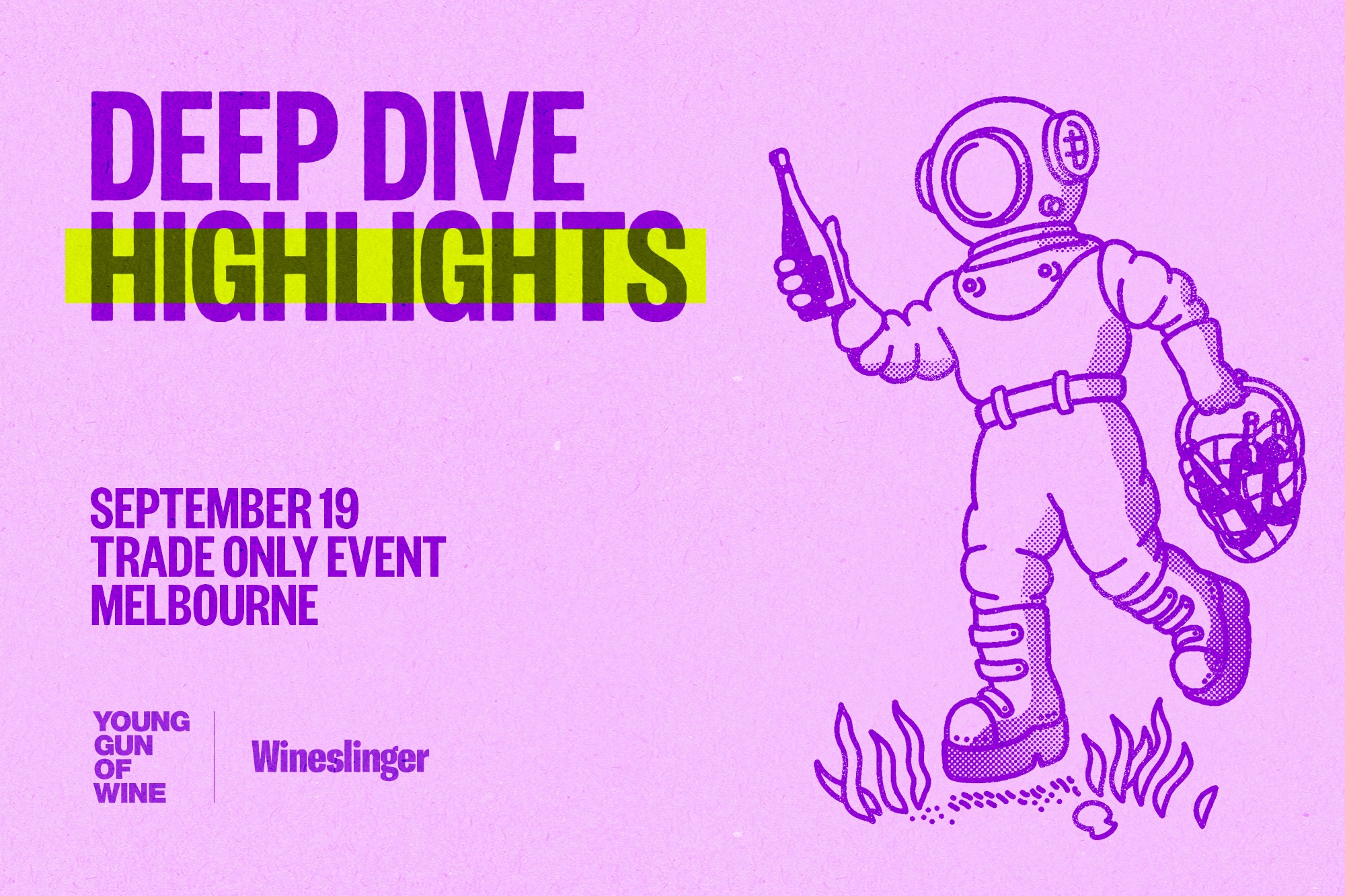 This event is designed for wholesale buyers and consumer facing wine sales staff. Attendance to this event is free for working hospitality and retail professionals, whilst other members of the trade (such as winemakers, etc) will need to purchase a ticket to attend. Any media requests for tickets – or distributors looking for new producers – please contact us via email.

Please note, bookings are required as there is limited capacity at this event.
A NEW VINTAGE CURATION OF SIX OF THE TOP WINES FROM EACH OF OUR 24 DEEP DIVE EDITORIALS
AUSTRALIA'S BEST... CHILLED REDS • NEBBIOLO • SKIN CONTACT WHITE • PET-NAT • CABERNET FRANC • TEXTURAL RIESLING • PINOT MEUNIER • PINOT SHIRAZ • GAMAY • MCLAREN VALE GRENACHE • ROSÉ • SANGIOVESE • VERMOUTH • SYRAH • PINOT GRIS/GRIGIO • CHENIN BLANC • NERO D'AVOLA • ALTERNATIVE SAUVIGNON BLANC • GRÜNER VELTLINER • BAROSSA GRENACHE • VERMENTINO • FIANO • TEMPRANILLO • BARBERA

PLUS WINESLINGER PARTNERS
CULLEN • HENSCHKE • OCEAN EIGHT • SWINNEY
PLUS OUR 2021 AWARDS WINNERS
CHARLOTTE DALTON (YOUNG GUN OF WINE)
EDEN HALL (VINEYARD OF THE YEAR)
DEEP DIVE HIGHLIGHTS FROM
ADELINA • ALKINA • ANGOVE • APHELION • ARTWINE • BEKKERS • BERTON VINEYARDS • BERTRAND BESPOKE • BILLY BUTTON • BONDAR • CATLIN • COLLECTOR • COMYNS & CO. • CORIOLE • CRITTENDEN ESTATE • D'ARENBERG • DE BORTOLI • DIRT CANDY • DOMINIQUE PORTET • EXPRESS WINEMAKERS • FIGHTING GULLY ROAD • FOX CREEK • FREYCINET VINEYARD • GEMTREE • GIBSON • GIL GRAVES • GILBERT • GOLDEN CHILD • HAHNDORF HILL • HAYES FAMILY WINES • HEAD • HITHER & YON • HUNGERFORD HILL • INNOCENT BYSTANDER • JAYDEN ONG • LA LINEA • LA PROVA • LANSDOWNE • LARK HILL • LETHBRIDGE • LEURA PARK • LITTLE WINE CO • LONGVIEW • MAIDENII • MAIN & CHERRY • MARQ • MARRI WOOD PARK • MATRIARCH & ROGUE • MEDHURST • MEWSTONE • MINIMUM • MINO + CO • MOUNT MAJURA • MUTUAL PROMISE • NICK SPENCER • OAKRIDGE • OTHER WINE CO • PARACOMBE • PIERRO • PIPAN STEEL • PIZZINI • PORT PHILLIP ESTATE • PRECIOUS LITTLE • PUNCH WINERY • PUNT ROAD • PYREN VINEYARD • REGAL ROGUE • RICCA TERRA • RIESLINGFREAK • RISING • ROB DOLAN • SANTOLIN • SAWYER • SEPPELT • SMALL VICTORIES • SMALLFRY • SOUMAH • STAGE DOOR WINE CO. • SUBROSA • SUTTON GRANGE • TAHBILK • TERRE À TERRE • THICK AS THIEVES • THISTLEDOWN • TOMFOOLERY • TSCHARKE • TURKEY FLAT • UNICO ZELO • USHER TINKLER • VELLA • VINO VOLTA • VINOQUE • VINTELOPER • WHEELER • WINES OF MERRITT • XO WINE CO • YANGARRA • YELLAND & PAPPS

Tasting runs until 4pm
Location
Longsong
Upstairs, 44 Little Bourke Street, Melbourne VIC 3000
Contact Details
Get directions