Front line harm reduction: Pill tests & Entheo Combo Matrix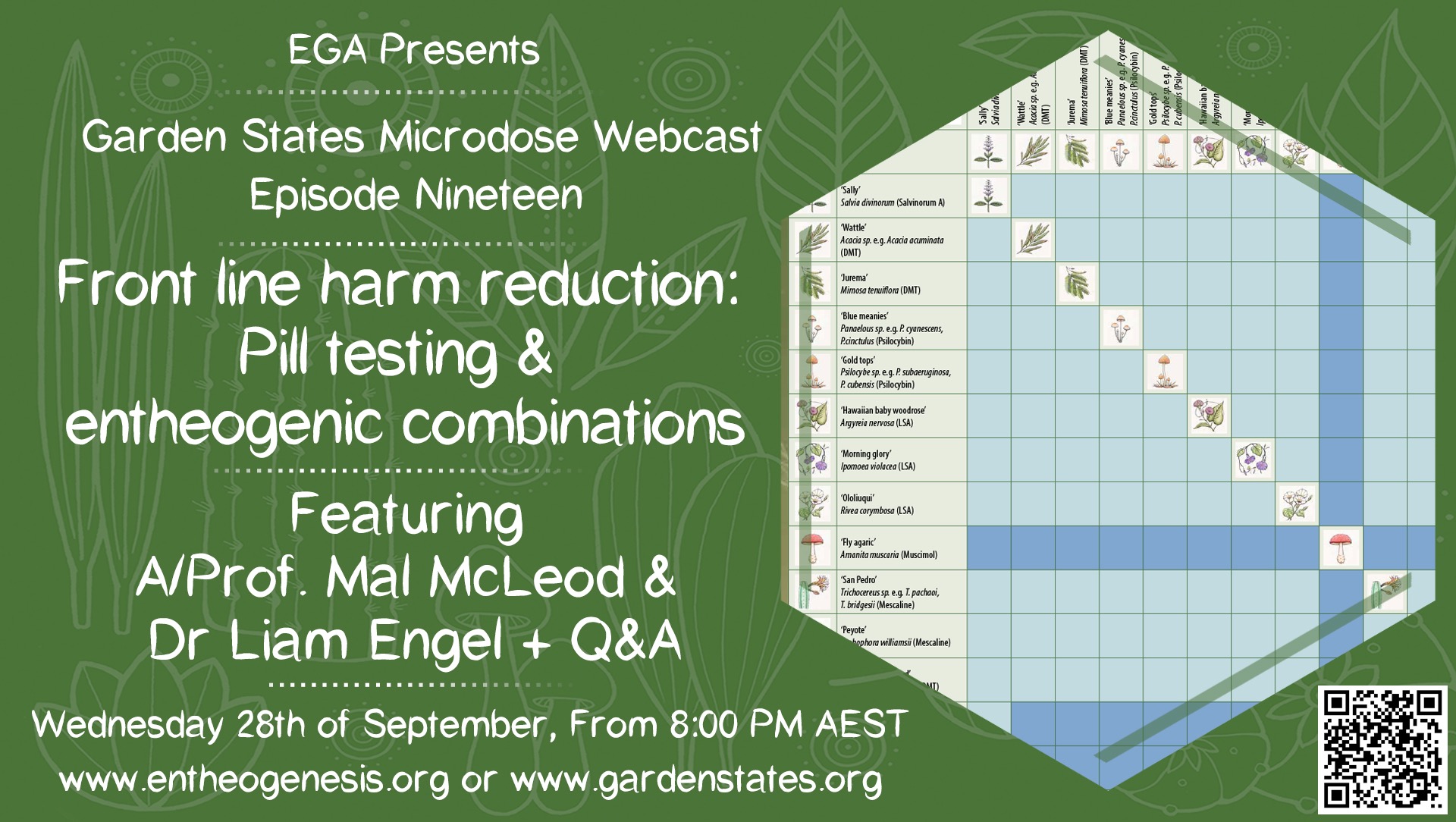 Drugs are always being used in new ways. We need new harm reduction strategies to respond. In this episode of the Microdose webcast, we will consider the evolution of two important harm reduction strategies – drug analysis (AKA pill testing) and drug combination displays.
AEST
Episode Nineteen - Front line harm reduction: Pill testing and entheogenic combinations
Registrations for the Microdose Webcasts are free, but donations are encouraged to support EGA's important work.
With your host, Nick Wallis.
Episode Synopsis
CanTEST is Australia's first Government supported fixed site for pill testing and is now operating for free use by the public in Canberra. In this episode, Associate Professor McLeod will reveal the early results of the CanTEST testing pilot, including what drugs people are testing with the service, challenges faced and plans for the future. Professor McLeod will also review the development of pill testing in Australia and around the world.
Drug combination displays helps people who use drugs, pharmacologists and healthcare practitioners collaborate and share specialist knowledge to anticipate the risk of consuming a particular drug combination. Inspired by Tripsit's Guide to Drug Combinations chart, EGA have recently released the Entheogen Combination Matrix, which lists common, natural sources of psychoactive substances along two axes of a graph. The intersection of substances on each axis is coded to signify the risk of consuming that plant, fungi, and/or animal combination. In this episode, Dr Liam Engel will explain how the Entheogen Combination Matrix was developed and implications for the future of harm reduction.
Bio: Associate Professor Mal McLeod
Associate Professor Mal McLeod works at the Australian National University. His research interests include medicinal chemistry and the development of new chemical and analytical technologies to study drug metabolism. He is the chemistry lead for Pill Testing Australia and CanTEST. Professor McLeod was awarded a Churchill Fellowship in 2020 to study drug checking services in Europe and has just returned from a six week tour of these services throughout Netherlands, Portugal and Austria. Mal uses caffeine and alcohol (but not combined!) as his drugs of choice.
Bio: Liam Engel
Dr Liam Engel is a drug science researcher and communicator. He is a research fellow at Edith Cowan University's School of Medical and Health Sciences.
Liam's passion is illicit drugs, particularly the areas of harm reduction, psychedelics, ecology, internet and reform. His unique perspective draws on skills in health and medicine, communications and social sciences, as well as botany and horticulture.
----------------------------
About Garden States Microdose Webcasts
The EGA Garden States Microdose Webcasts are designed to cover various topics from the field of ethnobotany and psychedelic culture, sustainability, and related areas of interest to the community. The forums are part of the program leading up to the highly anticipated Garden States 2022 Botanical Conference. Registration for the Microdose Webcasts are free, but donations are encouraged to support EGA's important work.
About EGA
Entheogenesis Australis is a charitable, educational organisation established in 2004. We provide critical thinking and knowledge sharing opportunities on ethnobotanical plants, fungi, nature, and sustainability. Through our conferences and workshops, we aim to celebrate the culture, art, politics and community around medicine plants in the hope of better wellbeing for humankind and the planet.
To find out more about what we do, head over to our organisational website. If you like what you see, take a look at our upcoming Garden States 2022 Botanical Conference program.
Warm Regards,
The Entheogenesis Australis Team
Planting seeds for the earth, body and mind
www.entheogenesis.org
www.gardenstates.org
Note: Small booking fees may apply.
Location
Online event access details will be provided by the event organiser