SHAMROCK HOTEL BENDIGO DINNER / GHOST TOUR / INVESTIGATION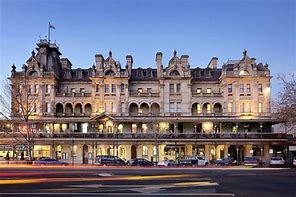 About
One of thee most haunted Hotels in Victoria!
The 4th floor is as it was over 100 years old, and many of the past residents, Gold miners, famous entertainers, Royalty and criminals are still there! Some of the stories and experiences at The Hotel Shamrock are spine chilling!
Join us for a delicious dinner followed by a 2 to 3 hour Ghost tour and Investigation, where you are the investigator and you use the equiment we use!
Paranormal Adventures Australia Merchanise and products available to purchase at the end of the investigation
* Please note the 4th floor is prone to getting very dusty. If you have allergies please wear a mask.
Dinner - 1st Floor
Daylight savings 7:30pm sit down INVESTIGATION - 9PM
Non Daylight savings 5:30pm Sit down INVESTIGATION - 7PM
Tour Meet up - FRONT ENTRANCE FOYER
Dates
Saturday 27 January 2024 - Saturday 30 November 2024 (UTC+11)
Location
SHAMROCK HOTEL BENDIGO
17-19 WILLIAMSON STREET, BENDIGO VIC 3550
****ENTRY IS ONLY TO TICKET HOLDER WITH ID . IF YOUR TICKET HAS A DIFFERENT NAME TO YOUR ID, YOU WILL BE REFUSED ENTRY, UNLESS APROVED BY PAA 7 DAYS RIOR. **** TICKETS NON REFUNDABLE BUT CAN BE ALLOCATED TO ANOTHER DATE 7 DAYS PRIOR ***