Young Creatives Month Kalamunda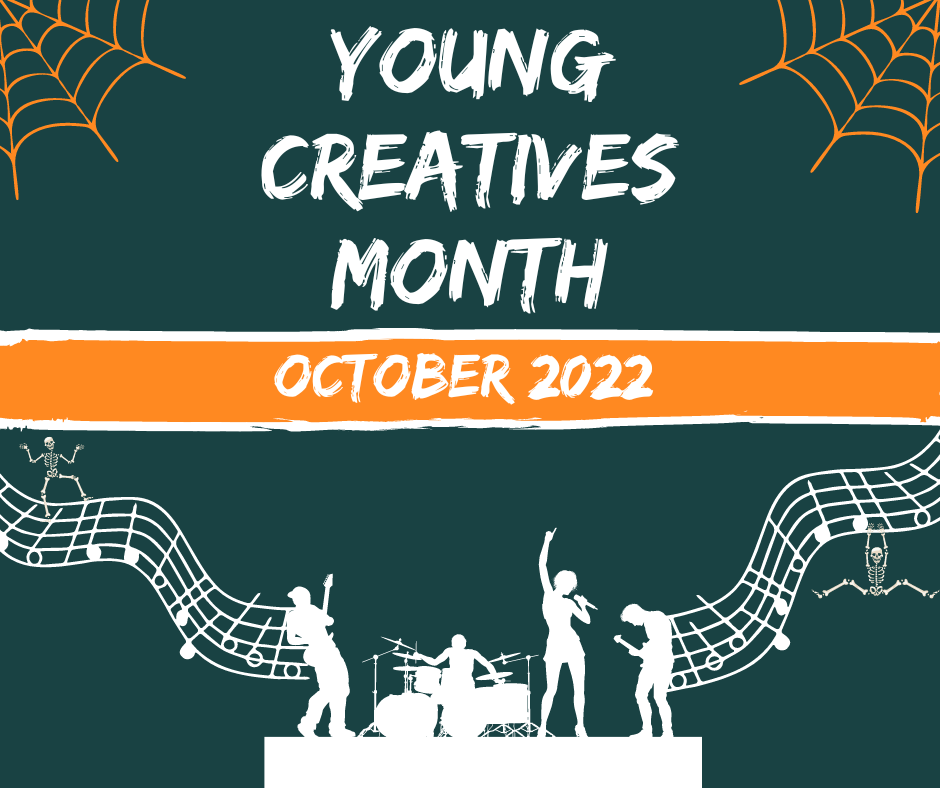 About
Young Creatives Kalamunda is held in September/October each year. In the alternate year where there is no Young Artist Awards a different theme is selected highlighting a different arts program.
For 2022 the theme is.......LIVE MUSIC!
The month will also feature a range of creative Halloween inspired activities and workshops from Spooky Storytime's, Second Hand Spooks Crafternoon as well as a Decorate your House Competition running for the month with the best house winning a prize!
The Finale for the month will give young performers the opportunity to perform live for the City of Kalamunda community at the Kalamunda Night Markets on the Friday 28 October where the best Halloween Houses will be showcased and you can vote for the winner!
October 2022
October 1- October 31: Halloween Decoration Showcase Competition
Venue: City of Kalamunda
Get into the Halloween spirit and create your own Halloween Decoration Showcase! Post a picture of your best Halloween Decoration for your chance to WIN.
Disclaimer: Images must not contain any indentifiable features such as house numbers or street names and you must obtain parental consent if you are under the age of 18 to participate.
Terms and Conditions Apply, click here to view.
Friday October 7: Get Your Spook on Costume Design
Time: 3:30pm-6:00pm
Venue: Hawaiian Forrestfield-Activity Space
Join the Youth Team for a crash course in Halloween Costume design with an upcycling workshop, putting together a costume from your existing wardrobe and adding spooky additions to your costume!
Wednesday October 19: Second Chance Spooks Crafternoon
Time: 3:30pm-5:00pm
Venue: Zig Zag Cultural Centre Seminar Room
Join the Youth Team to get a head start on your Halloween House Decorations to win the Halloween Decorate Your House Competition. Bring everyday items from home such as cardboard boxes, empty bottles, cans, paper etc. and transform them into ghouls and ghost to get your house ready for the Spooky Season and post your pictures on Facebook and tag the @CityofKalamundaYouth for your chance at the Halloween Hamper!
Anyone can participate, entries to be received by October 24 all entries will be considered as part of the competition.
Wednesday October 26: Spooks Costume Showcase and Pooch Walk
Time: 4:00pm-5:30pm
Venue: Elmore Way Reserve Dog Park
Bring your human friends and furry playmates for an afternoon of Costume Catwalk and show off your Halloween Costumes just in time for Halloween. There is even a prize for the best matching costumes!
Friday October 28: Spooky Tunes Finale Performance
Time: 5:00pm-8:00pm
Venue: Kalamunda Night Markets
Come down for the Kalamunda NIght Markets and see our young musicians throughout Kalamunda Perform LIVE to celebrate all things creative and wrap our Young Creatives Month. The Best Houses Voting for the Decorate Your House Competition will also be happening at the markets so don't miss the chance to vote on the spookiest house.
These are only some of the events for the month, there are story times and creepy crafts held at the Libraries throughout the City and there will be a range of online content to engage with on the @CityofKalamundaYouth Facebook and @Kalayouthservices Instagram page. Check out the calendar below for further event dates and details!
CIyt of kalamunda
Various Locations-register for sessions to attend.
The City welcomes and encourages the attendance of people with disabilities, and will try to accommodate any access needs disclosed. Please get in contact to discuss any further access or dietary needs.
City of Kalamunda- Youth
9257 9999
youth@kalamunda.wa.gov.au
www.kalamunda.wa.gov.au/youth