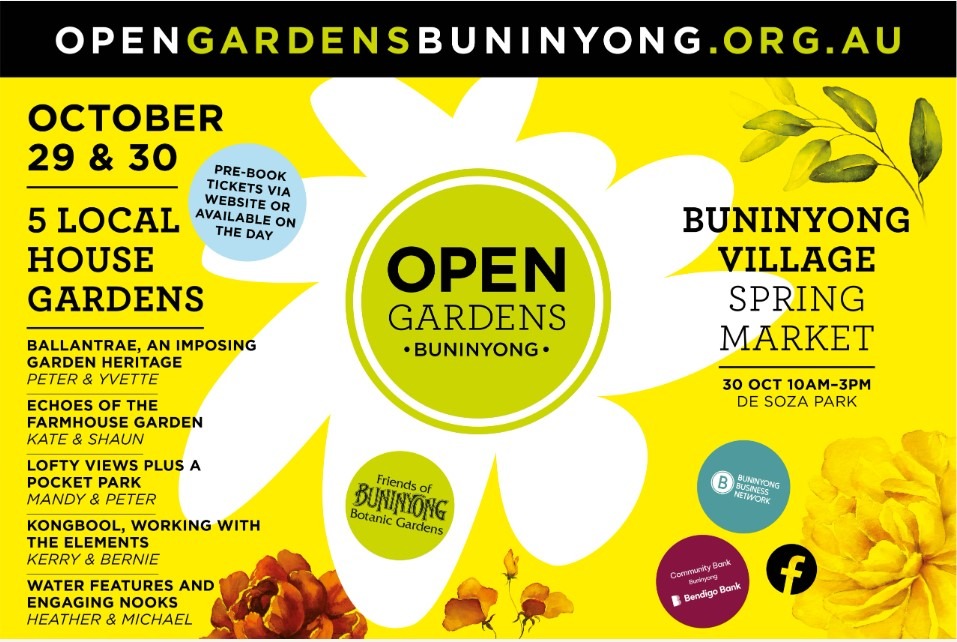 About
Since early settlement and the founding of the Buninyong Botanic Gardens in 1861, now heritage-listed, the township has established a long tradition of thoughtfully created and beautifully maintained gardens.
+ Open Gardens Buninyong 2022 proudly presents five house gardens offering interesting variety, from the mid-19th century to others of a contemporary inclination... always respecting and reflecting the natural landscape and local conditions. Some have been blessed with rich volcanic soil thanks to Mount Buninyong and, in contrast, others have first needed to tame their shallow, stony, compacted soil that would have tested the resolve of pioneers. All gardens are a tribute to the creativity, personal dedication and boundless toil of their host owners.
+ Buninyong Village Spring Market will be presented on Sun 30 October, 10:00am - 3.00pm at the Buninyong Town Hall, free entry.
+ Visit the Buninyong Botanic Gardens, cnr Scott St & Inglis St, open 7 days/week, free entry.
Location
Present your trybooking Ticket at BUNINYONG VISITOR INFORMATION CENTRE
408 Warrenheip Street, to collect your individual Garden Entry Passes & Map