P&A Annual Conference 2023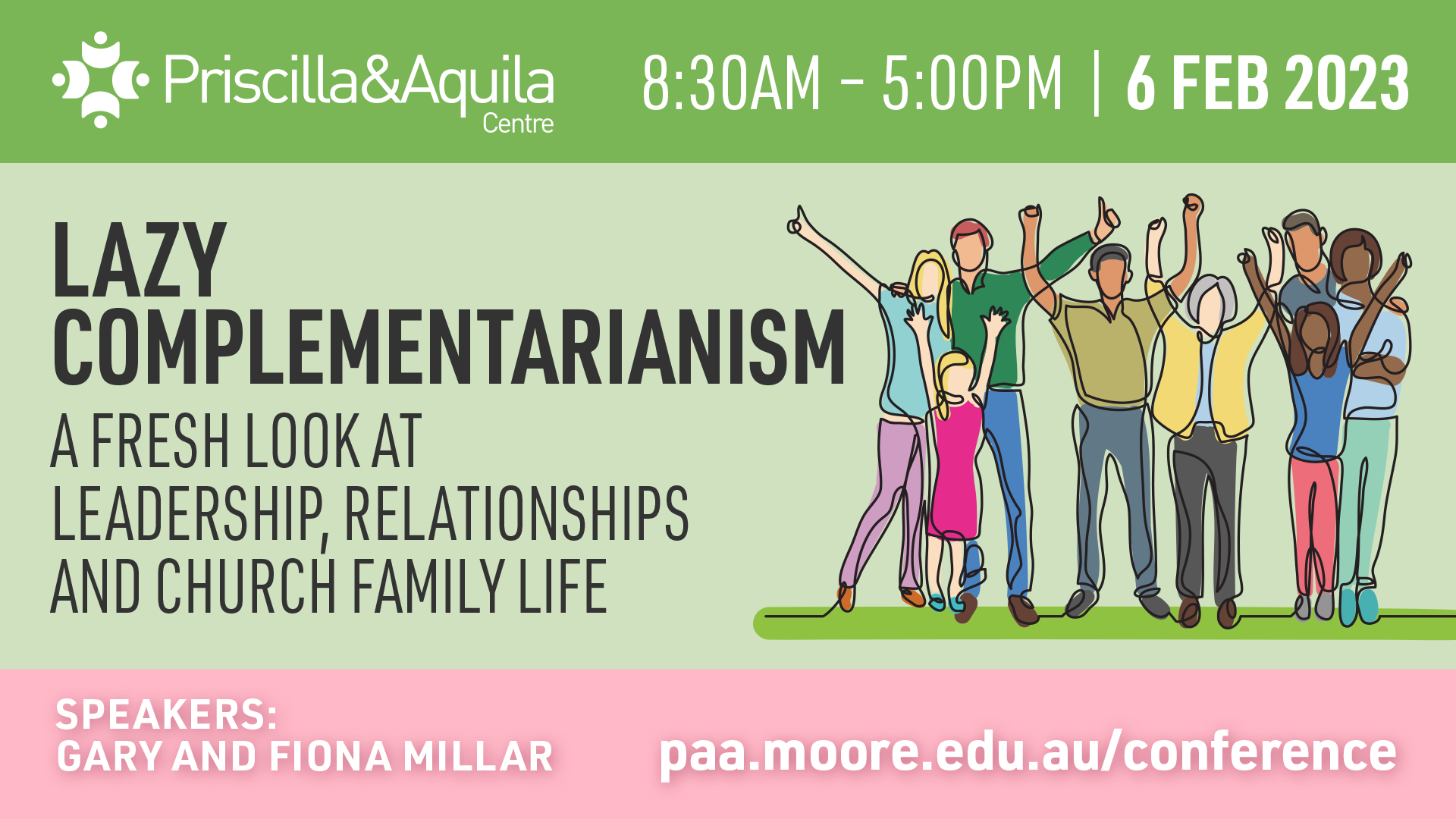 When?
Monday 6 February 2023, 8:30am-5:00pm (GMT +11 Australian Eastern Daylight Time).
Where?
Moore Theological College, 1 King St, Newtown, Sydney, NSW, Australia, and via livestream.
IN PERSON TICKETS CLOSED. LIVESTREAM TICKETS AVAILABLE UNTIL MONDAY 6TH FEBRUARY.
Standard Ticket rate is available until January 12th. Late tickets will be available from the 13th Jan at a higher rate.
Livestream tickets will remain at the same price for the duration of ticket sales. All livestream tickets are individual only. No group tickets available.
Please note: This conference will be run both face-to-face as well as via livestream. Provided everything goes smoothly with the technology, all talks and electives where speakers have given their consent will be recorded. The plenary talks will be livestreamed, and the following electives will be livestreamed: Church discipline (Glenn Davies) and Speaking and relating well with other complementarians when we disagree (Bill Salier and Kara Hartley)
The livestream links and relevant information will be sent out on Friday 3rd February.
If you have any financial difficulties, please contact Jane Tooher.
About
Our God is a kind and generous God, and he's given us a pattern for life together in families and the church family that is rich, beautiful, free, affirming and complex.
The problem is that sometimes we're not so good at translating this pattern for life into reality. If we're honest, sometimes we're far too driven by tradition: we just keep doing things the way they've always been done because it's easy or comfortable. At other times, we're too influenced by society: we just take on what everyone else is doing—again, because it's easier to fit in.
This is particularly true when it comes to complementarianism, the idea that God has made us different as men and women, and so the life of the church and our families should reflect those differences in a gloriously positive way.
That's why at the 2023 Priscilla & Aquila conference, we are looking at "lazy complementarianism": the ways in which we, as Bible-believing evangelicals, slip into either just doing things the way they've always been done, or drinking too deeply from the well of the culture around us.
Join us as Fiona and Gary Millar think through what it means for us as God's people—men and women together—to live well and commend the gospel for the Lord Jesus.
View the full program for further details and information about the speakers and electives.
About our keynote speakers: Gary and Fiona Millar
Gary has been married to Fiona for 28 years, and together, they have three daughters: Lucy, Sophie and Rebekah. Born in Northern Ireland, Gary lived in Scotland, England and the Republic of Ireland before moving to Brisbane, but still hasn't lost his accent. In his role as Principal of Queensland Theological College, he gets to do three things that he loves deeply: preach weekly in college chapel, teach the gospel from the Old Testament, and equip men and women for a lifetime of gospel ministry. He also has had the opportunity to write books on Deuteronomy, Kings, Prayer, Preaching and the basics of the Christian Life (e.g. Read This First: A simple guide to getting the most from the Bible). He is a Council Member of The Gospel Coalition Australia, and part of Mitchelton Presbyterian Church in Brisbane. He is a slightly obsessive (slow) runner and a bad golfer.
Fiona was born in the high Andes of Peru (of Scottish missionary parents) and now lives in the leafy suburb of Ashgrove with her husband Gary, and their three daughters. Passionate about sharing Jesus with women and children, Fiona delights in opening up the Bible with groups of women, and having God challenge and shape her in the process. After 18 roller-coaster years of ministry in Presbyterian Churches in Ireland, Fiona now serves Jesus at Queensland Theological College and in her local church—with friends who don't yet know Jesus and with pastor's wives. Fiona has also finished a Masters in Advanced Educational Learning with UCL, and revels in waking up each day in this land of blue skies and bold colours.
Moore Theological College
1 King St
Newtown, NSW 2042