NewH2 Knowledge Exchange Series - Breakfast Forum (SOLD OUT)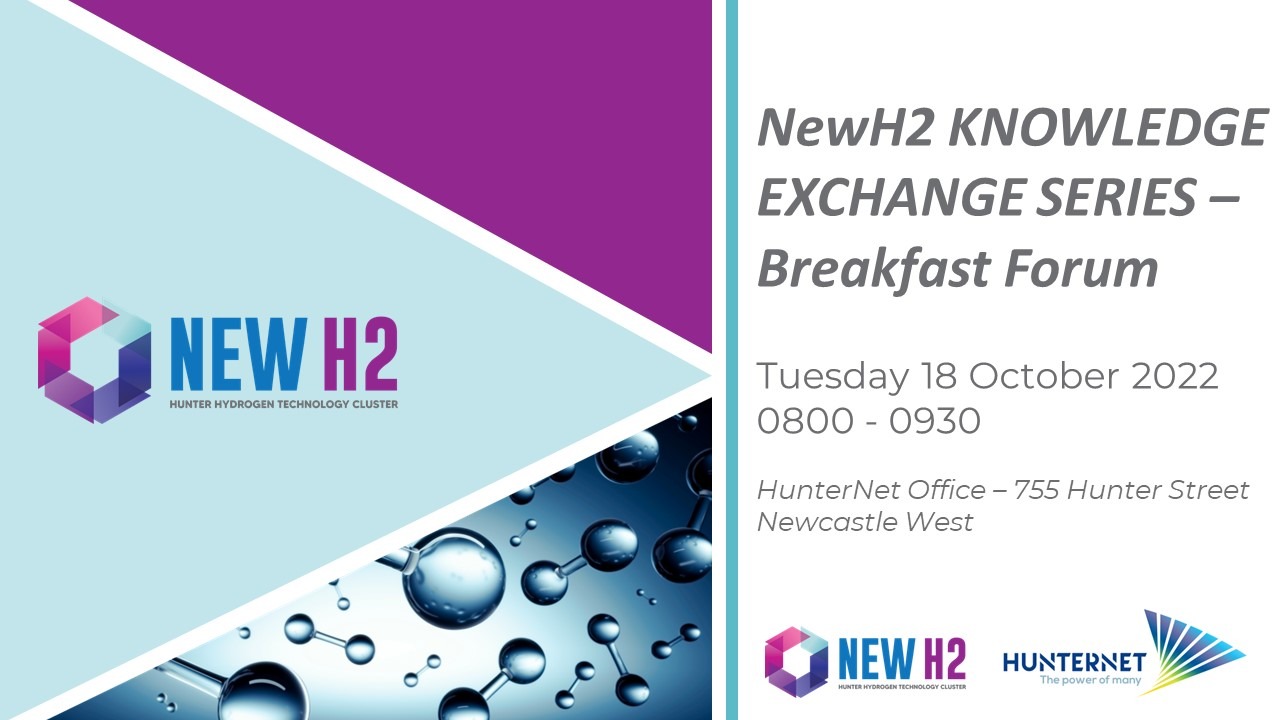 About
NewH2 in partnership with HunterNet invite you to be a part of our NewH2 Knowledge Exchange Series Breakfast Forum to hear important regional and national updates on hydrogen.
NewH2 - Hunter Hydrogen Technology Cluster is part of a national initiative and works to support the emerging hydrogen economy in NSW by facilitating connections and knowledge sharing throughout the state and beyond.
Join us for presentations including updates on NewH2, presentations from Chart Industries and TAFE NSW.
Mark McKechnie - Chart Industries
Mark McKechnie is the Director of Hydrogen Sales Asia Pacific for Chart Industries.
Based in Sydney, Australia, Mark comes with 22 years' experience in driving global sales in the cryogenic industry. For more than half of his career, Mark has championed and led a niche market in Cryogenic distribution and Hydrogen operations, expanding this scope throughout South East Asia. In Mark's current role, he is assisting customers in South East Asia develop Liquid Hydrogen solutions from Production through storage, transport and usage in a wide range of applications from heavy transport to refueling infrastructure.
Prior to venturing into the cryogenic industry, Mark started his career in Marine Biology, with a focus on Shark Biology. He holds a Bachelor of Science from the University of Sydney and a MBA from Macquarie University. Mark has recently completed an Executive leadership course from Wharton University and is currently undertaking a Chemical Engineering Degree from the University of South Australia.
Mark continues to advocate hydrogen liquefaction at every opportunity he can. An avid reader and world traveler, Mark is passionate about delivering hands-on service to clients both large and small, offering timely, creative and customised solutions.
Presentation will be on Hydrogen Refuelling stations and the need for Liquid at the refuelling station, as well as the developments around Hydrogen refuelling on vehicles.
Chris Greentree - TAFE NSW
Chris Greentree is an Industry Innovation Specialist with TAFE NSW and has over 20 years of experience in the VET Sector. Chris has worked across all areas of TAFE NSW, including Apprenticeships and Traineeships, Regional Operations, and Industry Engagement. Most recently he has led the implementation of TAFE NSW Electric Vehicle Training Solution, a future focused industry collaboration, addressing the bus industry skills challenges relating to replacement of the NSW bus fleet with zero emission buses.
As an Industry Innovation Specialist, Chris is responsible for engaging with industry in inovative thought leadership, creating a space where industry and TAFE NSW work collaboratively to identify needs and developing future focused solutions to meet work force requirements. Chris is experienced in building training solutions often not met by existing vocational education frameworks, pushing the boundaries of the current Accredited Training models to include industry partnerships, delivery pathways and unique product development approaches (including micro credentials).
Chris will present a Zero Emissions Buses case study and will share the TAFE NSW Hydrogen Training priorities, the industry engagement plan, and timelines.
Following presentations, there will be a Q&A session and networking opportunity.
A light breakfast will be served on arrival from 8am.
Location
HunterNet Office
755 Hunter Street, Newcastle West NSW 2302