LBS Worldwide Alumni Celebration with Prof Toby Walsh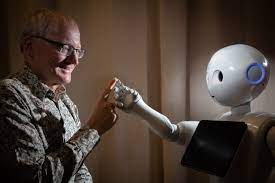 About
Dear Sydney friends,

It is with great pleasure that we announce our next event, the LBS Worldwide Alumni Celebration with AI expert, Professor Toby Walsh. Many of you met Toby 5 years ago at a sell out event that was such a success that we decided to ask him to come and speak to us again.

This time, he will explore the ethical considerations and unexpected consequences AI poses – Is Alexa racist? Can robots have rights? What happens if a self-driving car kills someone? What limitations should we put on the use of facial recognition?
I hope you can join us for this thought-provoking look at the increasing human reliance on robotics and the decisions that need to be made now to ensure the future of AI is as a force for good, not evil.

In addition to talks about AI, we will have the opportunity to take part in the LBS WAC celebration with face-to-face human-to-human interactions, previously called catching up and having a good time with fellow alumni friends. An opportunity not to be missed!
Location
Infosys Australia
100 Arthur St, North Sydney NSW 2060