THE BOOK OF KELLS - ITS HISTORY, MYSTERY & ITS WONDER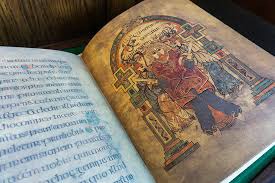 About
Gemma was invited by the National Gallery of Australia to prepare and present this lecture on the calligraphy and illumination and the background to the Book of Kells upon its highly acclaimed visit to Australia in 2000. Gemma worked in conjunction with Susie Bioletti (head of conservation NGA, now at Trinity College), on the tools and pigments component of the 'Book of Kells and the Art of Illumination' blockbuster exhibition held at the National Gallery, where over 81,000 visitors experienced this exciting event.
This lecture features numerous images to inform, educate and stimulate the audience. It is an excellent opportunity for those interested in books, book history and calligraphy to delve further into the past and to learn some of the history and the mystery of this astonishing manuscript, said to be "the work of angels …".

Gemma Black is a calligrapher, an artist and teacher.
Location
Michael Hoskins Centre The Armidale School
Brown Street, Armidale NSW 2350