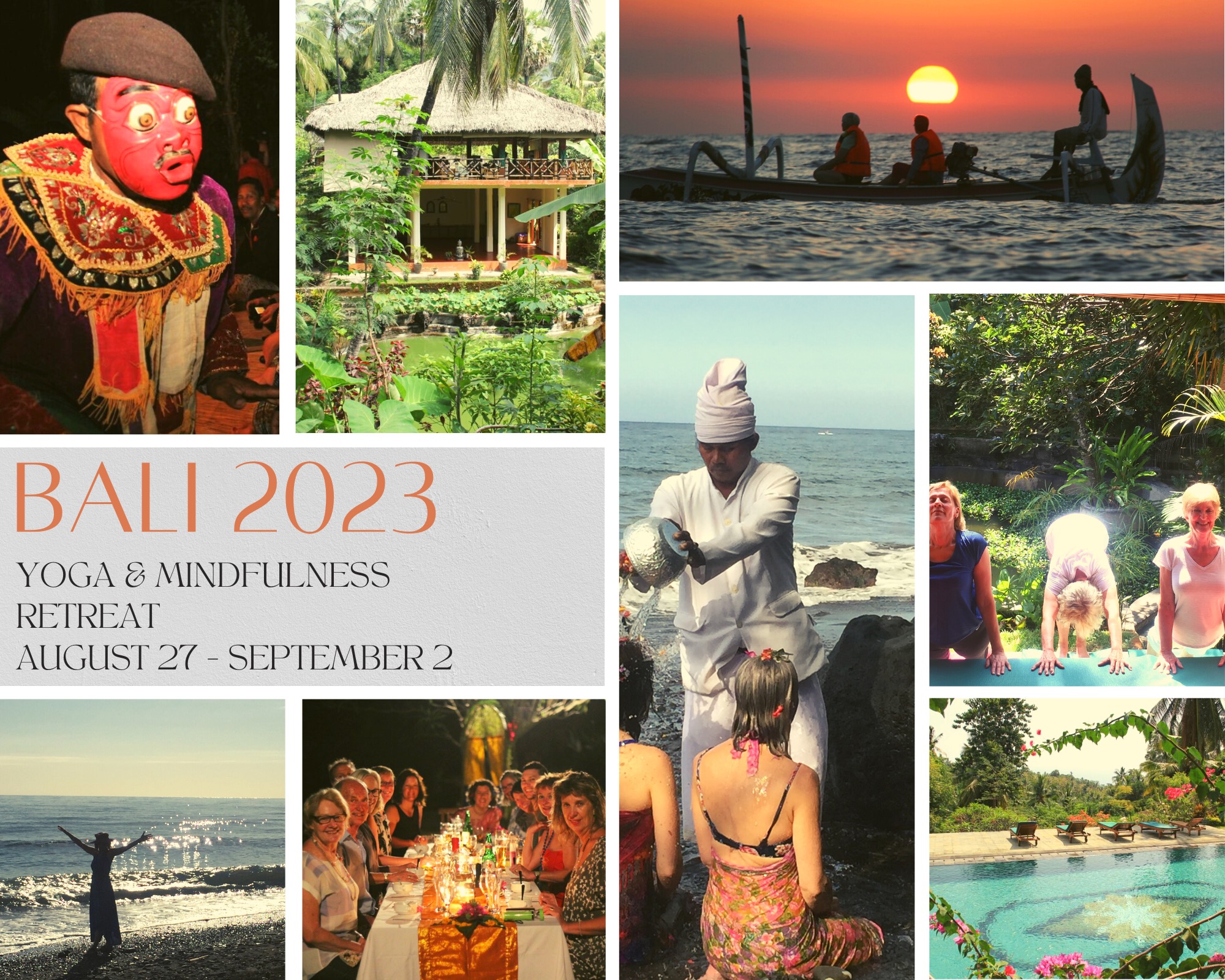 WAKE UP IN BALI
August 27 - September 2, 2023
Join Senior Iyengar Yoga teacher Tim Oddie and Mindfulness Educator Anna Loughrey on this six night retreat suitable for all levels. Look forward to arriving to a green sanctuary nestled in the hillside on the north coast of Bali, interwoven within the local culture and well away from mainstream tourist developments. The award-winning Gaia Oasis Abasan Mountain Retreat is the perfect location to experience the meaningful and restorative retreat you so need. Enjoy warm days and balmy evenings with like-minded people from all walks of life. Amidst uplifting yoga, life affirming mindfulness and rich cultural experiences you will have plenty of free time for self-care - at the spa centre, in the salt water swimming pool, at the local beach, in Gaia's lush gardens or simply sitting on your balcony reading.
TESTIMONIALS:
A beautiful week of yoga & mindfulness - both challenging & supportive. I came away reset, feeling stronger & calmer; enriched by both practices & the supportive elements of wholesome food, cultural activity & good, good people.
Jaq, Bali Participant, 2022
View youtube video testimonials below.
THE YOGA & MINDFULNESS
Tim and Anna share a love of people, culture and nature and have a long history of leading retreats in regional Victoria, Bali and India, including the foothills of the Himalayas. Tim and Anna's mission is to help people to experience the profound joy that comes with a deeper connection internally and to the world around them.
About Tim Tim is a Senior Iyengar Yoga Teacher with 30 years + teaching experience. With highly developed skills he conveys the essence of yoga with depth, clarity and humor. Whether you are new to yoga, have physical restrictions or have been practicing for many years, Tim will support and challenge you, as you gain greater insight into the nature of your being. Physically, mentally and emotionally you will leave his sessions feeling stronger, steadier and more resilient.
About AnnaAnna brings 30+ years life coaching experience. Combining gentleness and directness, Anna invites you to practice letting go what needs to be let go of and letting grow what needs to grow. With this intention, Anna offers a selection of mindfulness techniques to help quieten your mind, support greater connection to your intuition and instill greater confidence to follow your heart.
Gaia Oasis Abasan Mountain Retreat is situated on 10 acres of organic gardens and home to a small village of farmers. In amidst its tropical gardens are many peaceful areas to rest. Above the tranquil teaching space is a comforatble and airy lounge and dining area with expansive views of the surrounding valley and sea. Profits from this resort are re-directed to not-for-profit activities managed by the 'Gaia Foundation', which funds a range of local cultural, environment and community development projects. Gaia Oasis Abasan rates 4.5 / 5 stars on Trip Advisor.
THE PROGRAM
06:30 – 07:00 Morning Mindfulness07:00 – 08:00 Silent breakfast
09:00 – 11:00 Yoga (Asana)
11:00 – 11:30 Q & A with Tim (optional)
12:30 – 13:30 Lunch
13:30 – 17:00 Free Time / Optional Activity
17:00 – 18:30 Yoga (Pranayama)
19:00 – 20:00 Dinner
20:00 – 20:30 Evening Mindfulness
* PROGRAM MAY VARY DEPENDING ON PLANNED EXCURSIONS
There are three accommodation options - solo, twin share or double. All rooms have a day bed, private open-air ensuite, small verandah / patio, effective mosquito netting, a kitchenette and personal safe. All linen is provided and rooms are cleaned daily with fresh flowers scattered lovingly around. The Solo Rooms and Bungalows are all set in lush gardens, carefully positioned across the property, linked by stone paved pathways, offering a sense of both privacy and neighbourly connection.
Once you press 'BOOK NOW' located at the top of your screen you will be able to see details for each room type. (Refer below to THE COST for more details).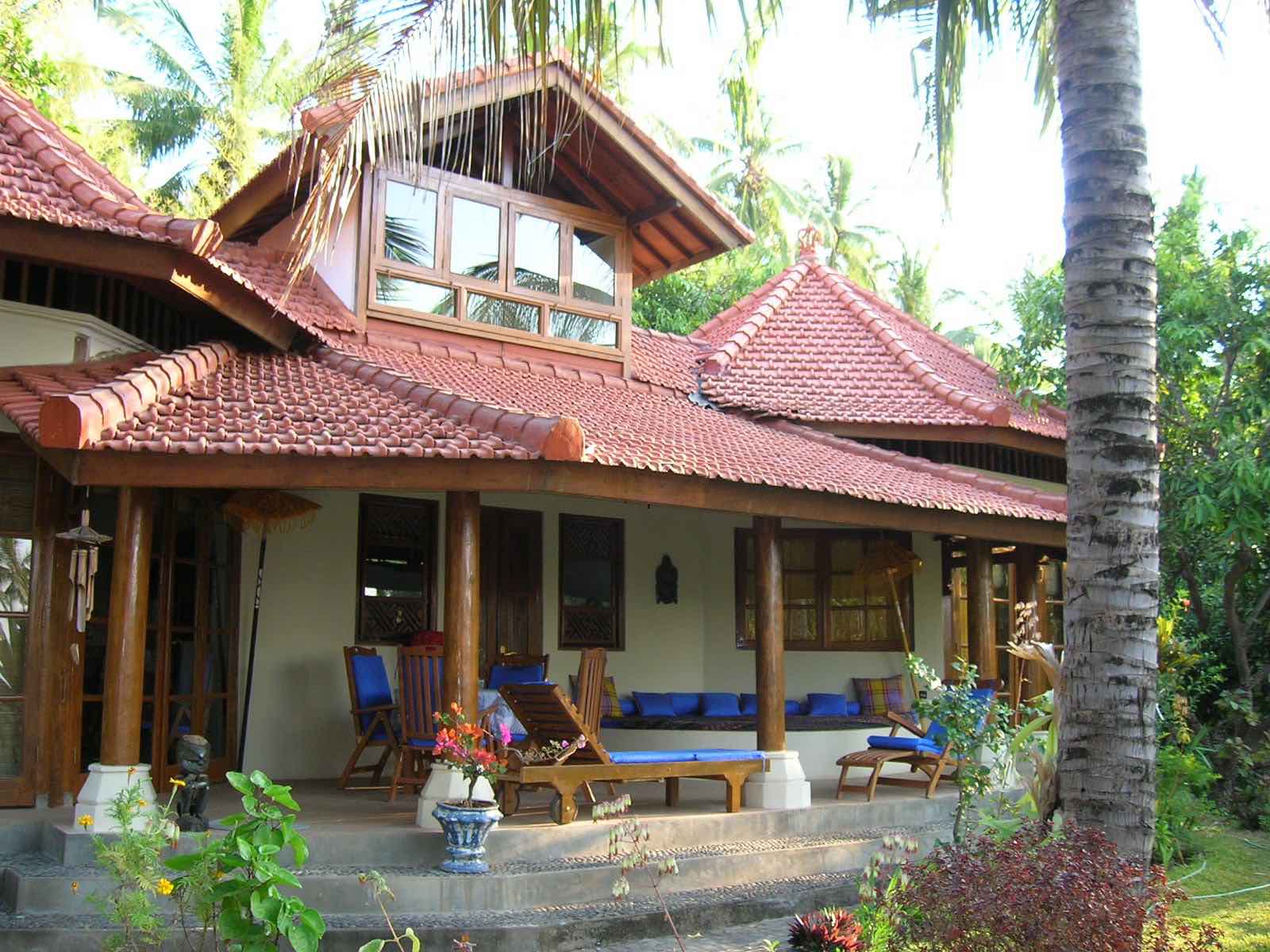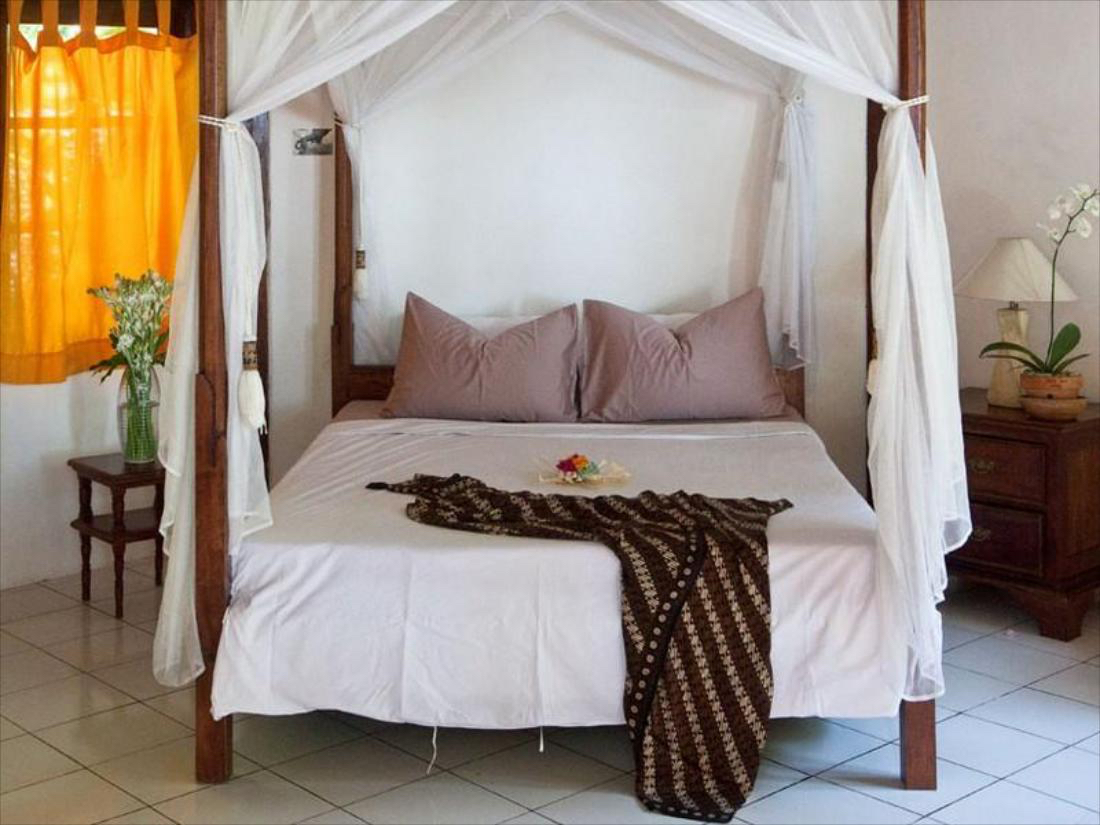 THE ACTIVITIES
A range of cultural activities are offered as part of this retreat: an 'Introduction to (Balinese) Prayer'', the experience of a tradional 'Sea Cleansing', a morning sunrise boat trip, an afternoon trip to a local organic food bowl forest and waterfall swim. Other activities on offer include an 'Introduction to Making Balinese Offerings' and an 'Introduction to Balinese Cooking'.
THE FOOD
Meals are served from an open-air dining room overlooking a beautiful pond teaming with fish and adorned with lotus flowers. From breakfast, lunch, afternoon tea to dinner time your taste buds will be tingling with delight, as you enjoy deliciously nutritious meals prepared wherever possible with produce from Gaia's own organic gardens. The menu is gluten free, vegetarian with a chicken or fish option daily. Herbal teas, fresh fruit, Balinese coffee and cocoa are available all day. Specialised coffees and other delicious non-alcoholic drinks are available to purchase at your own expense.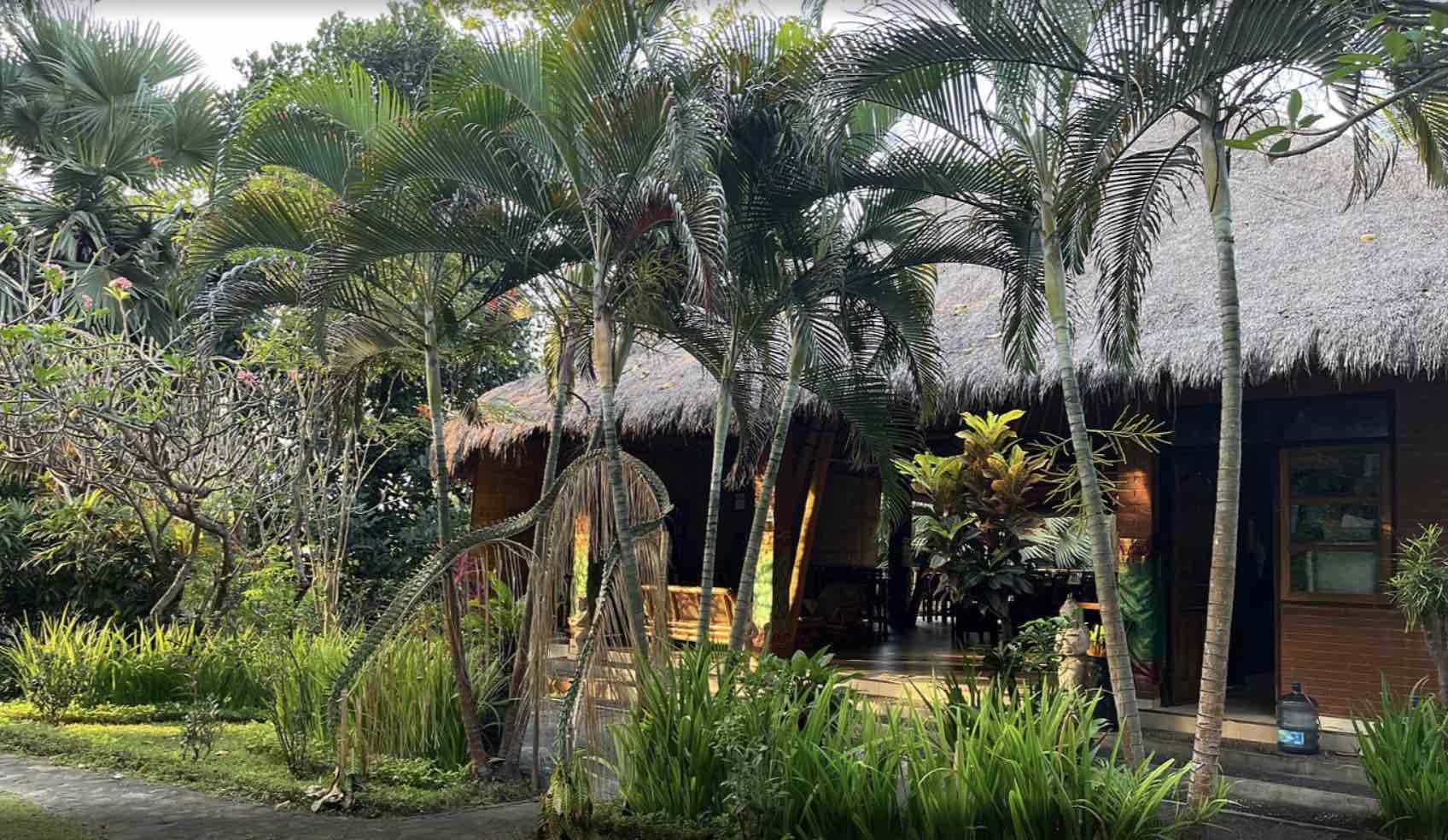 THE SWIMMING
There is a salt water pool for lap swimmers and sun lovers. The ocean is five minutes away in a courtesy shuttle for those who enjoy swimming and snorkelling or strolling along quiet black sand beaches (snorkelling gear avail. via donation to the local fishermen's collective).
SPA TREATMENTS
Complimentary with your retreat is a Bali Traditional Massage (1 hour) in the serene Abasan Rainforest Spa Centre. Additional treatments can be selected from a catalogue of other beauty and health treatments – inspired by the local environment, the herbal traditions of Bali, India and the West.
TRANSFERS
Getting there - On the Sunday your retreat begins (27/8/23), you have the option of booking a seat on a courtesy car from a pick-up point in Ubud, deparing Ubud at approximately 11am. You will stop for lunch along the way and arrive at Gaia Oasis around 3pm. Transport directly from the airport to Gaia Oasis can also be arranged.
Getting home - Following a light lunch on day 7 of your retreat (Saturday), you will again have the option of a seat in a courtesy car returning you to Ubud around 2pm or to Denpasar Airport to connect with flights booked from 7pm onwards.
THE COST
Please see the 'BOOK NOW' button at the top of your screen to view details of room types available.
| | | |
| --- | --- | --- |
| ROOM TYPE | FULL PRICE | AFTER 16/7/23 - 6 WEEKS TO GO (20% OFF) |
| Bungalow (DOUBLE) | $4400 | $3250 |
| Bungalow (TWIN) | $2200 | $1760 |
| Solo Room (SINGLE) | $2550 | $2040 |
NOTE IF BOOKING AFTER 16/7/23 - Soon after booking (i.e. paying your deposit - single - $400, double - $800) you will receive a confirmation email with account details to transfer the balance, which must be paid within 7 days of making your booking. Prices as listed above include:
Transfers (shuttle from Ubud to Gaia Oasis and returning to Ubud or the airport)

Six nights accommodation and all meals

Twice daily yoga

Twice daily mindfulness

All activity costs (Sunrise Boat Trip, Waterfall Walk & Water Blessing Ceremony)

Complimentary spa treatment (1 hour

All yoga equipment

Daily shuttle bus between venue and the beach or local village

Free internet in public areas
* Not included - Airfares, Cancellation & Travel insurance, Additional SpaTreatments.
TERMS & CONDITIONS
Once you select the ticket type you are interested in, our 'Terms & Conditions' will be clearly outlined. Please read these carefully. You will need to agree to these before a purchase can be finalised.
Any questions please contact Tim on 0419 313 677.
Namaste,
Tim & Anna
​