Space2b Presents: The Laneway Festive Market
By The Urban Creatives
Welcome Stallholders. We look forward to having you at the Space2b Laneway Market. Please read the below information carefully before confirming your stall.
If you haven't already, please email theurbancreativesau@gmail.com with a descrition of what you would like to sell. Please include photos of your products or links to any social media accounts where you have them listed, then wait for approval before making your booking.
The Laneway market will run on Sunday the 26th of March in the T-junction laneway behind Space2b at 144 Chapel st, St Kilda between 10am-3pm.
We have two stall sizes available: 2x2 Metres ($40) and 3x3 Metres ($50)
Stall holders will need to supply all their own market equipment. i.e. tables, marquees, chairs,
If you plan on using a marquee please book a 3x3 Metre stall as the smaller space will not have enough room for one. 2x2 Metre stalls will not be undercover. Please take this into consideration when making your booking.
For those using a marquee, please do not forget your weights. Pegs cannot be used as the laneway is paved.
All stall fees are non refundable
The market will run regardless of the weather forecast, and will only be cancelled if there is an extreme weather event making it dangerous to go ahead. This option will be left to the last possible minute, and in the unlikely case that the market is cancelled, organisers will be in touch with stallholders to find the best way to move forward with our agreement.
Bump in:
Setup can begin between 8:30am and 9am.
There are two access points to the Laneways. These are Rosamond St and Nightingale st. (See Google Maps)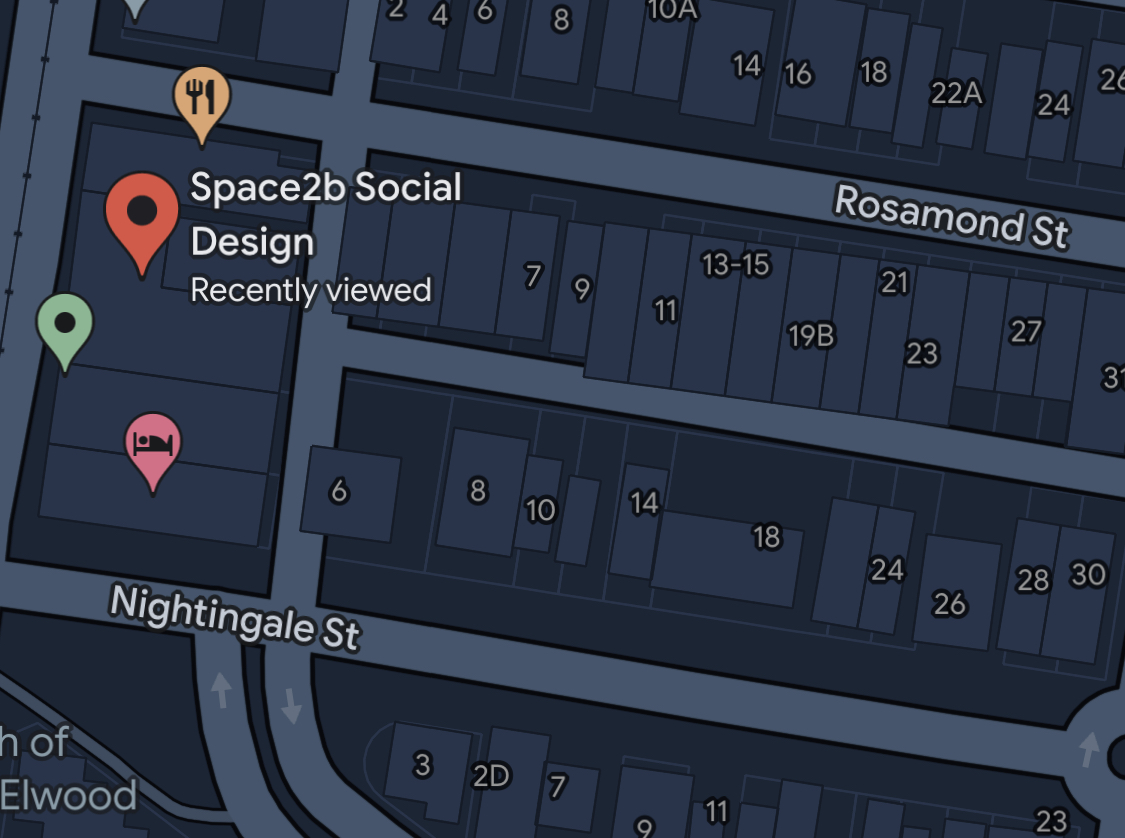 Cars cannot be driven into the laneway and will have to be unloaded in the above mentioned streets
When you arrive you will be met by one of the organisers and will be directed to where you have been allocated. Once you have unpacked your car, please move it to allow room for other stallholders to unpack.
Stall allocation will be at the discretion of the event organisers.
Pack Down:
Once the market ends please be mindful of pedestrians and other vehicles in the surrounding area when you bring your cars close to the laneway, It is recommended that you only bring your cars into the loading area once your stall is fully packed down. This will allow you to load up quickly and make room for other stallholders to use the space.
Parking during market hours
There is plenty of parking in the surrounding streets, but do be mindful of any restrictions that may apply to avoid being fined.
Promotion:
We will be doing plenty of advertising together with Space2b to make this event as successful as possible. But we could always use your help. Be sure to spread the word and invite your friends and loved ones, and feel free to tag Space2b (Facebook, Instagram) and The Urban Creatives (Instagram) in your social media posts.
Looking forward to having you with us
The Urban Creatives