CCL: The power and pain of perseverance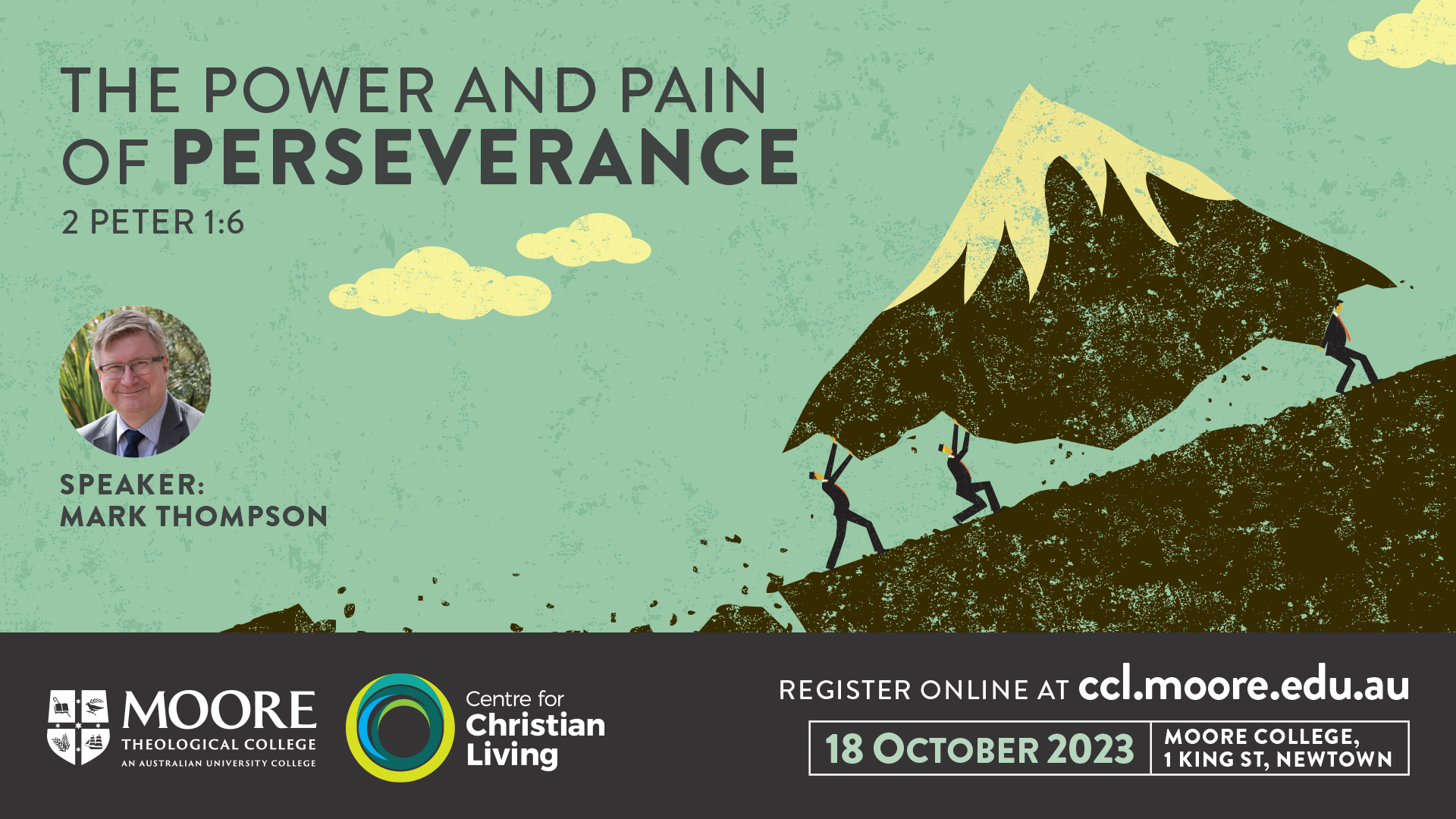 When?
Wednesday, 18 October 2023. Talks and Q&A: 7:30-9:00pm; supper for in-person attendees: 9:00-9:30pm (GMT +11 Australian Eastern Standard Time).
If you can't tune in on the night, the event will be recorded, and everyone who has registered will have access to rewatch the video almost immediately after the event's conclusion.
Where?
In person in Marcus Loane Hall, Moore Theological College, 1 King St, Newtown.
Via livestream (URL supplied upon registration).
Cost
FREE.
Please consider making a donation to the Centre for Christian Living. The Centre is a not-for-profit organisation. By supporting us, you'll be helping us to continue producing resources like our podcast and publications to help Christians all over the world continue to try to live well as Christian disciples.
Please note: gifts $2 and over are tax deductible. If you require a receipt, please select 'Yes' at the relevant question.
Please also note that once made, donations CANNOT be refunded.
All event attendees agree to the storage and use of their information in accordance with the Moore College Privacy Policy and use of photography/video footage in accordance with the Moore College Information Release Statement.
About
His divine power has granted to us all things that pertain to life and godliness, through the knowledge of him who called us to his own glory and excellence, by which he has granted to us his precious and very great promises, so that through them you may become partakers of the divine nature, having escaped from the corruption that is in the world because of sinful desire. For this very reason, make every effort to supplement your faith with virtue, and virtue with knowledge, and knowledge with self-control, and self-control with steadfastness, and steadfastness with godliness, and godliness with brotherly affection, and brotherly affection with love. For if these qualities are yours and are increasing, they keep you from being ineffective or unfruitful in the knowledge of our Lord Jesus Christ. (2 Peter 1:3-8 ESV)
Christians can often be caught off-guard by how difficult life can be. When grieved by loss, deserted by friends and family, faced with a hostile workplace culture or plagued by an existential crisis, it is easy for Christians to be tempted to give up or to doubt God's goodness. Yet the Bible encourages us to persevere in the midst of hardship, reminding us that suffering is not a sign of God's absence, but of his good presence. The storms of life we weather serve to refine our faith as we hope in his promises.
But how can we build perseverance within ourselves? What does it mean to remain steadfast in our day-to-day walk in Christ? If we experience doubt, are we in danger of falling away? Moore College principal Mark Thompson will consider these things as he shows us how Christians can persevere even when we face trials of various kinds.
Hear Mark speak briefly about this event:
About our speaker
Mark Thompson is Principal of Moore Theological College.
Location
Moore Theological College
1 King St, Newtown, Newtown NSW 2042
Contact Details
Centre for Christian Living
Moore Theological College
1 King St
NEWTOWN NSW 2042
Australia