Chook Chook & Snagged - 2 short plays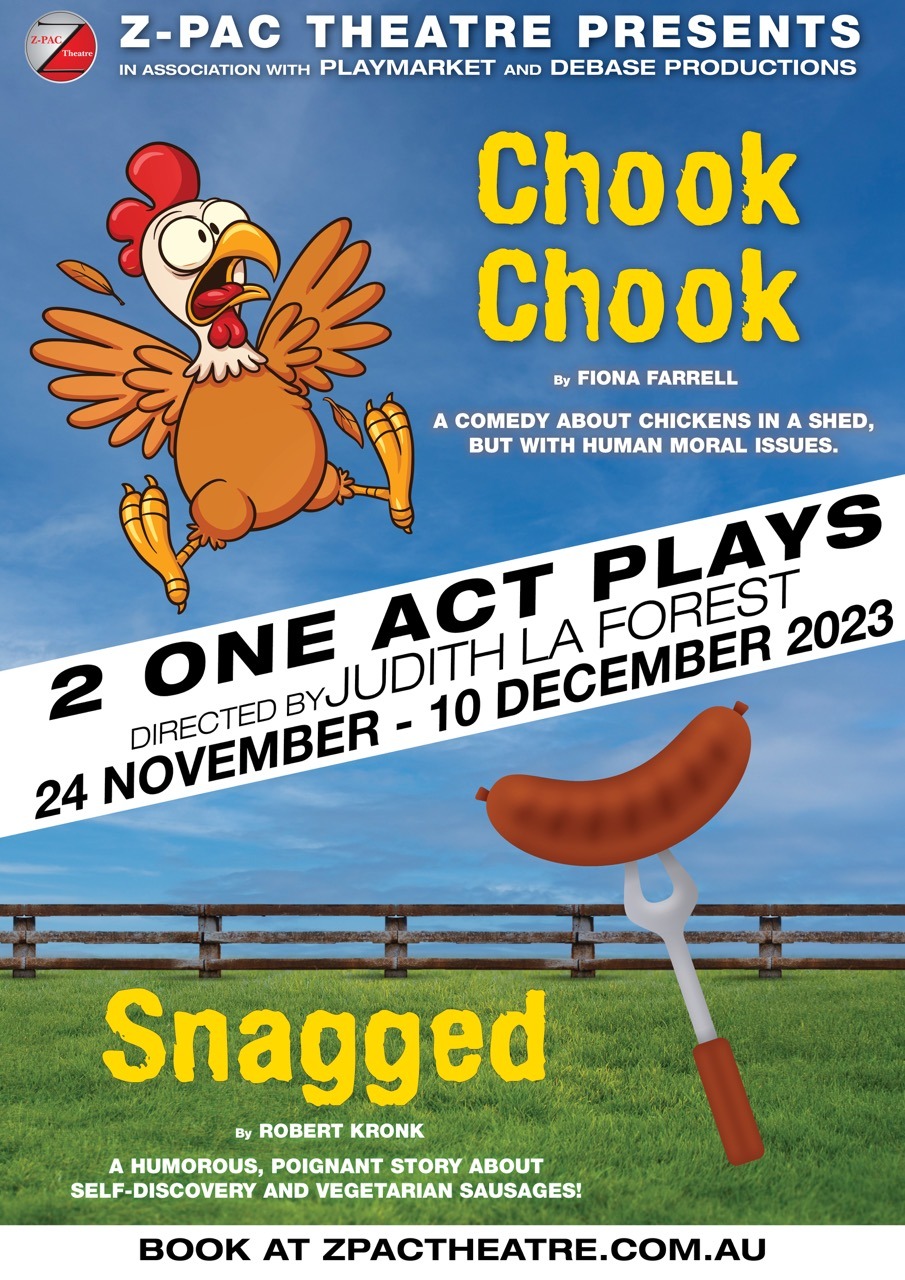 Directed by Judith La Forest

Chook Chook is a very funny, satirical look at the various ways we can respond to the knowledge of confinement- political, emotional, traditional.

A story about some chickens in a shed but with a human moral issue. Battery hens Valmai, Crissy, Georgia and Bron refer to their cages as 'apartments' and eat the same food day after day, under the same continuous 'sun' (fluorescent light). Valmai, an older chook, tries to educate young 'hormonal' Crissy, explaining that "you just get on with things and don't think of roosters or the outside world".

Snagged is a poignant, yet seriously funny story about coming of age, discovering who you are and, of course, vegetarian sausages!

Sam and her best mate Beth plan to head to Brisbane as soon as the last year of High School ends to start their new careers and cut a swathe through Brisbane's eligible bachelors. That is until Sam meets Josh...
VENUE:
Z-PAC Theatre 15 Zephyr St SCARNESS QLD 4655
For wheelchair user bookings please book seat A1 or A14 so the wheelchair can be positioned in front without impeding the access of other patrons, as we do not have any dedicated wheelchair spaces. We appreciate these seats being left vacant where possible to ensure wheelchair users have the opportunity to see our shows.
Please Note: Online Bookings close 2 hours prior to the event. After this time, tickets can be purchased at the Box Office at the Theatre prior to the performance if seats are still available. Please arrive at least 45 minutes prior to show time to avoid queues. Bar facilities will be available.
Tickets are refundable upon request up to 24 hours prior to performance. If you need to cancel after this time your request for a refund will be considered on a case by case basis. Please contact bookings@zpactheatre.com.au.

CONTACT DETAILS: Bookings Officer: 0427 225 008 Email: bookings@zpactheatre.com.au