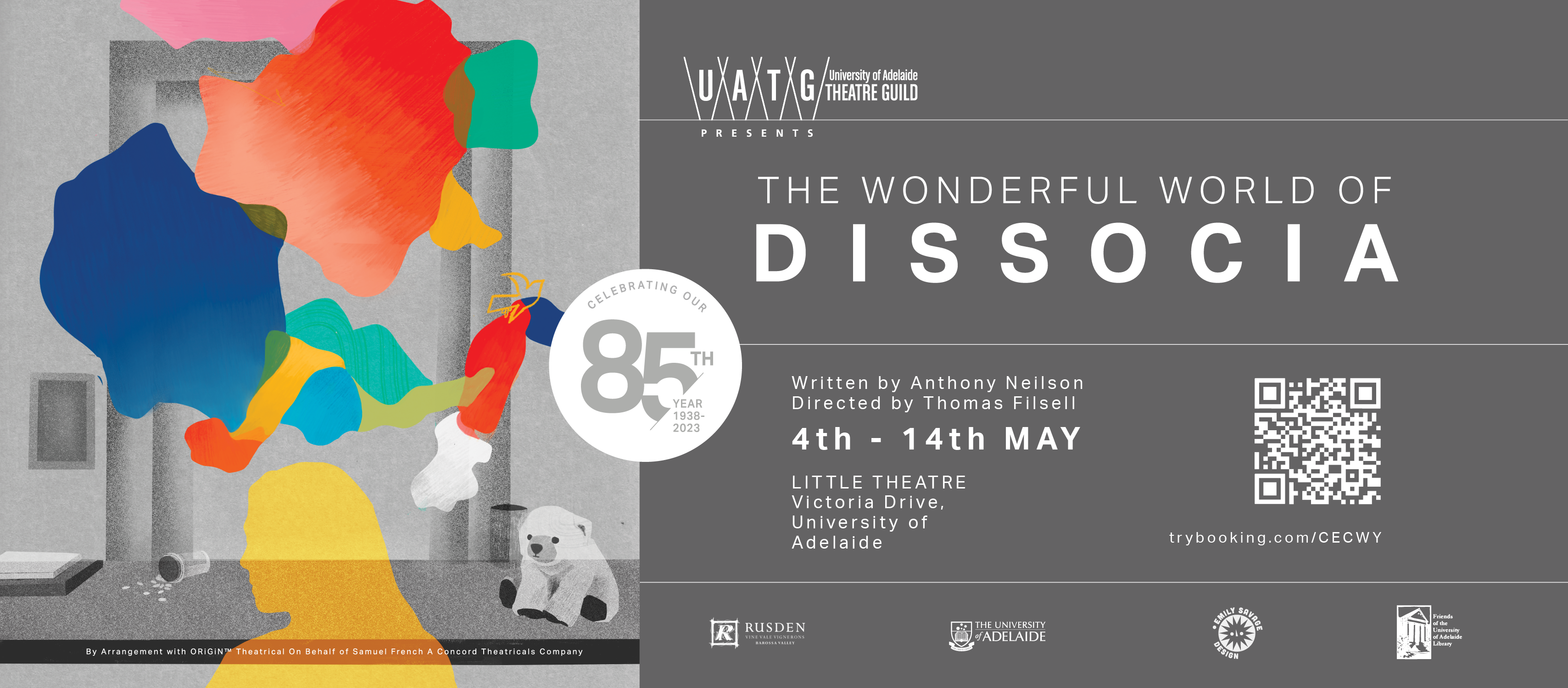 University of Adelaide Theatre Guild
presents
By Arrangement with ORiGiN™ Theatrical On Behalf of Samuel French A Concord Theatricals Company
THE WONDERFUL WORLD OF
DISSOCIA

Written by Anthony Neilson
Directed by Thomas Filsell
4th - 14th MAY 2023
Little Theatre
The Wonderful World of Dissocia is an off-the-wall, at times hilarious, at times disturbing, ultimately thought-provoking play, featuring unique and unforgettable characters and wondrous settings which contrast to a degree rarely seen in the theatre.
Aside from being laugh-out-loud funny, this play also has an important message to convey regarding mental health. It forces us to confront questions as to the status attributed to people suffering from mental health issues and diagnosed mental illnesses.

It tells the story of Lisa, a young woman battling with a dissociative disorder. In order to regain 'balance' in her life, Lisa must successfully navigate her way through Dissocia, a fantastic wonderland full of surprises and weird, wonderful, and frightening inhabitants, avoiding misleading double-talkers, traumatising encounters, and The Black Dog King who looms like a dark cloud over the otherwise beautiful country.
Away from Dissocia, life is very different. Lisa's boyfriend, her sister, and a team of doctors and nurses struggle to keep Lisa away from Dissocia. In Dissocia, Lisa is the decider of her own fate. Back at home, she's not.

"I've got a life too and it's out of balance. I've got people that I care about – that I love and that love me – and I'm letting them down…"

CONTENT WARNING:
This play is intended for adult audiences.
It features some confronting and disturbing themes (including sexual assault) and strong coarse language.

Tickets: $25 Full Price or $20 with Student or Concession card
Tickets can also be purchased at the door* (subject to availability)
*Card payments only.
NO REFUNDS OR EXCHANGES AVAILABLE.
COMPANION CARDS ACCEPTED (INQUIRE WITHIN).
Thursday 4 May, 7.30pm
Friday 5 May, 7:30pm
Saturday 6 May, 7:30pm
Sunday 7 May, 4pm Matinée
Thursday 11 May, 7:30pm
Friday 12 May, 7:30pm
Saturday 13 May, 7:30pm
Sunday 14 May, 4pm Matinée
Venue
Little Theatre
Victoria Drive (Gate 10), The Cloisters, The University of Adelaide
Please allow yourself extra time for parking, especially if there is an event on at Adelaide Oval or Botanic Park.

Duration: Disoccia will run approximately 2hr15min including interval.


LELAN is the independent peak body in South Australia for people with lived experience of mental distress, social issues or injustice. Our purpose is to amplify the voice, influence and leadership of lived experience to drive desperately needed change in the mental health and social sectors.
Please visit their site and consider making a donation.

www.lelan.org.au

COVID-19 UPDATE
For the best protection possible for our cast, crew and audiences we ask patrons to please consider wearing a mask whilst in the Little Theatre.
As we operate under the umbrella of The University of Adelaide, the Theatre Guild currently does not expect vaccination to be mandatory.
Location
Little Theatre
The Cloisters, University of Adelaide, Adelaide SA 5005